The SPDR S&P Biotech Index ETF (NYSEARCA:XBI) was trading as low as $43.06 in March 2009. The index is currently trading at $115.13 or 167.4% above the low made in March 2009.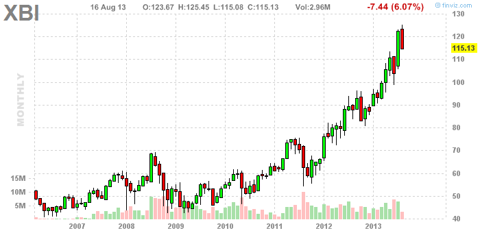 Click to enlarge
(Click to enlarge)
In this article, I will feature one biotech company that has seen intensive insider buying during the last 30 days. Intensive insider buying can be defined by the following three criteria:
The stock is purchased by three or more insiders within one month.

The stock is sold by no insiders in the month of intensive purchasing.

At least two purchasers increase their holdings by more than 10%.
Transition Therapeutics (NASDAQ:TTHI) is a biopharmaceutical company, developing novel therapeutics for disease indications with large markets. The company's lead CNS drug candidate is ELND005 for the treatment of Alzheimer's disease and bipolar disorder. Transition's lead metabolic drug candidate is TT-401 for the treatment of type 2 diabetes and accompanying obesity.
Transition bottomed at $1.15 in December 2011 and is currently trading at $3.97 or 245.2% above the low made in 2011. Transition has outperformed the SPDR S&P Biotech Index since December 2011.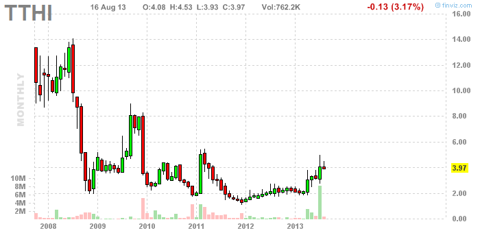 Click to enlarge
(Click to enlarge)
Insider buying by insider (last 30 days)
Tony Cruz purchased 47,733 shares on August 15 pursuant to a private placement. Tony Cruz currently holds 107,733 shares or 0.4% of the company. Tony Cruz is one of the founders of Transition Therapeutics and has held the position of Chief Executive Officer of Transition Therapeutics since its inception in July 1998.
Carl Damiani purchased 11,934 shares on August 15 pursuant to a private placement. Carl Damiani currently holds 49,026 shares or 0.2% of the company. Carl Damiani has been with Transition since 2003 and was appointed Vice-President, Business Development in December 2007.
Gary Pace purchased 11,933 shares on August 15 pursuant to a private placement. Gary Pace currently holds 69,840 shares or 0.2% of the company. Gary Pace serves as a director of the company.
Insider buying by calendar month
Here is a table of Transition Therapeutics' insider-trading activity by calendar month.
| | | |
| --- | --- | --- |
| Month | Insider buying / shares | Insider selling / shares |
| August 2013 | 71,600 | 0 |
| July 2013 | 0 | 0 |
| June 2013 | 0 | 0 |
| May 2013 | 0 | 0 |
| April 2013 | 0 | 0 |
| March 2013 | 16,100 | 0 |
There have been 87,700 shares purchased and there have been zero shares sold by the insiders since March 2013.
Financials
Transition Therapeutics reported the fiscal 2013 third-quarter, which ended March 31, financial results on May 7 with the following highlights:
| | |
| --- | --- |
| Revenue | $0 |
| Net loss | $2.9 million |
| Cash | $22.9 million |
On August 15 Transition Therapeutics closed a $11 million private placement.
Outlook
For TT-401, the proof of concept clinical study data has been reported and Eli Lilly & Co. (NYSE:LLY) is required to pay Transition a $7 million milestone payment to retain their option for further development of TT-401. The TT-401 data also provides important guidance so that the preparations for Phase II development can be accelerated.
The development of ELND005 has broadened with two separate Phase II studies; an agitation/aggression clinical study in AD and a bipolar disorder clinical study. Both these studies are underway and will provide important efficacy data in the coming quarters.
Finally, TT-301 is positioned to provide an opportunity for partnership or clinical studies in the near term.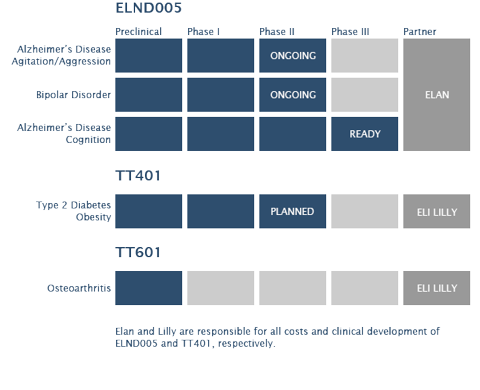 Click to enlarge
(Click to enlarge)
Competition
Alzheimer's Disease
Currently, all of the approved Alzheimer's therapies and many of the clinical candidates seek to reduce Alzheimer's related symptoms rather than treating the underlying disease. These products include cholinesterase inhibitors and glutamate receptor antagonists. The emerging classes of compounds in clinical development are immunotherapies and fibril inhibitors. Each class seeks to slow or even to reverse the Alzheimer's disease process by targeting a mechanism to reduce the occurrence of beta-amyloid plaques, a hallmark pathology of the disease.
Bipolar Disorder
To date there is no cure for bipolar disorder but proper treatment helps most people with bipolar disorder gain better control of their mood swings and related symptoms. Currently there are three types of medications generally used to treat bipolar disorder: mood stabilizing medications, atypical antipsychotic medications and antidepressant medications.
Diabetes
There are currently three therapeutic strategies, of which Transition is aware, currently being developed for the treatment of diabetes. These therapeutic strategies are intensive insulin therapy, oral antidiabetic agents and incretin therapies.
Conclusion
There have been three different insiders buying Transition and there have not been any insiders selling Transition during the last 30 days. All three of these insiders increased their holdings by more than 10%. Transition has an insider ownership of 5.09%. There is one analyst buy rating, three neutral ratings and zero sell ratings with an average target price of $4.50. The next catalysts for Transition will be the ELND005 Phase II study efficacy results, which are anticipated in the coming quarters. The 200-day moving average is currently at $2.67, which I believe could be a good entry point for the stock.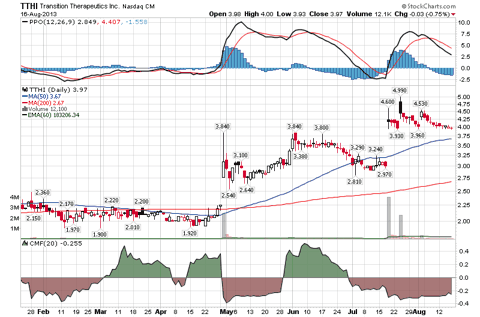 Click to enlarge
(Click to enlarge)
Disclosure: I have no positions in any stocks mentioned, and no plans to initiate any positions within the next 72 hours. I wrote this article myself, and it expresses my own opinions. I am not receiving compensation for it (other than from Seeking Alpha). I have no business relationship with any company whose stock is mentioned in this article.