As the shale revolution in the lower-48 continues full-steam ahead, competition for the most prolific acreage in plays like the Eagle Ford, Bakken, Marcellus, and Permian Basin is intense. The big money in most of these plays was made by early movers who snapped up properties at bargain prices compared with today's deals. As a result, acquisition focus has moved north into Canada's massive and largely undeveloped resources where some very large transactions have taken place over the last 12 months. The trend should continue as large US and international energy companies scour the world to secure oil and gas reserves for the coming decades.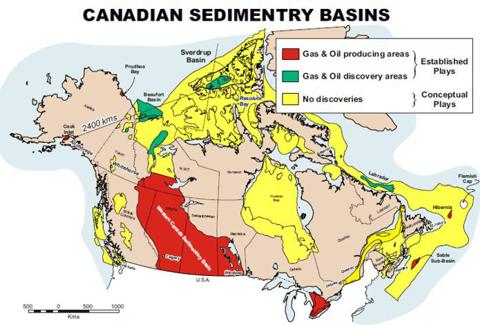 Reserves
According to the US Energy Information Agency ("EIA"), Canada is one of the world's five largest energy producers. Canada had 173.6 billion barrels of proven oil reserves as of the beginning of 2012 and controls the third-largest amount of proven reserves in the world after Saudi Arabia and Venezuela. The oil sands now account for approximately 170 billion barrels (98%) of Canada's oil reserves. In addition to conventional onshore and offshore producing areas like the Deep Basin, Hibernia, and Sable, additional resources are known to be under the Beaufort Sea in the Arctic, off the Pacific coast, and in the Gulf of St. Lawrence.
Recent Deals
Due to the largely undeveloped status of the majority of Canada's massive reserves, acreage can be obtained at price/barrel valuations significantly lower than within the US shale plays. As a result, there have been some very large deals announced over the past year:
Despite the large asset sale to Exxon, Conoco retains a large top-tier position in the Canadian oil sands with multi-billion barrels of reserves: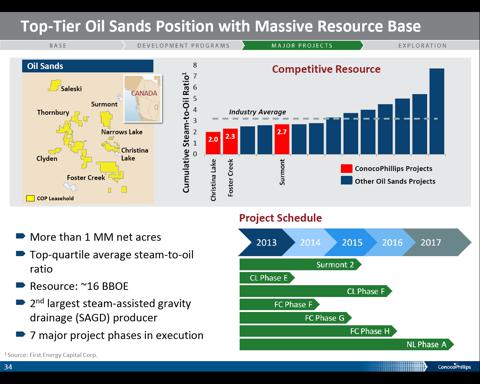 Chinese companies, including PetroChina (NYSE:PTR) and Sinopec (NYSE:SHI) have invested in the oil sands and other parts of Canada's energy sector. PetroChina purchased 60% stakes in the MacKay River and Dover projects from Athabasca Oil Sands (OTCPK:ATHOF) in January 2010, followed by full acquisition of MacKay River in January 2012. In 2010, Sinopec acquired COP's stake in Syncrude Canada for $4.5 billion. CNOOC purchased a minority 16.7% stake in MEG Energy in 2005 for C$150 million.
So Why All The Deals?
Price is not the only motivator of these deals. Canada is the largest foreign supplier of energy to the United States - its neighbor to the south and one of the world's largest energy consumers. Canada also has much more natural gas production than it can consume and is thus ripe to export LNG in order to profit off the large spread between domestic and international natural gas prices. That said, dry gas exports to the US, as well as overall gas production, have fallen significantly with the huge increase in US shale production and a subsequent large drop in dry gas prices.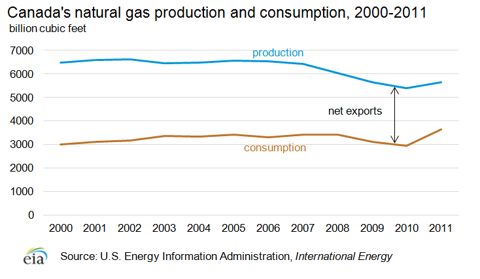 Still, the EIA reports that Canada is the world's third largest dry gas producer (after Russia and the U.S.) while The Oil & Gas Journal estimates Canada's dry gas reserves total 61 Tcf as of January 2012. Canada has a robust natural gas pipeline infrastructure that ties directly in the major trunks in the United States. While this is a plus, what Canada really needs is more high capacity oil and gas pipelines to the Pacific Coast to supply Asian demand.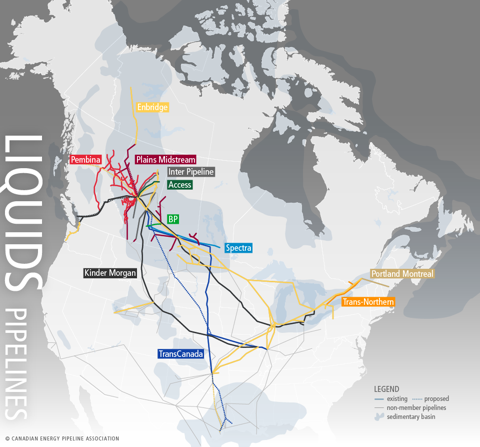 The Future
The Investment Canada Act stipulates that any large investment in Canada must be of "net benefit" to Canada, indicating possible limits on foreign control of strategic commodities. Minority stakes under 50% are not subject to the Act:
The acquisition of less than a majority (50% or less) of the voting interests of a joint venture is deemed not to be an acquisition of control under paragraph 28(3)(NYSE:B) of the Act. Therefore, if the interest being acquired, combined with any existing interest owned by the investor in the property, does not exceed 50%, there is no acquisition of control and the transaction is not subject to the Act.
As a result, the future may see more minority (but large) stakes taken in Canadian oil and gas companies or purchases of particular parcels of desirable acreage.
The EIA estimates U.S. dependence on imported liquid fuels will continue to decline primarily as a result of increased domestic oil production. That said, the U.S. will remain an importer of liquid fuels for the foreseeable future: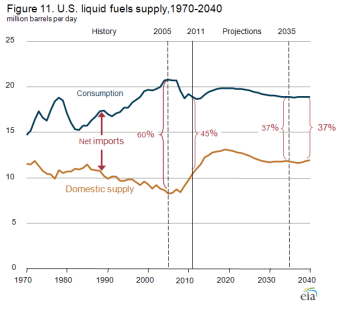 Imported liquid fuels as a percentage of total U.S. liquid fuel consumption reached 60% in 2005 before falling to 45% in 2011. The EIA predicts import share will continues to decline to 34 percent in 2019 and then rises to about 37 percent in 2040, due to a decline in domestic production of tight oil that begins in about 2021.
Summary & Conclusions
Canada is one of the world's five largest energy producers and is the principal source of U.S. energy imports. Canada's unconventional oil sands are a significant contributor to the recent and expected growth in the world's liquid fuel supply and comprise the vast majority of the country's proven oil reserves, which rank third globally. Canada will find a ready market for its energy reserves in the U.S. and Asia. Expect LNG export terminals on its Pacific Coasts and continued significant growth in oil sands production, which will be exported to the U.S. and eventually to Asia once additional pipelines to the western coast are constructed. As a result, any undervalued Canadian oil and gas company holding valuable acreage and significant reserves appear to be in play. In short, the Canadian oil and gas sector is on fire.
Investors looking to profit from Canada's resource wealth should consider investing in oil sands producer Suncor (NYSE:SU). Warren Buffet and Boone Pickens have recently bought large stakes in SU - the largest oil sands producer that also owns integrated refinery assets. Canadian Natural Resources (NYSE:CNQ) and Cenovus (NYSE:CVE) also merit consideration. Smaller Canadian companies that could be takeover targets include Enerplus (NYSE:ERF) and Yoho Resources (OTCPK:YOHOF). Yoho has a significant stake in the sweet-spot of the Kaybob within the Duvernay shale and is surrounded by acreage owned by Chevron and Exxon after their recent acquisitions in the play.
In addition to the companies mentioned in this article, there are a number of other small and medium sized Canadian E&P companies operating in the Montney, Duvernay, and Canol plays that could reward investors willing to do some research and invest prior to reading a deal headline.
Disclosure: I am long COP, CVX, XOM, OTCPK:YOHOF, ERF, SU. I wrote this article myself, and it expresses my own opinions. I am not receiving compensation for it (other than from Seeking Alpha). I have no business relationship with any company whose stock is mentioned in this article.
Additional disclosure: I am an engineer, not a CFA. The information and data presented in this article was obtained from company documents and/or sources believed to be reliable, but has not been independently verified. Therefore, the author cannot guarantee its accuracy. Please do your own research and contact a qualified investment advisor. I am not responsible for investment decisions you make. Thanks for reading and good luck!