In a report that was published on Friday August 16th, Michael Dudas and Satyadeep Jain of Sterne Agee noted that the recent let up in the sale of precious metals could be good thing for the gold miners (NYSEARCA:GDX). In their note to clients, it was mentioned that the "massive physical demand flows are now buffeted by investor views surrounding a global mix of economic growth as both Gold and Silver are flirting with upswings through their respected 100-day moving averages."
As the winds of change begin to shift, especially when it comes to the overall performance of the gold mining sector, I wanted to take a closer look at why I think Newmont Mining Corp. (NYSE:NEM) is a viable play for the income driven investor.
Performance and Trend Status
Based on Friday's closing price, shares of NEM are trading 8.88% above their 20-day simple moving average, 8.29% above their 50-day simple moving average, and 11.67% below their 200-day simple moving average. These numbers indicate a short-term and mid-term uptrend for the stock and a long-term downtrend for the stock, which generally translates into a near-term and mid-term buying mode and a longer-term selling mode for most traders. Shares of NEM, which currently possess a market cap of $16.09 billion, a forward P/E ratio of 16.66, and a gross margin of 46.10% settled Friday's trading session at a price of $32.38/share. From a cash and debt perspective, it should be noted that Newmont has roughly $1.88 billion in cash and an estimated $6.77 billion of debt on its books.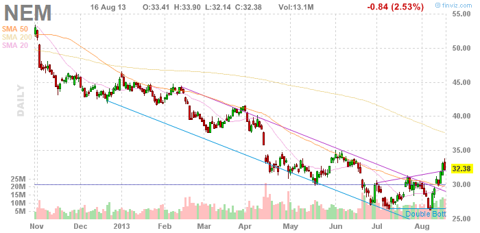 Click to enlarge
Improving Mine Safety
When it comes to the mining sector, one of the more important catalysts we as investors must consider is the idea of overall mine safety. Serious injuries and even death may occur when miners are engaged in certain types of activities or when the proper precautions aren't fully understood or implemented. One of the more positive things to come out of Newmont Mining in the last 18 months is a clear and concise decline in the company's injury rate per 200,000 hours worked. In the image below you can see that not only is Newmont committed to a higher level of safety with regard to its operations, but since Q1 2012 the company has demonstrated a 38.75% decline in its injury rate per 200,000 hours worked.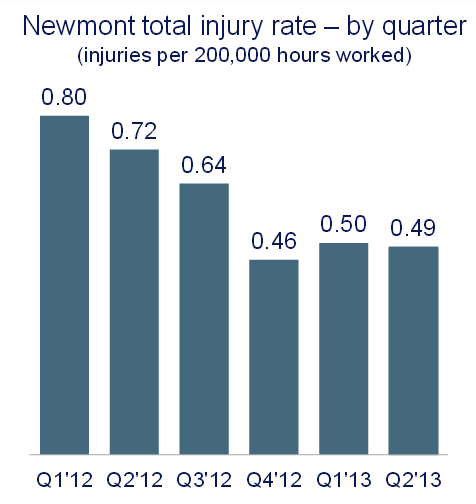 (Source: Investor Presentation Dated: August 1, 2013)
Significant Drops in both Consolidated and Capital Spending
When Newmont Mining announced its Second Quarter results on July 25th there were a number of cost reductions that played a significant role in the company's overall performance. The first of these reductions came in the form of year-to-date consolidated spending, which fell $362 million.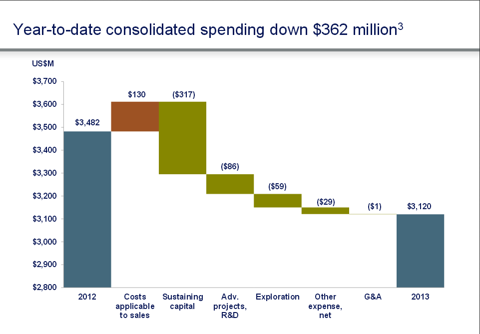 Click to enlarge
(Source: Investor Presentation Dated: August 1, 2013)
The second of these came in the form of year-to-date capital spending, which fell by $458 million or 29% versus the prior year's period. I should point out that these reductions were highlighted by a 60.82% reduction in capital spending that was directly related to Congo-based operations and a 23.05% reduction in capital spending that was directly related to North American operations.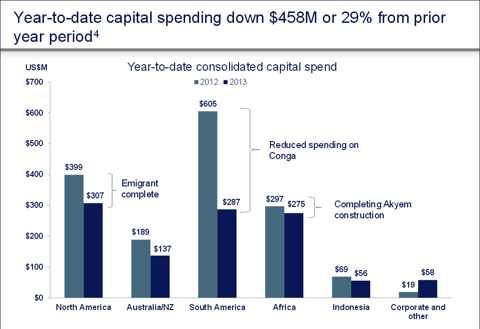 Click to enlarge
(Source: Investor Presentation Dated: August 1, 2013)
Recent Dividend Behavior
Since December 6, 2011, Newmont Mining had maintained its regular quarterly distribution of $0.35/share with the only exception coming on March 11, 2013 when it paid shareholders $0.425/share. However, on July 25, 2013 the company was unable to sustain the $0.35/share benchmark when it reduced its quarterly payout by 28.6% to its most current level of $0.25/share. From an income perspective, the company's forward yield of 3.09% ($1.00) makes Newmont a very viable income option even though I'd maintain a cautious position on the stock given its most recent dividend reduction.
Conclusion
When it comes to those who may be looking to establish a position in Newmont Mining Corp., I'd continue to keep a watchful eye on not only the company's dividend behavior over the next 12-24 months but any further initiatives it may establish in order to reduce both its consolidated and capital spending over the next several years.
Mining revenues, especially those generated through the company's gold mining operations, will continue to weigh heavily on its earnings performance, and any subsequent dividend distributions. On one hand, investors may begin to see a sustained reduction in the company's dividend distribution if things don't improve and costs inflate over time. On the other hand, if Newmont is able to maintain its cost cutting initiatives, its previously sustained dividend level of $0.35/share may be reconsidered in the very near future.
Disclosure: I have no positions in any stocks mentioned, and no plans to initiate any positions within the next 72 hours. I wrote this article myself, and it expresses my own opinions. I am not receiving compensation for it (other than from Seeking Alpha). I have no business relationship with any company whose stock is mentioned in this article.