Constellation Brands Inc (NYSE:STZ), a leading global wine, spirits and other beverage producing company, reported strong fiscal 2010 second quarter results with earnings excluding non-recurring items of 54 cents per share – a 20% increase year over year. The earnings also exceeded the Zacks Consensus Estimate by 13 cents or 31.7%.
The strong quarterly results were primarily driven by global cost-cutting initiatives, de-levering of balance sheet, and continued stress on increasing sustainable free cash flow. During the quarter, pre-tax restructuring charges, acquisition-related integration costs, and other non-recurring expenses decreased to $29 million compared to $129 million in the year-earlier quarter.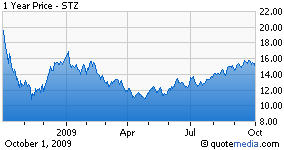 In addition, interest expenses reduced 17% year over year to $67 million due to lower average borrowings during the quarter. Total debt decreased by over $155 million during the quarter and by over $1 billion since the beginning of fiscal 2009.
Consolidated net sales decreased 8% year over year to $877 million, largely due to the divesture of value spirits business and currency exchange rate fluctuations. However, Constellation is working diligently with its distributor network in the U.S. to minimize the operational disruptions and realign its sales force. The company had shipped additional inventories to newly appointed distributors and is gradually achieving incremental sales.
Operating income in the wines segment increased $16 million compared to the year-ago quarter, primarily due to U.S. shipment growth and stringent cost-cutting measures. In order to boost the sagging sales, Constellation has increased its promotional activities through increased media coverage and targeted marketing programs. The company also plans to introduce new packaging options and will shortly launch a 24 oz. can of Corona Extra and Corona Light brands in the market.

Constellation has reiterated its fiscal 2010 adjusted earnings guidance range between $1.60 and $1.70 per share and free cash flow between $230 million and $270 million. Moving forward, management expects the challenging economic headwinds to stabilize gradually. Constellation is further focusing on higher margin premium wines segment to drive organic growth and stressed that it is on course to achieve its stated goals for the year.