(Editors' Note: Mr. Thomas updated his disclosure after publication of the article, noting that he plans to initiate positions in CSG, DLR, VTR, HCP and HTA this week.)
Back in April (2013) I wrote an article titled "Waiting Patiently For a Blue-Chip REIT Pullback and in that article I explained that "REIT investors should consider staying away from the riskier mortgage REITs and instead focusing on more risk-averse blue chip REITs". Since I wrote that article, mortgage REIT shares have struggled to find a bottom after a month and a half decline. In a recent Barron's article (A Mortgage REIT Rout Continues), columnist Michael Aneiro wrote:
By spooking markets in May and June (by most accounts clumsily and unintentionally) with talk of withdrawing stimulus, the Federal Reserve achieved one goal: A pullback in the runway prices of riskier, high-yielding assets like junk bonds and mortgage REITs that had thrived on record-low interest rates. Junk bonds have rebounded; mortgage REITs have not. Hatteras (NYSE:HTS) yields 12%; Annaly (NYSE:NLY), 13.4%; and American Capital Agency (NASDAQ:AGNC), 19%.
We now know that the equity REITs have not been immune to the Feds announced taper strategy; however, unlike the mortgage REITs that generate income by borrowing at short-term rates and invest in higher-yielding mortgage-backed securities, the equity REITs are less attuned to the Fed's tapering policies. Yet, Mr. Market has also become infatuated with the selloff in all REIT stocks and there has been no forgiveness in REIT-dom.
In a recent Kiplinger's Personal Finance article (What Not To Buy), James K. Glassman summed it up nicely:
Markets are generally efficient. That is, stock prices reflect all possible knowledge today, so a stock with a high valuation frequently deserves it. But at times, investors become far too enthusiastic about companies or sectors (in the case REITs) and bid prices into the stratosphere - or, as the late financial scholar Benjamin Graham might have said, Mr. Market goes manic.
I explained the "margin of safety" concept in greater detail in the above referenced article on blue chip REITs:
Intelligent investors know the "margin of safety" strategy of buying stocks at below their calculated value came from Benjamin Graham, noted economist who is considered to be the Father of Value Investing. Graham's philosophy was framed around the notion that investors must wait patiently for storms to subside, while waiting on a sunnier and more plentiful time to resume investing activities.
So do the last few months of REIT turbulence mean that the storms are going to subside now? Are we now entering into a sunnier day in REIT-dom? Or, will there be more clouds ahead? I went on to explain:
As Graham believed, buying companies trading below intrinsic value leaves a cushion for error, thus giving you a margin of safety in case your analysis of the stock's value is too high. Because Warren Buffett advises holding stocks for the long-term, an investor with a cheap blue chip stock pick has the luxury of waiting it out until the price goes up again.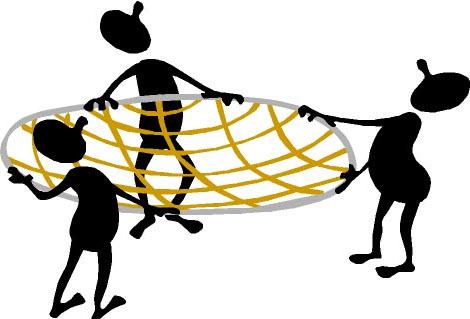 Is Now The Time to Double Down in REIT Town?
So, as I warned back in April, blue chip REITs were "trading at outrageous pricing levels" and I suggested that investors "wait for a correction before we put money to work?" Furthermore, I wrote that "intelligent investors should be ready to 'seize the day' when there is a fluctuation in pricing. We all know that the present price is simply based upon a mix of unpredictable factors - a combination perhaps of emotion and psychology. But we also know that no one can predict how far prices will go up, but we also know that they will, at some point, come down."
OK go figure, REIT prices have come down and for some, the sell-off has provoked fear but wouldn't that also create opportunity? The legendary value investor Sir John Templeton explained:
To buy when others are despondently selling and sell when others are greedily buying requires the greatest fortitude and pays the greatest ultimate rewards.
By selecting REIT securities today with a wider "margin of safety" a value investor is utilizing a more precautionary measure; the wider the margin of safety, the lower the risk and the greater potential for gain.
As we now recognize, a buying opportunity is emerging in REITs, but before jumping back in, make sure you read the fine print. In other words, REITs are becoming an attractive buy for income-seeking investors willing to risk more price declines in the near term. No one knows the extent of Mr. Market tantrum so for those looking for the kind of growth we saw in the past few years, they should take a pass.
Remember the attraction for most REIT buyers is dividends and accordingly the dividends make up the majority of composition in a REIT's total return. On average the REIT dividend is around 60% of total return so that "dividend anchored" investment model is seemingly the key differentiator for most safety seeking safety investors.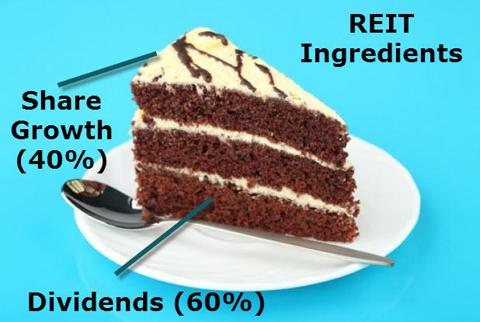 Given the significant sell-off in the REIT arena it appears that now is the time to buy in and increase the yield of an investment portfolio. However, for those with weaker stomachs, be prepared for increasing volatility, and don't expect REITs to go straight up to new highs like we saw prior to May. Those days are over, at least for a while.
After a thrashing in the bear market of 2008-09, REITs became one of the hottest stories in the stock market. According to NAREIT, equity REITs returned almost 20% in 2012 and the bond-proxy sector, or the Triple Net REITs, returned an impressive 22.46% (in 2012). However, the pendulum has now swung the other way as equity REITs have returned only 6.67% so far this year (through July 31st) and the Triple Net REITs have returned 11.21%.
As most know, REITs hit the brakes in May when U.S. Federal Reserve chairman Ben Bernanke began talking about decreasing the central bank's massive government bond-buying program later this year. Buying bonds helped the Fed keep interest rates low. Now, investors are looking ahead to higher rates and they're selling bonds and stocks they see as vulnerable: Welcome to the world of REIT buying opportunity!
The concern with REITs today is that investors fear that REITs could become less profitable as rising rates increase the cost of financing their acquisitions. As most know, cap rates typically follow interest rates so when interest rates begin to increase (eventually) cap rates will also increase. However, the important thing to remember is that REITs own "income producing" real estate so when interest rates begin to rise, that means that the economy is performing better. Conversely, when the economy is healthier, rents increase and so do property values.
Take an example of a shopping center that I developed ten years ago in South Carolina. When I built the grocery-anchored center in 2003, the shopping center was 100% occupied and my partner and I sold the property at a very low cap (I think around 7.5%) to a private REIT. Then, as the economy weakened, several tenants were forced to close and now the same property has occupancy of around 85%. Now when rates "gradually" begin to rise, it means that the economy is better and there will be higher employment and more disposable income. Retailers will feel more comfortable with opening new stores and consumers will feel more comfortable with spending. That all translates into more productivity and profitability.
So in the example of the shopping center described, the value of the property will be enhanced because in all likelihood, a rising interest rate environment will bring more traffic to the center and the rents will increase, not decrease. That holds true for most income properties; hotels, industrial buildings, malls, office buildings, and health care.
The fundamental environment for REITs today - from occupancy to rental rates - is very good and when rates do begin to rise, the REITs with the best fundamentals will be in a better position to capture the enhanced value creation. For income investors, the biggest, and perhaps the most important, element to consider is the sustainability of dividends. In this "new environment" of rising rates REITs will disappoint investors who expect "home run" capital gains; however, for income-seekers it may be time to "double-down" with more confidence.
Blue Chip REITs Bring More Confidence
I think this is a good time to start "nibbling" on blue chip REITs, remembering that although the name "blue chip" appears stable, the "best in class" REIT class is still susceptible to price swings during these uncertain times. However, Ralph Block, in his book Investing in REITs, explains the significant value proposition for owning or investing in "blue chip" REIT shares:
The blue chip REITs take you safely through the ups and downs in the sector's cycles and deliver consistent, rising, long-term growth in FFO (funds from operations) and dividends. Because they are financially strong and widely respected, they will always have access to the additional equity and debt capital that fuels the engine. They will not always provide the highest dividend yields or even, in many years, the best total returns, nor can you buy them at bargain prices - but they should provide years of double-digit returns with a high degree of safety. These are the REITs least likely to shock investors with major earnings disappointments, and will provide very satisfying returns.
I often describe Blue Chip REITs as battleships since they are better prepared for the future risks and they are perhaps even stronger after experiencing the effects of difficult times, like the latest Recession. Overall, the Blue Chip REITs continue to strengthen their portfolios as evidenced by the key metrics or, as we/some say, their vital signs. I think that Warren Buffett gives us the best analogy for being prepared for the future when he said:
Only when the tide goes out do you discover who's been swimming naked.
Now let's take a look at some of my favorite Blue Chip REITs to see if we can find a meaningful "margin of safety" now given the more recent decline in share prices. Eight of the seven "Blue Chip" REITs that I have included have had all of their gains completely wiped out over the last 12 months and many have broken through their recent lows.
Keep in mind that it is possible that they could see share prices fall even further until they reach a price at which they had previous support. During the last year I have written at least one article on these REITs so I will link at least one of my articles if you are interested in learning more about a specific Blue Chip REIT. Also, for each REIT listed below I have included a one year price chart and a one year dividend yield chart.
Realty Income (NYSE:O) (latest article here) is trading at $40.10 with a market capitalization of $7.866 billion. The current dividend yield is 5.43%.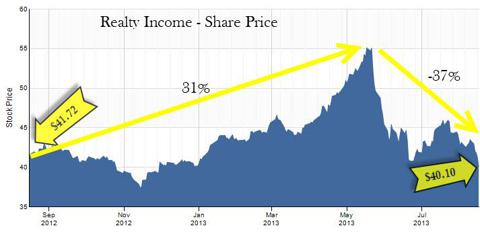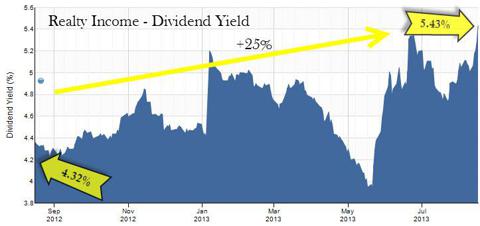 Digital Realty (NYSE:DLR) (latest article here) is trading at $52.30 with a market capitalization of $6.717 billion. The current dividend yield is 5.97%.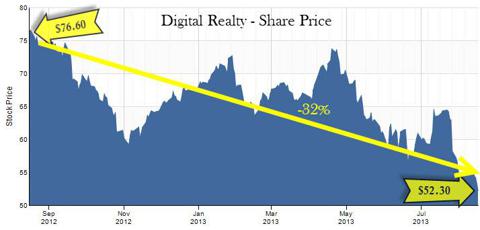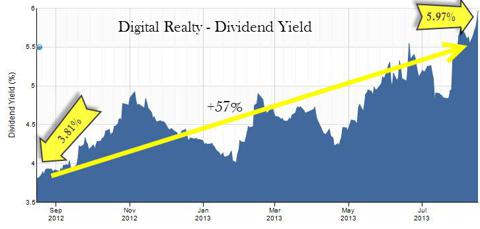 Ventas, Inc. (NYSE:VTR) (latest article here) is trading at $59.33 with a market capitalization of $17.456 billion. The current dividend yield is 4.50%.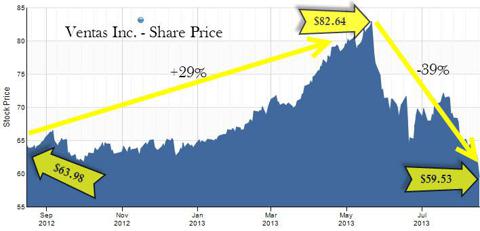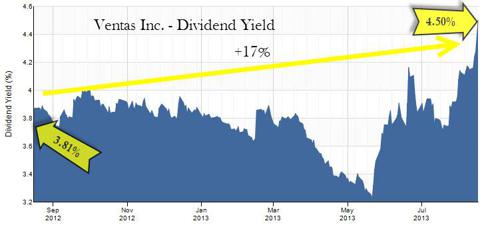 HCP, Inc. (NYSE:HCP) (latest article here) is trading at $39.39 with a market capitalization of $17.926 billion. The current dividend yield is 5.33%.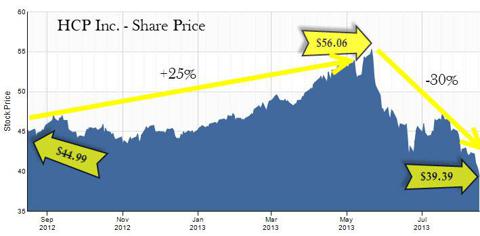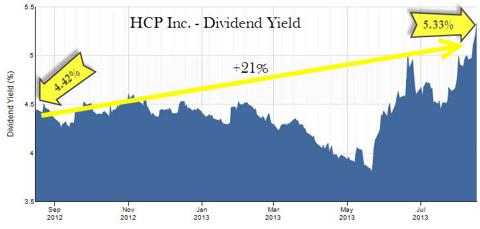 Kimco Realty (NYSE:KIM) (latest article here) is trading at $20.50 with a market capitalization of $8.398 billion. The current dividend yield is 4.10%.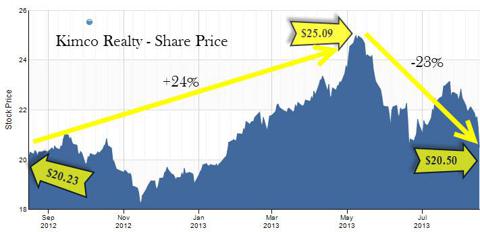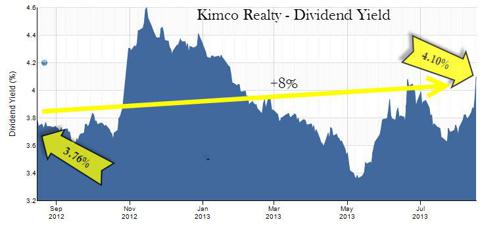 Tanger Factory Outlets (NYSE:SKT) (latest article here) is trading at $30.36 with a market capitalization of $2.867 billion. The current dividend yield is 2.96%.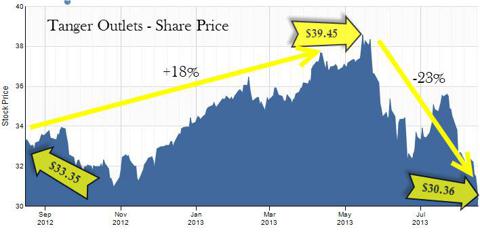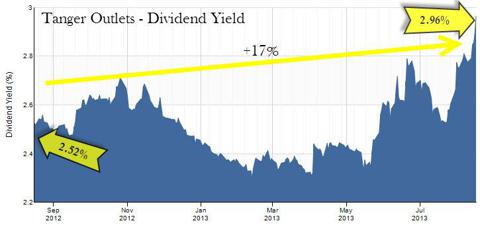 Simon Property Group (NYSE:SPG) (latest article here) is trading at $145.30 with a market capitalization of $45.091 billion. The current dividend yield is 3.17%.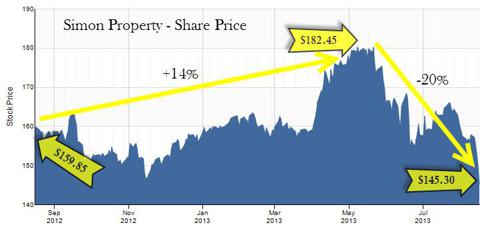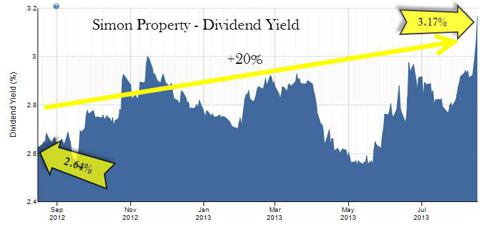 Omega Healthcare Investors (NYSE:OHI) (latest article here) is trading at $27.94 with a market capitalization of $3.273 billion. The current dividend yield is 6.73% (Note: Omega is the only REIT on this list of eight that has not fallen below the 52-week low).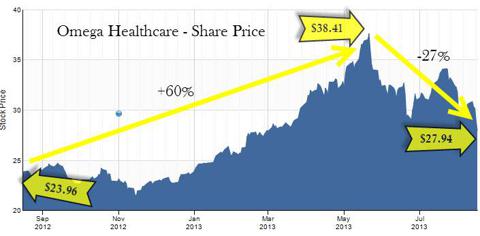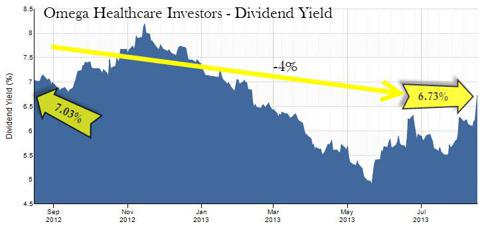 In addition to these eight Blue Chip REITs, I wanted to include three other REITs that I would consider buying today. Although not necessarily Blue Chips, these three REITs have all fallen into the same wide "margin of safety" mode and I would describe them all as "wonderful " REITs that I can now own at "moderate pricing" levels. More specifically, I consider these three REITs to be solid income stocks and based upon the current risk-adjusted dividend yields, they are also worth researching further.
Monmouth Real Estate Investment Corporation (NYSE:MNR) (latest article here) is trading at $8.98 with a market capitalization of $390 million. The current dividend yield is 6.70%.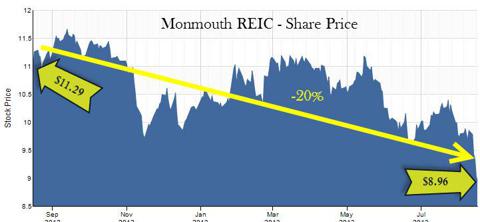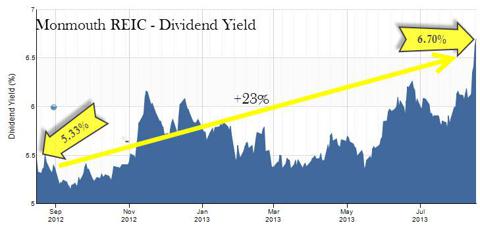 Chambers Street Group (NYSE:CSG) (latest article here) is trading at $7.57 with a market capitalization of $1.790 billion. The current dividend yield is 6.61%. (Note: Chambers Street listed as a public REIT in late May so the charts below reflect the time period in which the company was publicly-traded).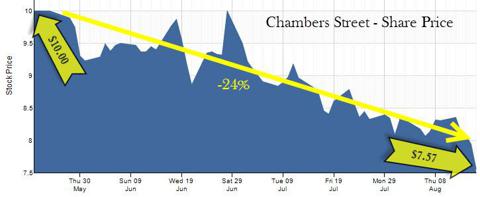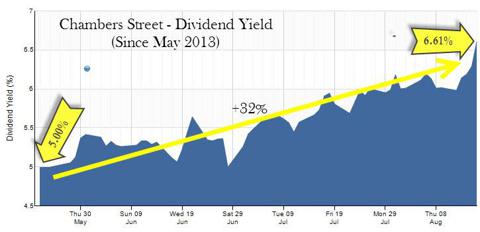 Healthcare Trust of America (NYSE:HTA) (latest article here) is trading at $10.30 with a market capitalization of $2.380 billion. The current dividend yield is 5.58%.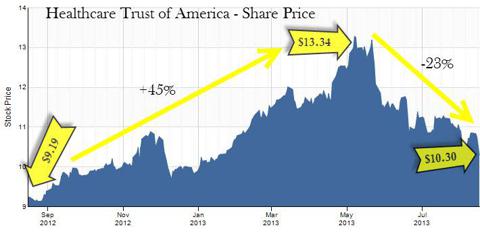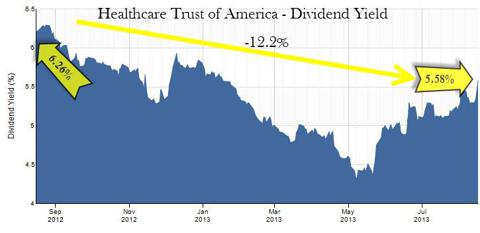 In addition, these REITs, in my opinion, have a stronger propensity to increase their cash flow from operations and although interest rates will rise (at some point) they can boost occupancy to offset increased debt costs. More importantly, these REITs have been preparing for the risk or rising interest rates and I believe that much of the concern (by Mr. Market) should be muted be the fact that the current stock prices already reflect that knowledge (and fear) that rates will gradually rise. In other words, the lack of enthusiasm in REIT-dom today has created an excellent entry points for dividend investors.
Here is a snapshot of the increase (or decrease) in the dividend yields (based on %) for these eleven REITs. As you can see, Digital Realty's dividend yield has increase by 57% while Healthcare Trust of America's dividend yield has decreased by around 12% (over the last twelve months):

REIT dividends have become much more attractive today as evidenced by the higher risk-adjusted dividend yields for these eleven REITs,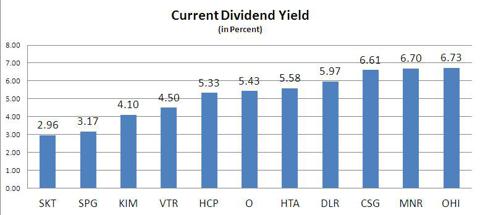 We can see that since May (2013) REIT valuations have made it much more attractive as most have fallen into a more fairly valued zone and a few, like Digital Realty, Chambers Street Group, and HCP, Inc., have become bargains.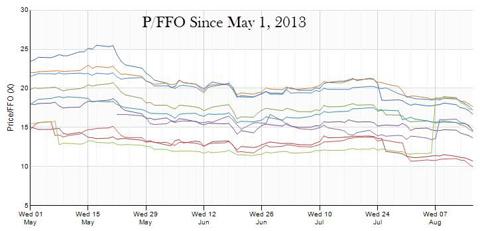 In closing, it's awfully hard to say whether or not REITs will trade lower in the near term, especially with most of the street out on vacation until labor day. I believe that the biggest satisfaction of "sleeping well at night" is knowing that your portfolio is well-protected and that you will not have to worry about your dividends. That's why I research and write about REITs and it's the primary reason that I launched my newsletter (The Intelligent REIT Investor) just a few months ago.

A dividend investor should "seize the day" and take advantage of what I consider to be an attractive time for acquiring high quality REITs. Mr. Market has baked in the fear of rising rates when in fact; REITs have defensive mechanisms in place to deal with the gradual movements (in rates): long term debt (relatively little current or interim need to refinance) and durable current income (not subject to short term economic swings).
Also, REIT fundamentals are sound and the overall US real estate market has been steadily improving. In addition, the real estate market is in the bottom of the third inning and there is significant opportunity ahead for REITs to consolidate within the highly fragmented real estate sector (US REITs own between 10% to 15% of all US commercial real estate).
Neither current inflation data nor capacity utilization would signal that inflation will be a problem in the near term - so upward pressure on interest rates should be limited to unwinding bond purchases (very unlikely). Conclusively, I don't believe tapering by itself will drive rates up very much on their own.
One of my favorite analogies is blackjack and the best way I can describe the REIT market today is by illustrating the "double down" concept. In blackjack a player can increase his or her bet by up to 100% in exchange for committing to stand after getting one more card. By "doubling down" on your REIT portfolio today, you are essentially placing a bet on "dividends" and locking into an attractive wager on durability and repeatability. The odds are good that you can increase the yield in your portfolio and that's what makes me "sleep well at night".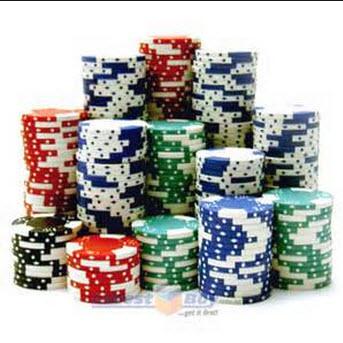 Source: SNL Financial
Disclaimer: This article is intended to provide information to interested parties. As I have no knowledge of individual investor circumstances, goals, and/or portfolio concentration or diversification, readers are expected to complete their own due diligence before purchasing any stocks mentioned or recommended.
Disclosure: I am long O and I plan to initiate positions in CSG, DLR, VTR, HCP and HTA this week. I wrote this article myself, and it expresses my own opinions. I am not receiving compensation for it (other than from Seeking Alpha). I have no business relationship with any company whose stock is mentioned in this article.