On Friday, August 16th, the 10-year Treasury yield settled at 2.83% (up 6 bps from the previous session) causing a number of mortgage related ETFs as well as a number of mortgage REITs to experience significant sell-offs. For a number of the sector-related ETFs, the blow wasn't all that terrible, as the iShares Mortgage Real Estate Capped ETF (NYSEARCA:REM) and the Market Vectors Mortgage REIT Income ETF (NYSEARCA:MORT) fell 1.92% and 1.82%, respectively. However, a number of the individual mortgage REITs experienced a much harder blow as shares of Javelin Mortgage Investment (NYSE:JMI) and ARMOUR Residential REIT (NYSE:ARR) fell 5.98% and 3.51%, respectively.
So what about the bigger, more well-known names in the mortgage REIT sector, such as Annaly Capital (NYSE:NLY)? Although shares fell about 1.91% on Friday, my concerns go way beyond the one day change in the 10-year Treasury yield. With that said, I believe there are several cautionary catalysts one must consider before establishing a position in Annaly, and by highlighting such catalysts, I feel that this article will act as a disclaimer for those who may be interested in the stock.
Performance and Trend Status
Shares of NLY, which currently possess a market cap of $10.68 billion, a forward P/E ratio of 7.98, a gross margin of 76.10%, and an operating margin of 68.90%, settled at a price of $11.27/share by the end of Friday's session. From a cash and debt perspective, it should be noted that Annaly Capital has roughly $3.45 billion in cash and an estimated $85.73 billion of debt on its books.
Based on Friday's closing price of $11.27, shares of NLY are trading 4.55% below their 20-day simple moving average, 7.39% below their 50-day simple moving average, and 17.53% below their 200-day simple moving average. These numbers indicate a short-term, mid-term and long-term downtrend for the stock, which generally translates into a selling mode for most traders.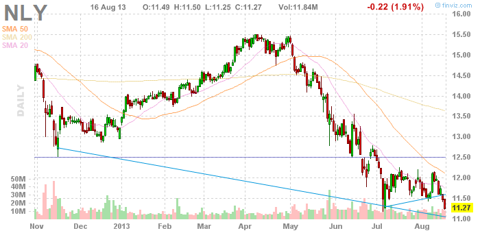 Mid-Year Total Assets Fall $31.5 Billion
During the second quarter Annaly Capital realized $148 million in gains that were directly related to the sale of $14.8 billion in MBS held for investment. As a result, Annaly Capital currently owns $92.5 billion of MBS compared to the $108.3 billion it held at the end of Q1 and the $124 billion it held at the end of 2012. The $92.5 billion of MBS represents a $31.5 billion decline in overall MBS when compared to the year-ago period.
According to my fellow SA colleague Tim Plaehn (who recently wrote a piece on Annaly's Q2 performance),
Annaly doesn't get to hang on to all of that capital; the bulk goes to pay off the repos used to finance the leveraged ownership. As a result, the mid-year total assets of $102.5 billion is $32 billion less that the total assets at the start of the year. It will be interesting to see the longer-term effect of a 25% reduction in interest-earning assets.
If Annaly continues to reduce interest-earning assets, there is a very strong possibility that both earnings and dividends may continue to suffer, even though its most recent quarterly results showed pockets of improvement.
A Dragging Dividend
Since June 28, 2011, Annaly Capital has decreased its quarterly distribution six times over the last nine payable quarters from a peak payout of $0.65/share to its most recent low of $0.40/share. From an income perspective, the company's forward yield of 14.20% ($1.60) coupled with a payout ratio of 52.00% could make this particular stock a very viable income option for long-term investors in search of higher-yielding play in the mortgage REIT sector.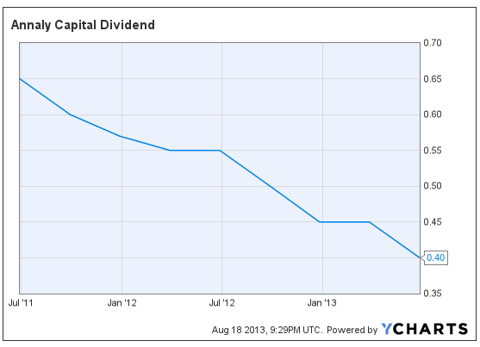 Although Annaly's quarterly results showed some strength in terms of GAAP profits ($1.6 billion or $1.71 per share) and net unrealized gains (an increase of $860 million), I'd remain fairly cautious in terms of getting my hopes up for a near-term dividend increase. Why? As we approach the midway point of the third quarter, all eyes are on the Fed and whether or not it will reduce or even suspend the QE3 spending program that was initiated back in September 2012.
Conclusion
When it comes to those who may be looking to establish a position in Annaly Capital, there are a number of things to keep in mind before investors establish an entry point at $11.27/share. The first thing we must keep in mind is the near-term behavior of the 10-year Treasury yield, and the fact that any move above 3.00% plateau could have a negative impact on the performance of the stock. The next thing we must keep an eye on deals directly with the dividend behavior of Annaly Capital. If the company fails to increase its interest-earning assets over the next 12-24 months, shareholders could be in for another bumpy ride. Last, but certainly not least, is the fact that all eyes will be on what the Federal Reserve decides to with regard to QE3. If the Fed decides to ease up on its current QE3 spending program and raise interest rates in the process, the effects may not necessarily benefit Annaly as spreads have a very good chance of narrowing rather than widening.
In closing, I'd remain cautious on shares at their present price points and look to initiate a position at the $10.65/share-to-$10.80/share level, since I strongly believe 10-year Treasury yields could exceed 3.15% over the next 30 days.
Disclosure: I have no positions in any stocks mentioned, but may initiate a long position in NLY over the next 72 hours. I wrote this article myself, and it expresses my own opinions. I am not receiving compensation for it (other than from Seeking Alpha). I have no business relationship with any company whose stock is mentioned in this article.