There is no absolute or well-defined state of rest, as is the case with everything around us, including the stock market. However, Tesla Motors (NASDAQ:TSLA) appears to be in a state of rest in terms of its rising more than 340% from $35 on January 2nd all the way to its all-time high of $158. Tesla recently beat Q2 analyst estimates by $0.37 per share (actual $0.20/share vs consensus estimate of $-0.17/share). This led to an explosion of new Seeking Alpha articles suggesting Tesla to be a "dangerous addiction", "danger zone", "bubble stock", "pig in a poke", "fever pitch", and "distortion", among many other warnings. Further, its investors are accused of all sorts of unpleasantries, from having "zero rationality" to being straight up "blind".
Yet, with all the warnings and fear mongering, these "mom and pop" investors seem to have set up support at $140, which many will call overvalued and a trap. The graph below shows some of the profit taking since its highest point of $158/share, and slow, but steady return to gains. This doesn't look anything like a bubble that burst, especially since NASDAQ has been taking a beating all week.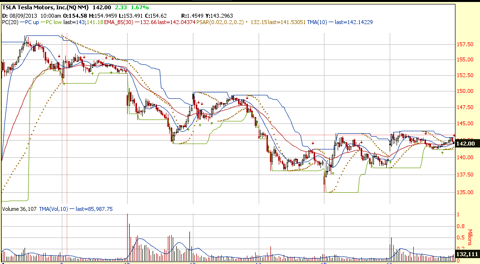 Institutional holdings, which are investment organizations with large sums of money, have gone down slightly to 58.59%. Short interest has risen from the previous month, specifically right before Q2 reporting, by 1.3 million with an approximate 1-2 days left to cover as of the writing of this article (8/16/13). That means there are a lot of frustrated investors out there, especially the 1.3 million who decided to short Tesla, again, right before Q2, possibly due to analyst estimates. Analysts covering Tesla have either completely missed Tesla's performance or changed their reports within weeks to accommodate the changes in stock price over the past few months. To everyone's credit, the stock has broken every rule in the book thus far, making it incredibly hard to predict or aid with any rational investment decision. The reason behind it: continued short squeeze.
Is Tesla Motors really a trap?
Looking at Tesla's financials, the argument about the stock being overvalued seems sound, and there is no doubt that the company will face some obstacles in the future. Tesla's Q2 generated $405.1 million compared to $26.6 million in revenue from the previous year, and holds a net cash position of $170 million for operation costs. Overall revenues for the past six months are at $947.7 million including the reported GAAP losses of $19.2 million. Assuming Tesla continues at this rate, they should easily reach annual revenues of $2 billion. Trading at $140+ per share places the company at a market value of $17+ billion, which is still 8.5X expected annual revenues. Even if Tesla reaches its goal of selling 40,000 cars by end of next year, as Elon Musk anticipates, that puts them at $4 billion per annum. Needless to say, the numbers suggest Tesla Motors is overvalued, something I think even the beginners of investors can calculate and figure out.
Looking at the anticipated revenues from car sales and ZEV credits, the stock is clearly glorified. Not to mention the risk involved with Tesla's guaranteed resale program of the Model S. If Tesla receives less than $49,000 from that sale, it will suffer losses on the trade. Furthermore, there was no mention of the Gen 3 model during Q2. All the numbers suggest this car company is grossly overvalued.
So why does the stock continue to hold at 8X its value?
Elon Musk and Tesla management must be fully aware of how to do math and realize the same, yet they are holding on to their shares as are most of the institutions that own the stock. Instead of selling a good stake and taking unprecedented profits, Mr. Musk's purchase of 1.08 million shares in May has not been touched. It seems management and its mom and pop investors have lost all their marbles or there is more to the story here.
Tesla Motors is not just a car company. While focusing on revenues from car sales and ZEV credits spells out the obvious, alternative revenues are not even on some investors' radars. Tesla Motors has started an EV race among the majors, who are now scrambling to drop prices and capture some of this so-called "hype", or perhaps a better term would be demand. Tesla is on everyone's radar today, from the West to the Far East. This is not something that happened by accident. Mr. Musk did not invent the wheel, he figured out how to sell it and make it popular, and in the process produced one of the highest rated cars by consumer reports. The idea behind making a product exclusive (e.g. initially for the "well-off"), and thereby creating demand, is nothing new. Look at Facebook (NASDAQ:FB) and its business model. Initially, only ivy schools could use it, then other colleges, and lastly everyone. As any executive will know, every business plan is carefully crafted and executed in steps. Step one of Tesla Motors strategic business model is complete--create demand.
If we look at potential revenues from Tesla Motors supercharging stations, which are getting built across the U.S. and Canada and, slowly, around Europe and Asia, one may start to realize that this is not a mere car company. Tesla vowed to never charge its Model S customers; however, as suggested by another Seeking Alpha article, charging $15 (e.g. 5.5 cents per mile) in the U.S. alone could bring an additional gross margin revenue of $110 million. I don't think Tesla will charge its customers, but what is stopping them from signing a deal with other car manufactures? The major car companies wouldn't have to spend resources on building additional charging stations, or parts for that matter, but would, rather, utilize the ones Tesla Motors built. Furthermore, the supercharging stations will be hooked up to the grid, allowing extra energy to be sold to power companies. SolarCity's (SCTY) partnership with Tesla Motors allows the coupling of Tesla's lithium battery packs with SolarCity's solar systems, which are free to most home owners. The batteries that are connected to the solar rooftop can store solar energy for later use, such as feeding it back into the grid or for rainy days. As you can see, focusing strictly on Tesla as a car manufacturer is not wise.
The fact that Telsa is ahead of competition places them at an advantage in the EV market space for many years to come. For example, the 2014 Mercedes B-class or Toytoa Rav 4 EV are mostly their respective manufactures' parts, but with a Tesla supplied engine. Another important fact to consider is that major car manufactures are not competing with Tesla; instead, they are investing in the company and building partnerships. This is contrary to the many articles that claim Tesla will fail in the future based on the fact that the majors will eventually out-compete the company or that gas-guzzlers will stay in demand. Simply put, it does not make sense for these companies to compete when they stand to reduce costs and increase profits by utilizing what is already in place.
The stock is overvalued, but only if you see Tesla Motors as a mere car company. Consecutive short squeezes have sent the stock skyrocketing, especially after the second quarter. However, the dust is beginning to settle now.
Elon Musk is a visionary with a plan, and the world is ready for a sustainable future. In fact, over the next few decades the sustainable global market (e.g. solar, wind, etc) will be a multi-billion dollar market, with Tesla Motors being remembered to have spearheaded the movement. I quite frankly don't understand why so many investors are determined to see this company fail, unless they got burned in the process by shorting the stock. This is a company to get behind and support, not bet against. I am sure mom and pop (e.g. Mercedes, Toyota, etc) have zero rationality and are blind for investing in Tesla, or they understand that counting number of cars sold is not the companies sole area of business.
Tesla Motors is only getting started. Revenues will continue to increase and surpass analyst expectations, and, after taking a break from the short attacks and scare tactics, the stock will get back to soaring into the $160s'. I recommend not shorting the stock for the foreseeable future and saving the headache and need to write negative investment opinions using basic math principles. I salute those investors who got in early and are long. Tesla Motors is, and will continue to be, one of the best long opportunities of the decade.
Disclosure: I have no positions in any stocks mentioned, and no plans to initiate any positions within the next 72 hours. I wrote this article myself, and it expresses my own opinions. I am not receiving compensation for it (other than from Seeking Alpha). I have no business relationship with any company whose stock is mentioned in this article.