The thesis of this article is that the Market Vectors Gold Miners ETF (NYSEARCA:GDX) is a lousy way to bet on an appreciation in the gold price. There are two primary reasons for this. First, any given gold miner will not necessarily offer leverage to the gold price. This is true of several of the major holdings of GDX. Second, many of the components of GDX are silver miners, and many of the primary gold miners produce silver and copper. In all, I doubt that even 80% of the combined revenues of GDX components come from gold.
After I demonstrate these points, I will discuss better ways for investors to gain exposure to the gold price.
About GDX
The GDX is by far the largest and most popular gold miners ETF traded on an American exchange. it was started by Van Eck, and it began trading in June of 2006. It is designed to replicate the NYSE Arca Gold Miner Index (GDM). The index description, as seen on Van Eck's GDX website, reads as follows:
GDM is a modified market capitalization-weighted index, and provides exposure to publicly traded companies worldwide involved primarily in gold mining, representing a diversified blend of small-, mid- and large- capitalization stocks. As such, the Fund is subject to the risks of investing in this sector.
This seems rather straightforward, and it would appeal to investors who are bullish on the price of gold, but who do not want to do the legwork involved in analyzing individual companies, or expose themselves to the risks of holding individual gold miner securities? If the price of gold increases, then shouldn't gold mining company shares rise as well? Further, since gold mining companies have production costs, then shouldn't the shares of gold mining companies offer leverage to the price of gold? For example, if the price of gold is $1,375/ounce, and if it costs a company $1,000 to mine an ounce of gold, then if the price rises to $1,750/ounce (27.3%), the profits of the gold mining company would double from $375/ounce, to $750/ounce.
The historical performance of the GDX tells a different story.
The Performance of GDX and Its Components
Since the GDX began trading in June 2006, it is down over 20%, while the price of gold has more than doubled, despite the recent correction.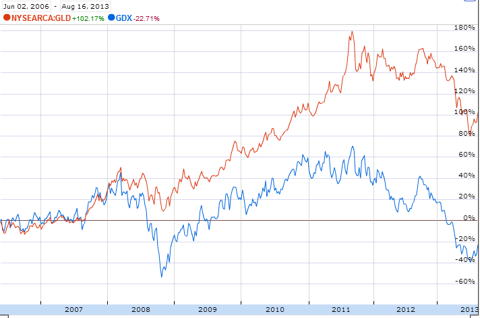 If we look at the performance of individual companies in the index, the disconnect between mining company shares and the metal becomes more striking.
Over the past 10 years, the gold price has risen from just over $350/ounce to nearly $1,400/ounce today, which is a four-fold, or 300% gain.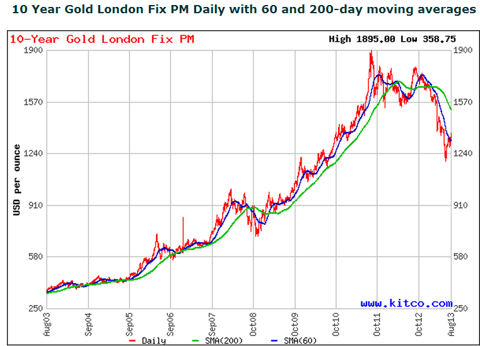 The "leverage" theory offered above would lead to the conclusion that gold mining shares should have significantly outperformed the gold price itself. However, if we look at the top 10 companies held by the GDX, which comprise about 80% of the fund, only 3 meaningfully outperformed the price of gold, and one of these is not even a gold mining company. The following table looks at the performance of these 10 companies over the past decade.
| | |
| --- | --- |
| Company | Performance |
| Goldcorp (NYSE:GG) | Up 139%, or significantly less than the price of gold |
| Barrick Gold (NYSE:ABX) | Down 5.6% |
| Newmont Mining (NYSE:NEM) | Down 16% |
| Silver Wheaton (NYSE:SLW) | Up >10,000%--Silver Wheaton was a penny stock traded in Canada in 2003. If we look at the performance since the stock began trading on the New York Stock Exchange in 2005, it is up about 740%. |
| Eldorado Gold (NYSE:EGO) | Up 300%, which is in-line with the gold price. |
| Randgold (NASDAQ:GOLD) | Up 660% |
| Yamana Gold (NYSE:AUY) | Up 600% |
| Gold Fields (NYSE:GFI) | Down 21.1% (This assumes that the current value of Sibanye shares (NYSE:SBGL) are added to the current value of Gold Fields shares. Sibanye was spun off by Gold Fields earlier this year.) |
| Agnico-Eagle Mines | Up 131%. |
| Kinross Gold (NYSE:KGC) | Down 14% |
Only one company--Silver Wheaton (SLW)--vastly outperformed the price of gold. But it is not a mining company, it is a streaming company (see my article on the company here). It is also predominantly a silver company, and silver has outperformed gold during this time-frame. The other two outperformers--Yamana Gold (AUY) and Randgold Resources (GOLD)--outperformed gold, but not by much, as the above logic would suggest. If you had owned Eldorado Gold (EGO), you would have performed in-line with the gold price, which is unacceptable, given the risk to holding a gold mining company compared to that of just holding gold. If you had held Agnico-Eagle Mines (NYSE:AEM) or Goldcorp (GG) you would have underperformed the price of gold, but at least you would have beaten the S&P 500. If you had held Barrick Gold (ABX), Newmont Mining (NEM), Gold Fields (GFI), or Kinross Gold (KGC), you would have lost money, or perhaps made a slight profit after dividends are included.
The performance of these companies' shares is, for the most part, horrendous, given what the gold price has done. While there are exceptions, most of these companies' shares have underperformed gold. What is perhaps most shocking is that of the three categories:
Outperformed gold
Up, but underperformed gold, or performed in-line with gold
Down
the one with the most companies is the third.
Furthermore, these top holdings exclude other GDX holdings that aren't just down, but are down disastrously.
From these figures either one of two things must be true.
The intrinsic value of some companies (Harmony Gold, Golden Star Resources, Barrick Gold...etc.) is so great relative to their market valuations that at any time we can see a revaluation of mammoth proportions.
Or
The gold-mining sector simply does not offer leverage to the price of gold except in the case of specific stocks. Thus index investing in gold miners is a flawed strategy, and if you want exposure to the gold price, you need to either buy gold, or be a stock picker.
I would argue that the second scenario holds true. Companies such as Barrick Gold, Newmont Mining, Gold Fields, Harmony Gold, and others have all done lousy jobs creating share-holder value. They have hedged their gold exposure, operated in risky jurisdictions, failed to contain costs, made value-destroying acquisitions, and have seen production declines. Here are a few examples:
Hedging: Two of the companies that have been down over the past 10 years--Barrick Gold and AngloGold Ashanti--had hedged some of their gold production, which means they were short gold in the face of rising gold prices (although they were not net short). After the gold price breached $1,000/ounce in 2009, these companies finally threw in the towel and cut their losses. Barrick Gold took a $5.6 billion hit and AngloGold Ashanti took a $2.6 billion hit.
Lousy Acquisitions: Barrick Gold acquired Equinox in 2011 for $7.3 billion. It failed to do due diligence and it subsequently took a $4.4 billion hit the following year. Not only did this destroy shareholder value, but Equinox was primarily a copper producer. A further nail in the coffin is the fact that the acquisition occurred right around the peak in the copper market.
Operating in Risky Jurisdictions: Gold Fields, Harmony Gold AngloGold Ashanti, and Barrick Gold all operate gold mines in risky jurisdictions such as South Africa, Tanzania, and Argentina. These regions are known for seeing work stoppages, capricious government actions, and overthrown governments. In particular, these companies often operate dangerous deep underground mines that have deplorable worker conditions that inevitably lead to labor-management conflicts.
Declining Production: The two biggest gold mining companies measured by total ounces produced--Barrick Gold and Newmont Mining--have seen production declines. This is a large headwind for companies to face even if the gold price is rising faster than production costs. This headwind is amplified by the observation that analysts often project recent history into the future in order to determine valuations. A small production decline means a much lower valuation than a small production increase.
Containing Costs: The cost of mining gold has risen tremendously along with the gold price. Part of this is due to inflation, which the gold price is supposed to reflect to a certain extent. But part of it is due to laziness on the part of executives who don't feel the need to manage costs given that their stock prices are riding high along with the gold price. As recent history has shown a correction in the gold price to just 2010 prices has lead to severe losses and write-downs as a result: companies from AngloGold Ashanti, to Newmont Mining, to Barrick Gold have all suffered the consequences.
These are not industry-wide phenomena. Randgold Resources, which is one of the gold mining companies whose shares have outperformed the price of gold, has seen rising production with costs contained. While profits were down in Q2 of 2013, the company was comfortably profitable even with the gold price down. It operates exclusively in western Africa, which is a relatively safe place to mine. The fact that it operates exclusively in western Africa also shows a disciplined model for achieving success: specialization in one geological and political region. The company has not made any bad acquisitions. As a result, the shares have soared with the gold price.
Ultimately there are enormous gaps in the performance of gold mining companies. Furthermore, gold mining companies do not provide leverage to the gold price, and a higher gold price doesn't necessarily benefit a company because it is a gold miner.
How Much Gold is in the GDX?
Another reason that the GDX is a lousy way to play rising gold prices is the fact that there are several companies that mine other metals. Many of them have a lot of copper and silver exposure. Furthermore there are several companies that are predominantly silver mining companies While many people who are bullish on the gold price will also be bullish on the silver and copper prices, there are different factors impacting the fundamentals for each metal. Silver, and to a greater extent, copper, are industrial metals. In an economic downturn, investors may opt to buy gold over silver or copper, given its function as another form of money, or as protection from a falling bond or stock market. With this being the case let us see how much (or how little) gold is found in the GDX.
Silver Miners in the GDX
There are many silver miners in the GDX. While they all have some gold exposure, the fact remains that they are silver miners.
Silver Wheaton: Silver Wheaton is a silver streaming company. While it recently made a huge deal with Vale (NYSE:VALE) to buy some of the latter company's future gold production, it is still a silver company, and its cash flow and profits will largely be tied to the silver price. Silver Wheaton comprises 5.5% of the GDX.
Pan American Silver (NASDAQ:PAAS): Pan American Silver gets just 20% of its revenues from gold. 70% are from silver and 10% are from base metals. The company's shares comprise 2.2% of the GDX.
First Majestic Silver (NYSE:AG): First Majestic Silver is an excellent company, but it prides itself on focusing on projects that have as much silver as possible. Currently over 90% of its production is silver, and almost none of it is gold. The company's shares comprise 1.8% of the GDX.
Coeur d'Alene: Coeur d'Alene has not only been a lousy performer, but it gets most of its revenues from silver, producing 18 million ounces of silver and 250,000 ounces of gold (which translates to 15 million ounces of silver equivalents at a 60:1 silver/gold ratio). The shares comprise 1.7% of the GDX.
Hecla Mining: At the current silver/gold ratio of 60/1 Hecla Mining produces about twice as much silver as it does gold. The company's shares comprise 1.1% of the GDX.
Silver Standard Resources (NASDAQ:SSRI): Silver Standard Resources has some gold at its San Luis project, but otherwise all of its major projects are silver focused. Its Pirquitas mine, which is the only producing mine the company owns, has no reportable gold production. The company's shares comprise 0.8% of the index.
These companies comprise about 13% of the GDX.
Other GDX Components with Silver and Copper Exposure
The other components of the GDX have mostly gold exposure. However that does not mean they don't have significant exposure to other metals.
Goldcorp produces 30 million ounces of silver in addition to its roughly 2.6 million ounces of gold production. That makes silver 15% of its production. The company also has some copper production.
As I have mentioned already, Barrick Gold spent billions to purchase Equinox, which was predominantly a copper company. Furthermore, the company's own projects indicate that copper production will rise while gold production will fall in the next couple of years. Barrick also has significant exposure to silver.
In addition to producing 5 million ounces of gold annually, Newmont Mining will produce roughly 160 million pounds of copper.
Royal Gold, which is a gold royalty company, will get about 25% of its revenues from copper and other base metals in 2013.
Thus, in addition to the 13% of the fund that is comprised of silver mining companies, many of which have little to no gold exposure, many of the largest components comprising the remaining 87% of GDX may only see 75% - 85% of their revenues from gold. If we roughly estimate that they will see 85% of their revenues from gold, then the gold component of the 87% of the fund that is made up of gold miners is just 74% of the entire GDX. If we add the gold in from the silver miners, investors who want gold exposure would be lucky if 78% of the revenues from GDX components actually come from gold.
Getting Exposure to the Gold Price
We have seen that the GDX is a lousy vehicle for investors to get exposure to the gold price given that:
Gold mining companies don't necessarily benefit from a rising gold price. Some do, and some don't.
Many of the components of GDX are not primary gold miners, and many of the primary gold miners have some exposure to copper and silver.
How, then, can investors get exposure to the gold price? They can either buy gold directly, or they can buy mining shares using a more tactful approach to selecting them than simply buying GDX shares.
Direct Gold Exposure
Investors who just want exposure to gold without any of the concerns that I discuss above should consider buying gold bars/coins, or an ETF/CEF. Some gold bars and coins that investors should consider include:
Pamp Suisse Bars
Credit Suisse Bars
American Gold Eagles
Canadian Maple Leafs
South African Krugerrands
There are several ETFs and CEFs that are gold-related. The most popular is the SPDR Gold Trust (NYSEARCA:GLD). This is the most liquid, and it generally does a good job tracking the gold price. Another fund that investors should consider is the Central Gold Trust (NYSEMKT:GTU), which holds nearly all of its assets in physical gold in Canada. It also currently trades at a 3.6% discount to its net asset value (the Central Gold Trust's NAV relative to its market price can be tracked here). Investors who are interested in holding gold through an ETP should read my article comparing these two products: The SPDR Gold Trust Vs. The Central Gold Trust. In a nutshell the SPDR Gold Trust seems to have an added counter party risk, whereas the Central Gold trust has an added liquidity and tracking risk.
Mining Shares
Despite my reservations regarding mining shares discussed above, there are a plethora of opportunities in the sector that I believe will provide leverage to the gold price and avoid many of the issues that plague many of the GDX components.
If investors do not want to do the legwork necessary to pick individual mining companies, they have another ETF option that attempts to eliminate the problem of GDX components having exposure to silver and copper: the Global X Pure Gold Miners ETF (NYSEARCA:GGGG). This fund only owns shares in companies that had revenues from gold exceeding 95% in 2010. Since its March, 2011 inception it has slightly underperformed GDX, although investors need to keep in mind that it holds shares in many smaller mining companies that are more volatile.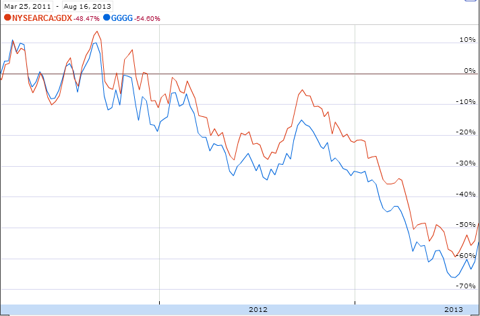 GGGG shares three top 10 components with GDX: Randgold, Eldorado Gold, and Kinross Gold.
I should note that GGGG does not account for the fact that not all gold mining companies will benefit from a rise in the gold price.
Investors willing to do the legwork necessary to pick gold miners should look for the following:
Look for companies that focus on a particular jurisdiction. A lot of companies, especially the larger ones, seem to buy properties all over the world haphazardly. Companies that focus on a particular region will have special knowledge of it, and this should give them an advantage. We have already seen Randgold outperform the price of gold while operating just in western Africa. Investors may also want to consider Kirkland Lake Gold (OTCPK:KGILF), which is a great example of this sort of company.
Look for companies that replenish resources through exploration. Gold mines deteriorate in value over time. Once an ounce of gold is mined it is no longer there, and any given mine has a finite number of ounces. If you want to gamble, buy a company that has the ability to grow its resources through exploration, but which has no production to fund its exploration. Continental Gold (OTCQX:CGOOF) is a good example. If you want something that is less risky, find a company that uses its cash flow for exploration rather than for dividends and share buybacks. These perks will come later in the gold bull market. Semafo (OTCPK:SEMFF) is a stock to look at.
If you want a "pure" gold play simply look at a company's resource figures and its production figures. Does it have resources other than gold? Does it use copper or silver to "offset" the cost of gold mining? "Offsetting" is an accounting trick where the company mines a secondary metal, but rather than counting the sales towards its revenue figure, it subtracts the amount from the sale from production costs to make the latter look smaller. Thus a company might say that it produced 100 ounces of gold at $800/ounce (or $80,000) with copper by-products as opposed to saying that it produced 100 ounces of gold and 5000 pounds of copper costing it $100,000. This is just an accounting trick that hides the fact that the company produces copper.
Conclusion
Investors should take away the following points from this article.
The idea that gold mining companies provide investors with leverage to the price of gold is fallacious, or at least highly conditional. This point is evidenced in the vast outperformance of the gold price relative to the GDX, and several of its component companies.
Many components of the GDX have been grossly mismanaged. They have made lousy acquisitions, they have made lousy directional bets on the price of gold, they operate mines in risky jurisdictions, they have failed to contain costs, and they have failed to replace production. As a result many of these company's stock prices are shockingly down in the last 10 years despite a nearly 4-fold increase in the gold price.
Many companies in the GDX have minimal gold exposure, and many of the other component companies have exposure to other metals. Thus I roughly estimate that 78% of revenues from the GDX actually come from gold. Fortunately investors have another ETF to choose from that only owns companies that got 95% of their revenues from gold in 2010: The Global X Pure Gold Miners ETF: GGGG.
If investors want exposure to the gold price, they should just buy gold. They can buy coins, bars, or one of many ETPs on the market.
Investors who want to invest in gold miners, and who are willing to put in the effort to make individual stock selections should focus on: companies that operate in one geological/political region, companies who replenish their resources through exploration, and companies that don't produce a lot of other metals. Regarding this last point, investors need to be aware that secondary metals such as copper may be used to offset the cost of mining. This is an accounting technique that hides the fact that copper comprises some of the company's revenue, and it makes it appear that the cost of mining gold is lower than it actually is.
Ultimately there are innumerable ways to participate in the secular bull market in gold. Despite being a popular vehicle for doing so, the Market Vectors Gold Mining ETF is a lousy way to do so.
Disclosure: I am long GG, SSRI, GTU, AUY, CDE. I wrote this article myself, and it expresses my own opinions. I am not receiving compensation for it (other than from Seeking Alpha). I have no business relationship with any company whose stock is mentioned in this article.