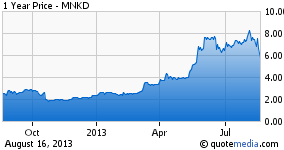 MannKind Corporation (MNKD) inked a financing agreement on July 1st that will have added almost $100 million to its coffers this quarter. The company reported impressive top-line results from clinical trials for its flagship inhaled insulin product Afrezza in the early hours of last Wednesday and announced after the market had closed that day that it had retained a world-class financial advisor to help secure a marketing partner. October should bring another roughly $65 million in cash, as warrant owners convert their holdings into common shares. All of these positives notwithstanding, volatile MNKD shares have been under considerable pressure of late, closing Friday's trading session at a whopping 33.7% discount to the 52-week high set just two days earlier. Activity by short sellers undoubtedly account for some of the weakness, as does a steady stream of negative "research reports," for lack of a better way to describe the skimpy articles that were authored by unaccountable individuals whose credentials are completely unknown, that appear to have unnerved many stockholders. In this article, we discuss in detail the latest developments of relevance to the company as it moves forward towards commercializing Afrezza. Additionally, we address some of the weak (in our view) but persistently loud arguments underpinning the bear case against MannKind, which is represented by a massive short position. The article concludes with some thoughts that derive from comments and personal emails received from anxious stockholders.
The All-Important Phase III Results
On August 14, 2013, MannKind issued a press release that detailed the long-awaited results from two Phase III trials - Affinity 1 and Affinity 2 - that were designed in close consultation with the U.S. Food & Drug Administration, following the FDA's issuance of a CRL (complete response letter) in January 2011; the details of the trial and CRL can be reviewed by clicking here.
As a reminder, the primary endpoint of Affinity 1 was to show non-inferiority of the change in A1c levels in the Dreamboat Afrezza group compared to the injected insulin analog group. The second key objective of the study, on type 1 diabetics, was to confirm bioequivalence between the first-generation MedTone inhaler and the Gen2 Dreamboat inhaler, which would provide a bridge to the extensive pulmonary safety data that has been collected over the years of the MedTone inhaler. And, in fact, the top line results from Affinity 1 indicated Afrezza Gen2 showed non-inferior decreases in A1c levels, vis-à-vis insulin aspart (rapid acting analog Novolog). Moreover, it resulted in significantly less hypoglycemia; significant decreases in fasting blood glucose levels; and significant weight advantage. Critically, too, the changes in pulmonary function in the Gen2 group were no different than those in the MedTone group. Afrezza was generally well tolerated and the incidence of serious adverse events was similar in the Dreamboat (2.3%), MedTone (2.9%), and insulin aspart groups (1.8%). The most common drug-related adverse event was cough, reported by 30.5% of Gen2 patients, 20.8% of Gen1 patients, and 0% of insulin aspart patients. The incidence of cough was highest during the first week of treatment, it diminished quickly, and very few patients discontinued the treatment due to cough.
The primary endpoint of Affinity 2 was to show superiority of the Afrezza test group over the group receiving placebo in lowering A1c levels in type 2 diabetics. Importantly, this study also met its primary endpoint, demonstrating that Afrezza Gen2, when combined with oral therapy, compared with oral therapy alone, produced superior reductions in A1c levels; helped significantly more patients reach A1c target levels; reduced postprandial glucose excursions; and resulted in no significant differences in the incidence of severe hypoglycemia. As would be expected in a study that added insulin to an oral treatment regimen, hypoglycemic events were more frequent in the Afrezza group, but no patient in the group discontinued treatment because of hypoglycemic adverse events. These results certainly suggest Afrezza Gen2 can be used to improve glycemic control in the potentially large, underserved population of insulin-naïve type 2 diabetics that are not adequately controlled on conventional oral medications. Management also expressed a strong confidence during a conference call last Wednesday as the data answered all of the questions that were raised by the FDA in its last CRL.
Fortifying the Balance Sheet
On July 1, 2013, MannKind announced that it had entered into a financing agreement with Deerfield Management Company, a leading investment management firm that's known for its commitment to advancing healthcare through investment, information, and philanthropy. Under the terms of the deal, MannKind is eligible to receive four tranches of $40 million each, for a total of $160 million. The first $40 million was received at the deal's closing and another $40 million is to be received within a few weeks, pursuant to Deerfield's acknowledgement last Friday (August 16th) that the Phase III results satisfied the requirements for the second tranche. The fourth tranche is payable following FDA approval of Afrezza. A separate "milestone" transaction netted the company another $19 million. All told, the Deerfield agreement will add $99 million in much needed cash to the biotech's coffers this quarter. A portion ($40 million) of the borrowing is convertible into MNKD stock, but the maximum number of shares is 12 million shares, which is not all that significant in the context of roughly 400 million diluted shares. Beyond the cash, the involvement of Deerfield, which undoubtedly conducted substantial due diligence and has access to far more information than anybody not connected to the company, ought to provide a large measure of comfort to stockholders anxious about Afrezza's prospects. As well, the funding enhances the company's strategic leverage when it comes to negotiating a partnership (or buyout). Looking beyond the current quarter, the conversion of warrants that were sold last fall and expire this October should raise another roughly $65 million in cash.
Formalizing the Search Process for a Partner
During a conference call with the investment community on August 14th that was conducted to discuss the Phase III results, management disclosed it had retained a world-class investment bank, Greenhill & Co., to help review and negotiate with prospective marketing partners. The company has indicated previously, and reiterated during last week's call, that multiple parties have been conducting due diligence for some time and others have expressed their intentions to do the same following the release of data from Affinity 1 and 2. Greenhill is a leading independent investment bank that focuses on providing financial advice on mergers, acquisitions, restructuring, and raising capital. It has been involved in many of the largest transactions in the healthcare sector, facilitated by a global network of clients and offices.
MannKind's search for a marketing partner has clearly been hindered thus far by both Pfizer's (NYSE:PFE) spectacular failure with Exubera and the decisions by two other pharmaceutical companies to jettison their inhaled insulin programs (discussed in greater detail below). Afrezza Gen2, as represented by Dreamboat, is clearly different from previous versions in the category, in terms of efficacy, pharmacokinetics, and the delivery device itself. The recently released data should make it easier henceforth to find a partner that would help MannKind navigate the regulatory gauntlet in the United States, file the necessary applications in other markets, including the EU, China, and Japan, and ultimately to launch the product.
The Bearish Position
Needless to say, there is a large group of investors who disagree with our conclusion that Afrezza will be a huge commercial success and MNKD stock will reward shareholders handsomely. The magnitude of the skeptics is underscored by a short position that totaled 47.2 million shares at the end of last month. As a general matter, unlike many investors, we don't have a problem with short sellers, having shorted stocks ourselves. Indeed, we have a healthy respect for them, as the practice of short-selling entails considerable risk and probably requires a greater degree of due diligence. That said, the shorts' thesis on MannKind appears surprisingly weak. In the three years that we've been following the company, the myriad problems cited have invariably included:
1. Two complete response letters (CRL)
2. Weak balance sheet, with little cash and heavy debt
3. Money losing company, with no revenues
4. Inability to secure a marketing partner
5. Need to issue more stock, meaning dilution
6. Little change of achieving FDA approval
7. Pfizer's Exubera failed miserably
8. Eli Lilly (NYSE:LLY) and Novo Nordisk (NYSE:NVO) abandoned their respective inhaled insulin products
As MannKind has moved steadily forward towards FDA approval, the shorts' narrative has clearly changed. Many appear to have accepted the probability of marketing approval. The main point of contention now seems to be limited commercial potential, as underscored by Pfizer's real life experience with Exubera and Lilly's and Novo Nordisk's decision. By extension, the modest sales potential is supposed to keep prospective partners at bay. The balance of this article focuses on these issues.
A Closer Look at the Discontinued Inhaled Insulin Programs
In the summer of 2006, Pfizer launched Exubera, a much-anticipated inhaled insulin product that helped its developer, money-losing Nektar Therapeutics, gain a market capitalization of $2 billion. At that time, the drug giant projected annual sales of almost $2 billion within three or four years. In the fall of 2007, however, in a hugely embarrassing and expensive move, the company pulled the product from the market and took a $2.8 billion charge. Exubera failed to gain market acceptance because insurers found it expensive and were reluctant to pay for it; physicians found the product difficult to use and were concerned about its long-term safety; and patients found the large device cumbersome to use, with some comparing it unfavorably to a bong that's used to smoke marijuana. Significantly, too, Exubera offered no meaningful efficacy benefits over injectable insulin.
A few months after Pfizer's less-than-graceful exit from the diabetes-care market, in January 2008, Novo Nordisk, which was already a leading provider of insulin products, announced that it would halt development of its inhaled insulin product, AERx. Just two months later, Eli Lilly, another leading provider of insulin products, pulled the plug on the AIR insulin program, scraping a seven-year effort that had seen the company recruit thousands of diabetes patients for clinical trials.
In announcing the termination of its program, Novo noted that AERx was unlikely to offer significant clinical benefits or convenience benefits over insulin injections with pen devices such as its own FlexPen product. While assessing this comment, it's also important to take into consideration the fact that the AERx insulin Diabetes Management System was a paperback book-sized battery-powered device with microprocessor-controlled technology to guide patients into optimal breathing pattern for effective insulin deposition in the lung. Moreover, although Lilly's product was smaller, Exubera, AERx, and AIR had very similar pharmacodynamic profiles. This included a relatively slow time to maximal effect on glucose lowering and a lengthy (more than six hours) period of activity, meaning an increased rate of hypoglycemia. During a conference call announcing Novo's action, the company's chief science officer, Mads Krogsgaard Thomsen, stated: "we've come to the conclusion that a breakthrough in inhaled insulin takes more than AERx can offer."
Pfizer did not have a presence in the diabetes market prior to launching Exubera. So, most of its gains would have come at the expense of market leaders Novo Nordisk and Eli Lilly. As such, it was critical for Novo and Lilly to each have inhaled insulin products to mitigate the damage. Once Exubera was no longer a challenge, however, it couldn't have been that difficult for the market leaders to abandon their respective new-drug prospects - both of which were still about two years from possible market introduction and had the aforementioned shortcomings - that would have cannibalized sales of their own injectable products.
Additional Considerations
Pfizer, Eli Lilly, and Novo Nordisk spent many years and billions of dollars developing their inhaled insulin programs because they obviously saw a significant commercial opportunity. Indeed, their respective products were each anticipated to be blockbusters, with sales exceeding $1 billion. it is also instructive to note the following:
1. Soon after dropping its inhaled insulin program, Novo's then chief executive Lars Rebien Sorensen stated in an interview with in-PharmaTechnologist.com that he still believes there is a place for inhaled insulin on the market but "patients want very simple, very convenient devices for administering their insulin." The leader of diabetes therapeutics specialist further concluded that "the preference of physicians and type II diabetes patients in the future will lie with the provision of longer-acting GLP-1 and insulin therapies in a pulmonary form that is at least on par with FlexPen in terms of simplicity and convenience."
2. In another interview with in-Pharma, prior to its decision to terminate the AIR program, an Eli Lilly spokesman Scott MacGregor stated "we feel confident AIR insulin will meet an unmet medical need," and he pointed out that four out of five patients in clinical studies had preferred to use inhaled insulin. Mr. MacGregor further noted: "We know the device does matter. We know the size and simplicity of the device really will matter in inhaled insulin and that really stands across the board for insulin devices."
3. Some critics of Afrezza have noted that the data from Affinity 1 and Affinity 2 showed some secondary endpoints weren't met. In this regard, it's important to note that there is no perfect drug. In fact, they all have side effects, including all currently marketed diabetes care products, both insulin-based and otherwise.
4. Afrezza, assuming approval, will compete against other imperfect products.
5. Afrezza has been tested on some 6,700 patients tested thus far and there have been no safety issues.
The high profile departures of Pfizer, Eli Lilly, and Novo Nordisk clearly made it difficult for MannKind to secure a marketing partner. Which big pharma CEO would have been brave enough to recommend to his or her board of directors an investment in a therapeutic category that had just witnessed three expensive disasters. All that said, Afrezza Gen2 is clearly a differentiated product, vis-à-vis Exubera, AERx, and AIR; comparing the Dreamboat to any of the other products is akin to the proverbial apples and oranges comparison. The need for an inhaled insulin alternative that motivated the three large drugmakers to invest substantial amounts of time and money, meantime, remains unsatisfied. Indeed, if anything, the market potential has only grown over the past several years.
The Final Word
The Internet has afforded every Tom, Dick, and Harry - George, too - a platform that allows them to reach a worldwide audience. Unfortunately, however, this gets a lot of misinformation and disinformation into the public domain, making it virtually impossible for many investors to distinguish between what's factual and what's not. This problem is invariably exacerbated by websites that spread that information, whether it's because they simply need content or they want to perpetuate an erroneous impression. And the more the information is repeated, the more believable it becomes. Sadly, there's little that can be done beyond conducting an additional layer of due diligence. In addition to researching the company, the reader of an article also needs to research the author, to ascertain his or her qualifications, as well as possible motivations.
With MannKind shares under considerable pressure the last two weeks, we've received a large number of emails (and comments on articles we've written) urging us to respond to the many articles that have been published of late recommending the selling of MNKD stock, the vast majority by The Motley Fool, which occasionally posted two or three in a day. Some writers also complained about the fact that MannKind wasn't responding to the public bashing. Truth be told, being long-term investors in the company's stock, we don't really care where the stock is today or where it might be tomorrow, as noted in our previous article on MNKD. Indeed, it's unlikely that Mr. Mann is particularly perturbed by the day to day movements in the stock price. Moreover, we would prefer management focus its attention on the important business of preparing the NDA (new drug application) for Afrezza and securing the optimum marketing partner, rather than responding to what we consider ridiculous comments and allegations emanating from various corners. Why should management respond to some completely unknown author who received $50 for contributing a poorly researched article that The Motley Fool decided to publish? And who (or what) the heck is Summer Street, which apparently questioned the supposed absence of some data that was addressed, satisfactorily, in our opinion, during last Wednesday's conference call. Full disclosure, Summer Street is a name we heard for the first time last Friday, perhaps we need to get out more. Bottom line, we were happy with the top line results reported by the company last Wednesday, and were reassured by Deerfield's decision to release the second tranche of $40 million, essentially validating our assessment. The retention of Greenhill also gives us confidence that the process of finding a partner will proceed more smoothly and with more objectivity.
Disclosure: I am long MNKD. I wrote this article myself, and it expresses my own opinions. I am not receiving compensation for it (other than from Seeking Alpha). I have no business relationship with any company whose stock is mentioned in this article.