World markets are mixed, but of note this morning is that the Indian Rupee is trading at fresh lows as the currency continues to weaken as capital flees India and seeks refuge elsewhere. The country is leaning on its companies to raise capital overseas in other currencies in order to bring that capital home and use the money to 'pay the bills' so to speak. India has a really bad situation right now as they have a budget that is not balanced and big needs that the tax revenues cannot support. The cheaper the currency gets the more expensive it becomes to pay for capital raised in foreign denominations so as of now the country is caught in a type of 'Catch 22'.
Right now this and the 10-year T-Note have our attention.
Chart of the Day: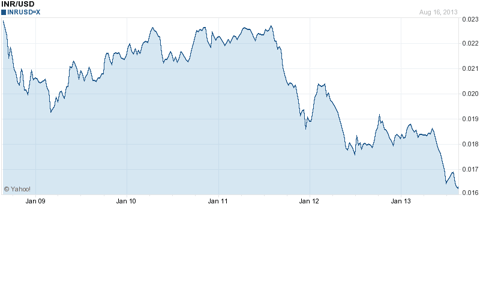 Source: Yahoo Finance
We have no economic news due out today as the first data for the week is due out on Wednesday.
Asian markets finished mixed today:
All Ordinaries -- up 0.04%
Shanghai Composite -- up 0.83%
Nikkei 225 -- up 0.79%
NZSE 50 -- down 0.24%
Seoul Composite -- down 0.13%
In Europe, markets are mostly lower this morning:
CAC 40 -- down 0.70%
DAX -- down 0.18%
FTSE 100 -- down 0.24%
OSE -- up 0.16%
Retail
Investors will get quarterly earnings from the biggest names from what has been the strongest sector within the retail industry over the past few years when Home Depot (NYSE:HD) and Lowe's (NYSE:LOW) report their results this week. The home improvement warehouses have been two of the top performers in retail for some time and as we have stated numerous times before we expect this to continue. As the housing market improves so too does the fortunes for the home improvement names and when housing starts and sales slow we would expect a pick up in sales as people fix and improve upon the houses they do have. The logic has worked thus far and with sales having been strong through the summer we see no reason why the momentum cannot continue into the fall, but we will be listening and/or reading the conference call transcripts to confirm our beliefs moving forward. Home Depot has been the stronger performer but we still believe that as the housing bull ages we will see Lowe's take back market share.
Insurers
Rates are rising quickly here in the US and the next stop could be 3% if the Fed decides to taper in September. We doubt this is their move and would expect to see a pullback in the short-term of rates, but still one must be prepared for anything, thus our comments this morning.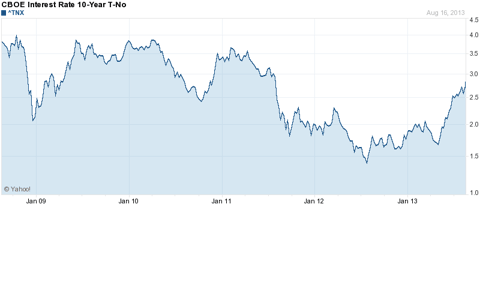 Source: Yahoo Finance
The 10-year treasury note's fall in recent weeks has pushed yields up to multi-year highs and this is causing some concern among investors as the rise has been fast, steady and relentless. Fast, steady and relentless can also be used to describe the earnings growth at many of the insurers we follow such as American International Group (NYSE:AIG) and Prudential Financial (NYSE:PRU) which have been solid performers as they rebuild their franchises around their top performing lines and back away from the riskier segments they ventured into over the years to increase their numbers.
The one issue that we now see ahead is that the rise in yields could have a negative impact upon these companies' fixed income portfolios and thus the bottom line. We have seen in the most recent quarter some companies experience lower than expected profits due to losses in their bond portfolios and although the insurance companies have large teams of brilliant advisers it is quite difficult to hold safe notes and bonds and not lose money as yields rise.
Out of the two names we like AIG better as it appears that it has a little bit of room to make up versus Prudential as shown by the chart.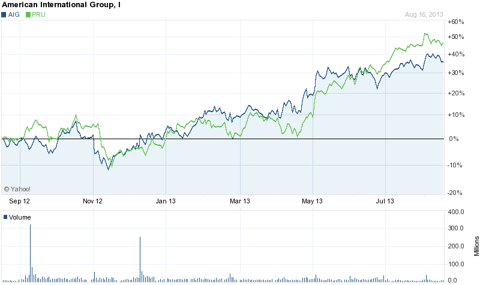 Source: Yahoo Finance
We are still bullish of AIG and Prudential, but think that investors need to watch the insurance sector as a whole as interest rates continue to rise in anticipation of the Federal Reserve tapering. Our guess is that we see a rally in the names as the Fed delays tapering, but one needs to prepare one's portfolio for when rates do rise based off of Federal Reserve actions.
Banking
One of our favorite regional bank names to trade has been Regions Financial (NYSE:RF) which by all accounts has been a solid performer over the past two years. We have not used the stock as 'buy and hold' position but rather a trading security due to its strong price movements and volatility, as well as its tendency to trade within an easily definable range. If the insurers are going to be hampered by rising interest rates, one would have to expect the regional banks to perform better as they get a yield curve to play around with and create larger spreads for themselves between what they can charge for loans and what they pay out in interest to depositors. We recommended going long the shares again around $10/share and although the share price has backed off a bit from that level we think that the shares go higher so long as the economy holds pat and the company continues to improve upon their expenses and creating new loans.
Disclosure: I have no positions in any stocks mentioned, and no plans to initiate any positions within the next 72 hours. I wrote this article myself, and it expresses my own opinions. I am not receiving compensation for it (other than from Seeking Alpha). I have no business relationship with any company whose stock is mentioned in this article.