On Friday, shares of the Coca-Cola Company (NYSE:KO) traded at their lowest (non-dividend adjusted) price in five months. Shares started the latest leg down after the company reported a light revenue number for Q2. When not including dividends, shares are now down more than 10% off their 52-week high of $43.43, which has pushed the dividend yield up to 2.87%. Today, I will look at Coke again, compared to its peers, and show investors why they might want to wait until we reach that 3% year before accumulating more shares of the beverage giant.
Updating the industry comparisons:
It's been a couple of months now since my last focus article on Coca-Cola. The table below shows some key comparisons for Coke against two other large beverage names, PepsiCo (NYSE:PEP), and Dr. Pepper Snapple (NYSE:DPS). I also threw in a smaller name, SodaStream (NASDAQ:SODA), to show what a growth company in this space looks like. The table shows currently expected revenue and earnings growth for 2013 and 2014, along with a two-year total. I've also included an annual dividend yield, as of Friday's close. I chose to separate SodaStream because that is a growth company, which will obviously show a lot more growth, and not pay a dividend. The yellow highlight is for the leader in each category, amongst the three large beverage names.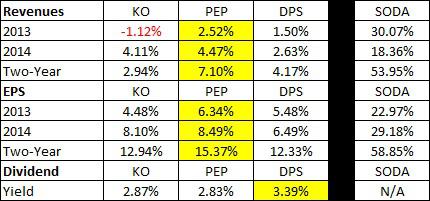 In my last article on Coke, Coke was the leader for both 2014 expected revenue and earnings growth. Obviously, analysts have taken down their forecasts, and PepsiCo is the clear leader in all growth categories now. Dr. Pepper Snapple even breaks into the top two in some categories, and also leads the pack in terms of dividend yield. Again, if you are really looking for growth in the beverage space, SodaStream is the best way to go. SodaStream has continued to impress, beating expectations every quarter, and that has led me to increase my 2013 revenue number on SodaStream three times already. The key takeaway here is that Coke's growth story has hit a bump in the road right now. What does that mean for the stock? Well, a lot of it depends on the valuation, which we get to next.
Current Valuations:
No matter what you are buying, whether it is groceries or stocks, you have to look at prices and valuations. The table below shows some valuation metrics for each name, based on Friday's closing prices and the currently expected revenues and earnings for each year.

I threw some price to sales numbers in this time around to make a point about these names. For quite a while now, Coca-Cola shares have traded at a massive premium to the rest of the space on a price to sales basis. There really isn't a logical explanation for it, and I don't think it will change anytime soon. You won't see a 50% drop in Coke shares to get to a comparable price to sales valuation. If that happens, Coke's price to earnings number would be way out of line. Back to SodaStream for a minute. For the extra growth you are getting, the premium on a price to sales basis over Pepsi and Dr. Pepper Snapple is not too bad. Again, these companies are on different levels, but investors looking for growth in the space should really consider SodaStream. If you are looking for value and a consistent dividend, that's another story.
Now let's look at the price to earnings numbers. In my opinion, Coke seems a little overvalued here, given how the expected growth forecast has come down. Even as PepsiCo is in the midst of a rebound from its own rough patch, you get more growth at a cheaper valuation. I'm not saying you should short Coke here or completely avoid it, but it seems that a lower entry would be much better. For instance, at $37.33, where Coke hits a 3.00% annual dividend yield, the 2013 P/E is 17.78 and the 2014 P/E is 16.45, given current earnings estimates. Those numbers seem a bit more reasonable, when compared to PepsiCo, given the current growth situation.
Analyst opinions:
I always like to look at what the professional Wall Street analysts think when it comes to the names in this space. The following table shows the average analyst rating, where a 1.0 is a strong buy and a 3.0 is a hold. The table also shows the average, or mean, price target currently, and the upside to that target from Friday's close.

Coke has the strongest buy rating among the three giants, and the most upside to its average target as well. You might think that Coke would be favored more in the analyst community, given that it is the more prominent beverage name. Coke also has a market cap that is $50 billion higher than PepsiCo, so it is also covered by more analysts as well. Despite the much higher dividend and more than 10% upside to the average target, Dr. Pepper Snapple analysts are close to a neutral rating on that stock. Analysts also like SodaStream and its potential upside, which makes sense given its growth. SodaStream is riskier than the other names, but the rewards are also much greater. SodaStream is up roughly 39% so far this year, while PepsiCo is up almost 19% (including dividends). Coca-Cola shares are up more than 9%, and Dr. Pepper Snapple shares have managed just a 3% gain.
A key technical level was broken:
I don't use a lot of technical analysis in my writing, but I throw it in when I feel it is important. Recently, Coca-Cola shares dropped below their 200-day moving average as you can see below. This is the first time in nearly six months we are below the key level, and that normally is not a good sign for shares in any name.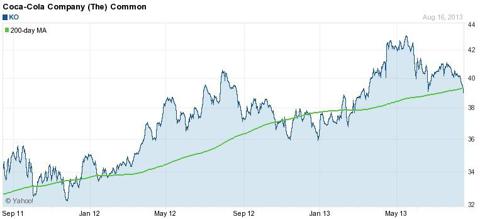 Click to enlarge
(Click to enlarge)
(Source: Yahoo! Finance)
The good news here is that over the past two years, shares have not stayed below that line for very long. However, you can see that once they've broken through it, there has been a dollar or two of downside below it, so Coke shares could be heading towards $38 in the near-term. Will a further decline be enough to get us to that 3.00% yield level? That remains to be seen.
Final Thoughts:
Coca-Cola shares have pulled back about 10% from their 52-week high, but it might not be the time to enter just yet. The company's expected growth numbers have come down, and the valuation seems a tad bit much at this point. PepsiCo offers more growth at a better valuation, and if you are looking for a true growth company in this space, SodaStream is the way to go. Coke shares also broke a key technical level recently, which could imply further downside.
For the time being, investors need to look at Coca-Cola as a dividend play and average in at lower prices, or higher yields. The dividend yield was 2.87% as of Friday's close, so that's really only a stone's throw from 3.00%. Shares declined by a dollar in the past week, and another decline of that value gets us most of the way to 3%. At that price, $37.33, the valuation looks a bit more reasonable. I'm not calling for a short position here, but I think you can do a little better.
Disclosure: I have no positions in any stocks mentioned, and no plans to initiate any positions within the next 72 hours. I wrote this article myself, and it expresses my own opinions. I am not receiving compensation for it (other than from Seeking Alpha). I have no business relationship with any company whose stock is mentioned in this article. Investors are always reminded that before making any investment, you should do your own proper due diligence on any name directly or indirectly mentioned in this article. Investors should also consider seeking advice from a broker or financial adviser before making any investment decisions. Any material in this article should be considered general information, and not relied on as a formal investment recommendation.