As everyone probably knows by now, Carl Icahn is currently invested in Apple (NASDAQ:AAPL). Icahn disclosed his position last week, stating that he believed Apple was undervalued and that the company should execute a larger buyback program. Icahn spoke to Apple CEO Tim Cook, and plans on speaking again. Apple shares rallied on the news, hitting $500 for the first time since January. There have been many articles, including a fair amount on this site, discussing the breakout in Apple shares thanks to the Icahn news. Most of these articles talk about Apple using technical analysis, including the fact that Apple broke above its 200 day moving average. But there hasn't been too much discussion on Apple's financial picture and the implications of a larger buyback program. Today, I'm here to discuss Apple's buyback. I'll cover the progress so far, examine Apple's financial flexibility and cash pile, and determine the earnings per share implications of a larger buyback.
The buyback so far:
One item that gets lost is that Apple's original $10 billion repurchase plan was not a true buyback. Yes, Apple was repurchasing shares, but only to the extent that they wanted the share count to stop rising. Apple was buying back shares to cover options dilution and other share-based payments. When Apple reported fiscal Q1 results back in January, the cash flow statement showed $1.95 billion in stock repurchased, the first time shares were bought back. Apple did not buyback any stock in Q2, but at that quarter's report they announced the $50 billion increase.
When we got to Apple's fiscal third quarter results, the cash flow statement showed $17.95 billion in repurchases, meaning $16 billion was bought back during fiscal Q3. Apple bought back $4 billion during Q3 on its own, but also had another $12 billion as part of an accelerated plan. That acceleration was described in more detail during the conference call:
An initial delivery of 23.5 million shares was made under this program with the final number of shares delivered in average price per share to be determined at the conclusion of the program, based on the volume weighted average purchase price of Apple's stock over the program period, which will conclude in fiscal '14.
For a complete history of Apple's buyback and all of the technical terms, please read the section on page 15 of their most recent 10-Q filing. The important item to remember is that there was still more than $42 billion left on the plan at the end of fiscal Q3. It will be interesting to see if Apple repurchased shares in fiscal Q4, how many, and the average price. The Icahn news has certainly pushed the stock price up, making it a bit more expensive to buy back shares.
Earnings per share improvement:
The initial $1.95 billion purchase of shares did not really do much to help earnings per share. While any shares bought back will help, this small purchase (compared to the Q3 one) only prevented Apple's diluted share count from rising further. When Apple reported fiscal second quarter results, it reported a diluted share count of 946.035 million for Q2 2013, compared to 944.893 million in Q2 2012. Also, the diluted share count for the first six months of the year rose from 943.185 million to 946.626 million. That doesn't seem like too much, but it did impact Apple's six month earnings per share negatively by 9 cents. That nine cent figure doesn't seem like much on nearly $24 in earnings per share. However, with the fall in net income, Apple reported an 8.67% drop in earnings per share (six months) thanks to the higher share count, as opposed to an 8.34% drop with the year ago figure. It all adds up in the end.
The huge Q3 purchase is what really changed things. Apple's Q3 diluted share count dropped to 924.265 million in this year's period from 947.059 million in the year ago. That's a substantial drop, and it improved earnings per share by 18 cents. Had Apple's share count stayed the same, Apple would have missed analyst estimates by three cents per share. Do you think shares would have rallied like they did if Apple missed? I'm guessing we would be seeing Apple about $25 to $50 lower in that case, because Apple always gets punished for its misses, unlike some other names. Additionally, Apple's earnings per share only fell by 19.90% in the Q3 period, instead of the 21.83% fall that would have occurred at last year's Q3 share level. That's a sizable difference, and is less than the key 20% mark.
Because the majority of this year's buyback took place during Q3, with limited repurchases in the first half of the year, the 9-month diluted share count has not seen a tremendous drop yet. Apple did get the number down from 944.440 million to 939.172 million, which did help earnings per share by 18 cents. That's a start, because if you remember from above, the share count actually rose in the first half of the year. Even if Apple does not buy back any more shares in fiscal Q4, the impact of the lower share count will be felt on the full year number even more. If Apple did buy back shares, you'll see an even greater impact then.
Projecting some possibilities:
Apple has produced a little bit more than $29.5 billion in net income during the first nine months of fiscal 2013. In last year's fiscal Q4, Apple had net income of $8.22 billion. For argument's sake, let's say Apple gets a little less than $6.8 billion in net income (basically the midpoint of their Q4 guidance) this quarter and reaches $36.3 billion for the year. How much can the buyback really help? Well, the chart below shows how even a few million shares can have a dramatic impact on earnings per share.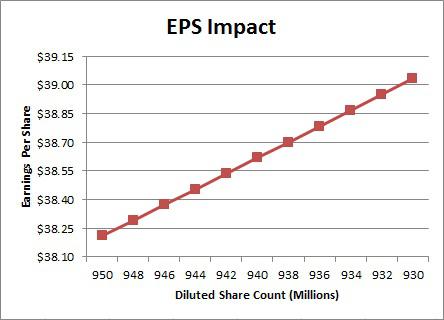 Now we don't know what the final share count for fiscal 2013 will be just yet. However, with a count of over 947 million in fiscal Q1, the count could have risen to 950 million (or more) had Apple not bought back any shares. If Apple gets the share count down to say 930 million for the year, or less, you could be looking at an earnings per share impact of $0.75 to $1.00 (or more). That doesn't seem like much for a company with almost $40 in earnings per share, but remember that last year's period had an adjusted $43.16 in earnings per share (when taking out the extra week). Would you rather see Apple report a fall of almost 12% in adjusted earnings per share, or a decline of 9.5% (or less)? I think the answer is obvious. Additionally, the buyback has supported the stock a bit during its fall, and without it, who knows how much lower Apple would be.
But let's take this one step further, and look at Apple's next fiscal year. Assume for the moment that Apple produces that $36.3 billion net income figure this year, on a 935 million share count, for $38.82 in earnings per share. Let's assume that Apple has no improvement in net income next year, staying at $36.3 billion. The following chart shows how Apple's earnings per share are impacted, in a potentially significant manner, by a lower share count.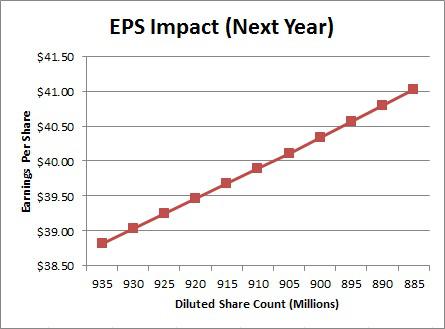 If Apple got the share count down to 890 million for next year's period, which is somewhat possible, they could improve earnings per share by more than 5% with no improvement in net income. Add in some net income improvement, and there is the potential for nice upside here. By the way, current analyst estimates stand at $42.31 for next year, after $39.09 this year, so analysts do expect a lower share count combined with some improvement in net income.
Examining the cash pile / financial flexibility:
For Apple to execute its buyback and pay its dividend, it does need to have a decent amount of cash and financial flexibility. Apple does have one of the best balance sheets out there, but there were some changes this quarter. Apple did take on roughly $17 billion in debt as a way to finance the accelerated buyback, and that has caused some ripple effects in the financial metrics of this name. The following table shows Apple's balance sheet at the end of Q3, up against last year's Q3 and this year's Q2.

*Liabilities to Assets ratio.
Now the important number that everyone seems to always focus on is that cash and investments number. This is the amount Apple has in cash and cash equivalents, short-term investments, and long-term investments. This balance is also known as Apple's cash pile, or cash hoard, since they have so much of it. Apple's cash pile did increase by almost $2 billion during fiscal Q3, as you saw above. However, most of Apple's cash pile is located outside the United States. I've compiled a table showing Apple's cash pile, including the domestic amount, going back a couple of years, which can be seen below.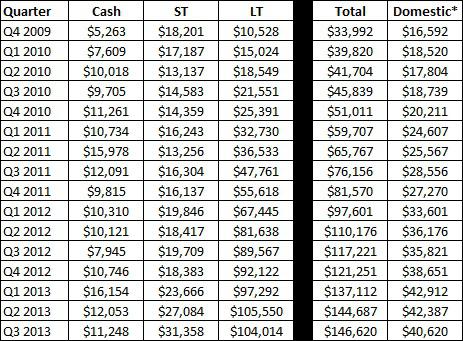 *Number may be slightly off due to Apple's rounding of foreign balance.
Even though Apple's total cash pile rose by almost $2 billion, the amount Apple has inside the US declined by more than $1.75 billion. Remember, funds outside the US cannot be used for dividends and buybacks, so only the domestic part counts really. If Apple wanted to bring those foreign funds back, they would be subject to repatriation taxes, and Apple could end up paying several billion to the US government. I'm not sure they want to do that. The domestic cash balance is up about $4.8 billion over the prior year period. However, Apple is spending more, thanks to the increased dividend and now the larger buyback. One other important item to note is that the percentage of the cash pile held domestically is at a new low, as seen in the chart below.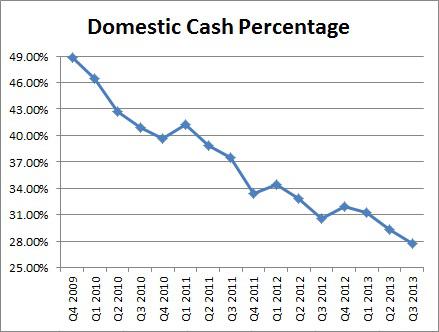 Depending on how much Apple spends on its buyback program in Q4, and if they add on any more debt, the domestic cash percentage could reach 25% very soon. That's about half of what it was just four years ago. In the past 15 quarters, the amount Apple has held overseas has increased from $17.4 billion to $106.0 billion.
Now onto to Icahn's proposal:
Apple expects the $60 billion total buyback to be finished by the end of calendar 2015, which means that they have 10 quarters left to buy back roughly $42 billion in stock. Before Apple started paying the dividend again and buying back stock, the domestic cash pile was growing at about $9 billion per year. Most expect further dividend increases plus that $42 billion to be bought back by the end of 2015. The question is with Apple needing a "margin of safety" in its domestic cash balance, will they have enough cash for all of these capital returns? At the moment, I don't believe they do, so I do expect another $10 billion to $20 billion in debt to be raised. I don't have a timeframe on when that will occur, because it will all depend on how the buyback progresses. If Apple goes along at a roughly $4 billion rate per quarter, they may not raise any debt for another year or two. But if they do another accelerated repurchase, they could raise debt at almost any time.
By my calculations, Apple is paying about $320 million annually, or roughly $80 million per quarter in interest costs. We should get an exact number with the next quarter's report. Apple recorded an interest expense of $53 million in Q3, but the debt was taken on in May, more than a month into the quarter. My math shows Apple paying an average interest rate of about 1.875% on its debt. That's fairly low overall, especially when you consider the fact that they are retiring shares that yield about 2.50% annually at current prices, and were over 3.00% at times.
So that gets us to Mr. Icahn and his larger buyback. We don't know how much he is arguing for. It could be $10 billion, $25 billion, $50 billion, maybe more. Now that Icahn has a large stake in Apple, he wants Apple's cash to be used more effectively, even if the majority of it is located outside the US. If Apple decided to increase its buyback right now, keeping the same end date, I just don't see how they could do it without adding more debt.
For now, let's increase the buyback by $25 billion, and assume that Apple could do an accelerated repurchase. At $500 a share, Apple could get back 50 million shares, which would instantly improve earnings per share in a significant way. The announcement of an increased buyback would probably also send the stock higher, because there would be more demand for shares, and there would be less shares available. Icahn knows what he is doing, and an increased buyback would help his position in Apple.
Even if Apple used debt for this buyback, would the financial impact be severe? Let's examine this. Interest rates have gone up significantly since May, as you can see in the 30-year bond rate chart below.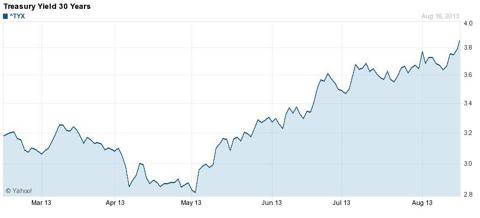 (Source: Yahoo! Finance)
Also, Apple would probably pay a higher rate this time around for two reasons. First, the added amount of debt would add a little more risk, so there is the potential that these bonds could be rated a little lower. A lower bond rating means slightly higher interest. Along the same lines, a larger dollar issuance of debt would mean a little more risk. So on average, Apple could pay somewhere between 2.5% and 4%, depending on the maturities they choose. If they went with more short-term debt, the average would obviously be lower. Even at 4% on $25 billion in debt, you are only talking about $1 billion in interest, and that is pre-tax. Yes, it would have an impact on net income a bit, but on an earnings per share front the much lower diluted share count would make up for that and then some.
You would have a slightly larger impact on Apple's domestic cash, however. First, Apple paying interest expenses would be a reduction in cash, especially if they are paying more in interest than the dividend rate. They would be able to offset some of that cash payment by the reduction in dividends paid. Also, if the bonds are US-issued, Apple would be paying the interest from its domestic cash pile. A majority of Apple's interest income is generated from the overseas investments, so that would not be an offset. It's not that big of a deal, but it would hurt the domestic cash pile a little.
Final Thoughts:
Apple's buyback may have started off small, but it certainly is starting to pick up steam now. Fiscal Q3 was the first quarter where the diluted share count was significantly helped by share repurchases, and going forward, earnings per share are expected to improve even more thanks to the plan. Carl Icahn has now entered the ring, arguing for a larger buyback. Apple's cash pile has grown, but the domestic portion has shrunk. In my opinion, Apple will need to take on more debt just to finish the current plan, and even more debt if they were to listen to Icahn. However, with interest rates still relatively low, interest expenses are not too much of a concern. An increased buyback is good for earnings per share, and good for investors. Apple shares have been on a tear lately, and I've advised investors to buy on pullbacks if possible. I reiterated a buy recommendation after the last earnings report with a $485 price target. Apple is now above that level, and over the next few weeks, I'll start looking forward to Apple's fiscal 2014 with an update on my price target.
Disclosure: I have no positions in any stocks mentioned, and no plans to initiate any positions within the next 72 hours. I wrote this article myself, and it expresses my own opinions. I am not receiving compensation for it (other than from Seeking Alpha). I have no business relationship with any company whose stock is mentioned in this article.
Additional disclosure: Investors are always reminded that before making any investment, you should do your own proper due diligence on any name directly or indirectly mentioned in this article. Investors should also consider seeking advice from a broker or financial adviser before making any investment decisions. Any material in this article should be considered general information, and not relied on as a formal investment recommendation.