I wrote a rather incendiary article about my conviction that the buying and selling activity of some of Tesla Motors' (NASDAQ:TSLA) more irrational shareholders is making the company very difficult to tackle. Shareholders appear to be placing all of their Tesla hopes and dreams in revenue (supported by an 82% R Squared significance of regression between most recent quarterly revenue and stock price closes). It goes without saying that, while revenue is extremely important to consider, there are other factors that should be contributing to Tesla's stock price (such as cash flow, earnings, debt, book value and shares outstanding), which simply are not at the moment. The company's incredible growth prospects, bright leader, and innovative product fail to translate to share price when too much emphasis is placed on revenue. The result is a stock for which we have no predictive power beyond revenue right now.
What this data suggests and what I have come to understand about Tesla shareholders is that they are intensely passionate about the company. Their decision to invest is more driven by their belief in a great product than fundamental financial basics. It is a mindset that is seldom found in this century's equity market, but has paid off for shareholders thus far, and for that, I cannot fault them. The reality is that shareholders are largely unwilling to give up the upside they see in the company once its story has grabbed their attention and some capital gains have been locked in. For some, the investment decision is driven largely by being Tesla owners themselves, which has led to the theory that stock price may actually be inducing revenue, rather than the other way around in the aforementioned regression. Whether or not you find cause for concern in the regression data or the fundamentals, there is a path to less risky exposure to Tesla's boundless upside: suppliers.
Everyone knows the story of Apple's (NASDAQ:AAPL) steady rise to being the largest market cap company in the country, but many fewer know that Apple's vast network of over 200 suppliers contains companies for which over 50% of revenue is derived from partnership with Apple. Cirrus Logic (NASDAQ:CRUS) has been estimated to receive 72% of its revenue from audio chips supplied to Apple. Funds have occasionally utilized Cirrus Logic as a mid-cap Apple play, since their fates are intertwined.
If Tesla has dreams of following in Apple's footsteps becoming the company you "wish you bought a long time ago," they will certainly need to bring some suppliers along for the ride as well. While they do develop their signature battery pack, onboard charger, motor, universal connector, and plastic components in house, they outsource the rest of the Model S's components.
Major Suppliers
I would like to apologize to anyone who read my last article about Tesla, which mistakenly stated that BorgWarner (NYSE:BWA) is a current supplier. The article has been corrected. BorgWarner partnered with Tesla during Tesla Roadster production, but there is no information to suggest that the partnership remains.
Tesla has been extremely quiet about their supply chain structure, a cause for some concern for an investor thinking about investing in any of its suppliers. However, the following two suppliers are partnered with many other companies, which goes a long way to ensuring that you will not get burned, even if partnership with Tesla ends.
Modine Manufacturing (NYSE:MOD) - Battery Chiller

Modine earns my top supplier spot for several reasons. As a company specializing in thermal management systems and a long track record, Tesla can be sure they have contracted the top dog to supply battery chillers, as opposed to a conglomerate auto company whose R&D costs are stretched across many auto part sub-industries.
Furthermore, the fact that Tesla has chosen to produce its batteries and all battery related parts, except for the chiller, in house, leads me to believe that Modine's technology is either incredibly important to the Model S and well worth the cost of outsourcing, that Tesla simply has not developed adequate chiller technology in house yet, or that Modine has a few patents that Tesla cannot infringe upon. In an official Tesla Model S promo video from 2011, a spokesman states, "It is imperative to keep [the batteries] at a uniform temperature, and to control that temperature." Although the video is somewhat outdated at this point, the statement indicates that battery cooling is a priority for Tesla engineers.
Their attitude is well founded: a report in 2012 details a series of Nissan Leaf owners who experienced significant loss of battery capacity due to cooling issues in the hot climate of Arizona. The Model S's performance nature means that any cooling issue would likely be more dire than that of the Nissan Leaf.
I will not pretend to be an expert on battery chillers, but it seems this is a piece of technology that is without precedent. Modine's most recent 10-K report offers little information on the product, other than categorizing it as "layered core battery chiller" under its automotive business segment. There is little way of knowing how much revenue Modine could tack on without an estimate of what a battery chiller might cost. Using Elon Musk's claim that Model S demand and production are approximately 20,000 per year, Modine will be supplying the company with 20,000 battery chillers per year, if their capacity is sufficient.
Here is a look at how much Model S revenue exposure could be captured, per dollar spent, at current stock prices.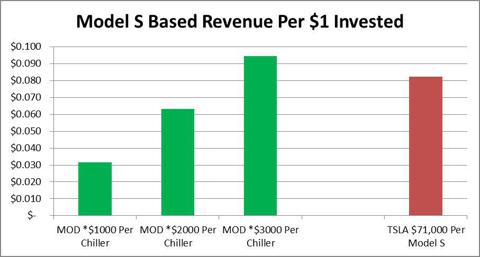 *We have very little way of knowing how much revenue Modine rakes in per unit. The battery chiller price estimates are meant to illustrate the idea that Model S exposure through Modine is much cheaper than Model S exposure through Tesla at current prices.
In addition to Model S based revenue, Modine earns revenue from its role as a global supplier to other major companies. If the Model S fails to be as popular as expected, Modine will be unaffected because no expectations have been factored into its current price. The company will continue to be valued based on its existing supplier partnerships across the globe (1.4 billion USD in total revenue from the trailing 12 months). Essentially, what this means is that there is currently no downside in using Modine stock to capture Model S exposure, while upside may be right in line with exposure captured through Tesla stock.
Finally, we have a high degree of certainty that the partnership does exist. This may seem like meaningless information, but Tesla's cloak and dagger routine has made suppliers a question mark in some cases. A somewhat official announcement can be found here from a Modine employee.
Freni Brembo (OTC:BRBOF) - Gran Turismo Brake System (Front and Rear Systems)

Brembo is an Italian brake manufacturer that trades more actively on the Italian stock exchange as the ticker BRE, but its American ticker is BRBOF.PK. Brembo earns the second spot because of its reputation as the brake supplier for performance and luxury car companies such as BMW (OTCPK:BAMXF), Mercedes-Benz which is owned by Daimler AG (OTCPK:DDAIF), Porsche (OTCPK:POAHY), and Ferrari which is owned by Fiat (FIATY.PK). Tesla's commitment to competing with these companies as a performance vehicle contender means its cars will need performance brakes. That gives Brembo a decent amount of security and bargaining power in the partnership.
Brembo supplies the complete racetrack-inspired Gran Turismo brake package to Tesla. For each Model S, this includes 6-piston monobloc calipers and 405x34mm 2-piece floating slotted discs with billet aluminum hats for the front, and 4-piston monobloc calipers and 380x28mm 2-piece slotted discs with billet aluminum hats for the rear. That amounts to 8 total units, plus metal-braided hoses and hardware.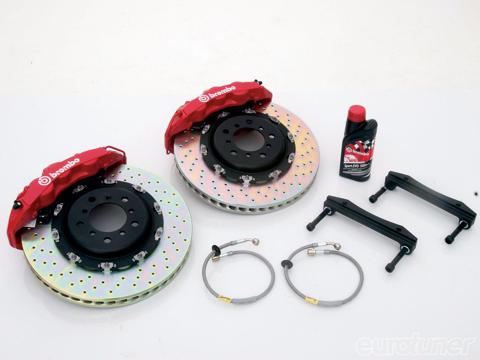 Compared with Modine's battery chillers, we have a much better idea of how much revenue Brembo earns per system supplied to Tesla. For a consumer to buy just a set for the front wheels of a performance BMW (half the full system), you are looking at a cost of about $4500. The rear set is about $3300. Since Tesla is buying the system wholesale, a conservative estimate would put the total price at about $3900 per Model S (50% discount).
Here is a look at how cheaply this Model S revenue exposure can be captured through investment in Brembo stock.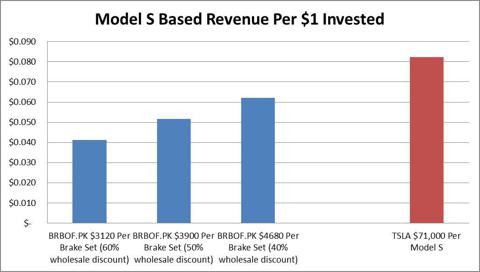 Exclusive investment in Tesla does offer more exposure per dollar spent, even using the most liberal estimate (40% wholesale discount). However, exposure is still significant for Brembo.
Finally, we again have a high degree of certainty that this partnership exists. This SupplierBusiness chart names Brembo as the brake caliper and brake disc supplier. A 2012 Model S owner notes here that his brakes were manufactured by Brembo, and Fuel-Efficient-Vehicles.org details the Gran Turismo system on a Model S.
Non-Systematic Risk
Spreading your investment between a long position in Tesla and one or both of the above suppliers goes a long way toward mitigating non-systematic risk without losing much exposure to Tesla. This risk factor is especially important for anyone who holds Tesla as a relatively large part of their portfolio. For those unfamiliar, non-systematic risk is risk that will affect a single company, but not others. This is the same reason most financial professionals advise holding a diverse portfolio.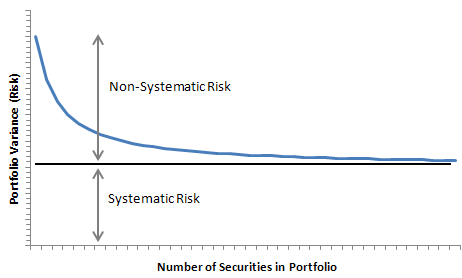 If Tesla is a relatively small part of your portfolio, I assume its position is a high risk / high reward complement to a safer array of other investments, in which case you have already mitigated most non-systematic risk.
However, if it is a large part of your portfolio, consider employing the following investment strategy to help reduce your non-systematic risk without losing much Tesla upside.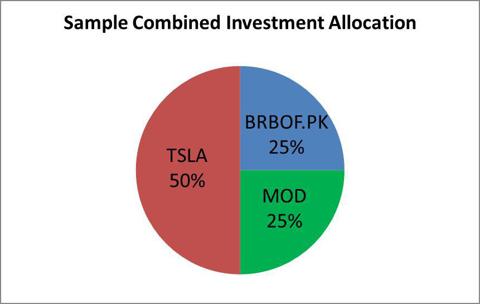 Allocation should be adjusted accordingly to account for Tesla's relative size in your portfolio. If it is the only stock you own, you may even want to consider a 33% allocation for each company to fully minimize non-systematic risk.
Value
I think we can all agree that Tesla has a great product to sell, but opinions definitely go both ways on whether the company's current price is attractive. Regardless, not many investors have made the connection between Tesla and the above suppliers, meaning there is a gold mine of value to be had for those who dive in early. If you truly believe that Tesla is bound for glory, both Modine and Brembo are tremendous value plays, especially given their small market caps and growth potential.
Brembo's PEG ratio of 0.4 suggests there is enormous upside potential based on how much earnings have grown in the past. A large contract filled for Tesla could mean a massive YOY increase in both revenue and earnings, which are only 1.88B and 114M respectively for the trailing 12 months. Modine has the similar appeal with a PEG ratio of 0.7 and positive free cash flow for the first time since 2007. Not only are these numbers extremely attractive for value investors, but also the fact that Tesla is now overwhelmingly a growth play means that these two value companies serve to even out the value/growth nature of a combined investment with Tesla.
Those familiar with the Fama-French Three Factor Model know that historically small-cap value companies have offered the highest non-systematic risk and highest upside of any Morningstar 3x3 matrix category. Both Brembo and Modine qualify as small cap value plays, which helps to recoup some of the upside that is lost in not being fully invested in Tesla, while eliminating some of the high non-systematic risk through a diversified investment.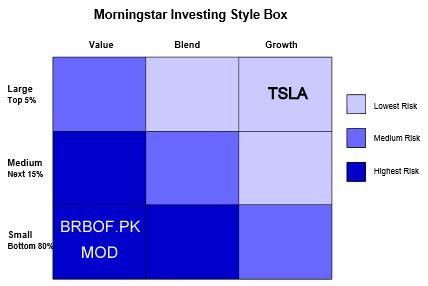 Disadvantages and Red Flags
One major red flag in the case of Modine is its outrageous 3.63 beta in a defensive industry that usually boasts low betas. Beyond uninspiring fundamentals until very recently in a cutting edge industry, there does not seem to be an obvious cause for this high systematic risk.
An unavoidable inconvenience of investing in a small European company like Brembo is that its stock will see only a tiny amount of volume on American exchanges under its ticker. More active investors must convert to Euros and invest in Italy's Borsa Italiana stock exchange under the ticker BRE.
Finally, the high performance nature of Brembo's brakes means that any shift away from the performance vehicle realm on Tesla's part will certainly limit the potential of their partnership. Tesla's Model X SUV is a bad sign for the partnership unless the company wishes to be consistent with its high performance reputation through all of its models. Rear falcon-wing doors on the Model X, which are typically found on a sports car, and a Model X Performance model boasting 0 to 60 miles per hour in 5 seconds suggest that they will maintain the tradition of performance.
Takeaways
History has shown us that investing in a rapidly growing company's major suppliers can bear just as much fruit as investing in the rapidly growing company itself. Tesla's major publicly traded suppliers, Modine and Brembo have working partnerships and are small enough that significant upside can certainly be captured alongside respectable exposure to Model S sales. Non-systematic risk can be significantly mitigated at little cost.
If this strategy has a place in your portfolio, Modine and/or Brembo are the plays to make.
To Readers Leaving Feedback...
I will almost always respond to comments, but please consider that I am not intending to give you a detailed long or short recommendation for Tesla nor an analysis of the Tesla's product. I am not trying to change anyone's mind. I am suggesting an investing strategy for those who have already decided that exposure to Tesla would be advantageous to their portfolio. If it does not have relevance to your portfolio, please keep your feedback limited to what this article discusses and feel free to message me privately if you have feedback that does not fit this criteria.
Disclosure: I have no positions in any stocks mentioned, and no plans to initiate any positions within the next 72 hours. I wrote this article myself, and it expresses my own opinions. I am not receiving compensation for it (other than from Seeking Alpha). I have no business relationship with any company whose stock is mentioned in this article.
Additional disclosure: I do not own a Tesla. I have no agenda nor hidden motivation for writing this article. As an undergraduate student on a budget, I have no positions, nor intention to initiate any positions in the next 72 hours, but I believe I would be long TSLA, MOD, and BRBOF.PK if my circumstances allowed.