Earlier this year Coca-Cola (NYSE:KO) launched Coke Life, a new naturally sweetened low calorie cola that comes in environmentally friendly bottles and cans, in Argentina. Boasting only 64 calories for a 12 oz serving and 50% less sugar than a regular bottle of Coke, this new product, wrapped in a green label as opposed to the famous red label, is sweetened with a blend of sugar and stevia, the sweet extract from a South American shrub that has been the darling of the natural zero calorie sugar substitute market. Though stevia is growing in popularity, so much so that the World Health Organization predicts the extract will eventually replace 20-30% of all dietary sweeteners, the natural sweetener is still in its early stages and there are a number of flavor profiles that need to be worked out to compete with other methods of sweetening beverages. However, the soda industry does not have the luxury of waiting too much longer to bring a new natural low calorie sweetener to market as soda sales have been steadily dropping since 1998.
Consumers Are Choosing Healthier Products
The soda industry needs to address some major challenges if it wants to stem the decline in sales, which seems to be accelerating each year. In 2010 soda sales declined 0.5%, in 2011 the decline was 1%, and in 2012 the downward trend continued to 1.2%. The decline can be attributed to a larger pool of sweet beverage choices such as energy drinks, iced teas, and flavor infused waters; but more importantly, there is a changing trend to more health conscious consumers who are looking to trim the amount of sugar and artificial ingredients in products they consume. Just as quick service restaurants like McDonalds (NYSE:MCD) and KFC (NYSE:YUM) have felt the pressure from fast casual restaurants, like Chipotle (NYSE:CMG) and Panera Bread Co. (NASDAQ:PNRA), which serve healthier and more environmentally friendly products, the soda industry too is feeling the pressure from these same consumers who are demanding a more healthy and natural choice. While soda sales in the U.S. is still big business (2012 sales were $28.70 billion), Coca-Cola saw its soda sales drop 4% in the U.S. in the second quarter 2013, while PepsiCo (NYSE:PEP) sales dropped 3%.
DIET SODA SALES LEAD IN SODA SALES DECLINE
With the war on sugary beverages and the changing attitude of the consumer to lower sugar intake, one would think that diet soda sales would be on the rise. Not so, sales of diet sodas are down at a greater percentage than the sugary sodas, as consumers are also becoming more conscious about what chemicals they put in their bodies, so much so that Cocoa Cola is rolling out a national campaign assuring customers that artificial sweeteners are safe to consume. Pepsi's diet soda sales saw a decrease of 8% compared to the 5% drop in regular sodas, and Coca-Cola as well saw similar declines. According to John Sicher, editor and publisher of the trade publication, Beverage Digest, the drop in sales "won't change and will probably get worse without a major breakthrough in new sweeteners." And that, I believe, is why Coke launched its new line Coca-Cola Life.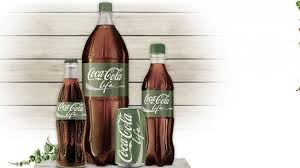 But why would Coca-Cola take the risk to roll out a stevia cola product to a nation of 41 million (Argentina) where it already controls 50% of the soda market? Especially when CEO, Indra Nooyi, of Coke's major rival, Pepsi, commented negatively on the flavor profile of stevia in colas when she said, "Stevia, unfortunately, does not work well in colas." I believe the answer can be found in Coca-Cola's partnership with Cargill, the privately held food producer and marketer, and what appears to be a breakthrough method in producing stevia, which may just give them an advantage over other bottlers with their stevia brand, Truvia.
Up until now stevia has been grown on small farms scattered across the globe, though mostly in China. The leaves are then sold to providers like PureCircle (OTCPK:PCRTF), the largest of the stevia distributors. These providers would then extract the sweet glycoside, Rebaudioside A (Reb A), and ship it off to their customers. PureCircle has deals in place with Coca-Cola and Pepsi to supply both companies with stevia, and has been working with their contract growers to develop new strains of stevia that will have better flavor profiles. So far these new developments and have seen moderate success, but have yet to find the "sweet spot" for colas. Recently two other glycosides -- Reb D and Reb X -- have gained attention by both PureCircle and its customers as having better flavor profiles for soda than Reb A. The problem is that both Reb D and Reb X are found in minute amounts in the stevia leaves; thus it will take a lot more leaf production, which will make the extract far more costly than Reb A.
FERMENTATION PROCESSES COULD BE THE FUTURE OF STEVIA PRODUCTION
At this time PureCircle is supplying the lion share of stevia to both Coca-Cola and Pepsi, but that all might change now that Cargill agreed to invest with the Swiss company Evolva Holding SA (EVE.SWX), to develop its yeast fermentation-derived steviol glycosides. Evolva, which has had success providing technologies to develop ingredients to the food and beverage industry as well as the consumer health and pharmaceutical sectors, has already succeeded in creating stevia extracts via its fermentation-based process by using low-cost sustainable carbohydrate feedstock as starting material. A successful fermentation-based process on an industrial scale would be a "game changer" in extracting stevia as it would allow for the production of the individual components of stevia to be developed, regardless of how minute (like Reb D and Reb X), which in turn could result in a number of new blends and flavor profiles in any volume required. It also opens up the possibility for food and beverage manufacturers to fine-tune the stevia extract that best fits the products, including colas.
Evolva has been developing its stevia fermentation process on a pilot-scale at its Copenhagen site and expects production by 2015. And since steviol glycosides have been approved for use in foods and beverages in the U.S. and Europe, Cargill will only have to prove substantial equivalence to use the process for Truvia.
It would make perfect sense that Coca-Cola introduced Coke Life in Argentina as the foundation for a marketing strategy with the expectation of the actual production of the fermentation-based method to begin in the next few years. Robert Brooke, CEO of Stevia First (OTCQB:STVF), a development-stage agricultural biotechnology company that is in the process of testing and developing its own stevia fermentation- based process under a license agreement with Canada's Vineland Research and Innovation Center, sees the rollout of Coke Life as validation of the potential of the fermentation-based process for both Evolva and his company. "The added wrinkle is that it (Coke Life) was also disclosed, in almost the same breath, that Coca-Cola is pursuing next-generation stevia sweeteners like Reb D and Reb X. These next-generation sweeteners are very rare in nature and therefore more costly to produce, making them ideal candidates for production using fermentation processes."
FERMENTATION-BASED STEVIA: BETTER PRODUCT, LOWER COSTS
According to separate press releases from the aforementioned companies, the fermentation process has worked on a pilot scale for both Cargill and Evolva and for Stevia First, validating the potential of an entirely new method of producing a superior stevia product that can be manufactured anywhere on the globe. But there is another advantage to the fermentation-based process: It costs a lot less than the farm-based method. Stevia First's Mr. Brooke commented about the potential savings in extracting stevia via the fermentation-based process: " This (the fermentation-based process) has the potential to bypass or diminish the need for stevia leaf production, which currently accounts for 70% or more the costs (sic) involved with stevia extract production, while also producing a final product that could be better-tasting and more consistent."
OTHER SODA BOTTLERS WILL NEED TO DEVELOP A COLA TO COMPETE WITH COKE LIFE
If Coca-Cola were successful in developing the first stevia-based cola with a superior taste profile and doing so at a lower cost than other bottlers, Coca-Cola would have an incredible advantage over its competitors in both taste and cost. And I doubt that Pepsi would want to be forced to buy its stevia from Cargill who is partnered with Coca-Cola, especially since it already has a competing stevia product in PureVia, owned jointly with Merisant. Therefore I wouldn't be surprised that, in order to compete in the low calorie or zero calorie natural sweetener sugar substitute market, either Pepsi or PureCircle or one of the other major bottlers looks to develop its own fermentation process or partners with another company who is developing such a method, like the California-based Stevia First.
CONCLUSION
PureCircle has had a great run, up 71% year-over-year. However, the stock has pulled back slightly in the past month of trading. Though I don't credit the pullback with the Coke Life announcement, I do have concerns for the future profits of PureCircle if it just sits back and watches Cargill and Evolva's fermentation-based process move to an industrial scale, which may put little Stevia First, with its own process, in play with a PureCircle or a major bottler.
Coca-Cola, whose stock closed on Monday August 13th at $39.65, down $0.81, has dropped over 6% in the past three months. Revenue came in at $12.75 billion, below estimates of $12.95 billion. But over the long term there are few stocks that are better to have in one's portfolio for safety, growth, and dividend returns. Add to that, if the company does indeed succeed with Coke Life in rekindling the diet cola market, look for the product to line the shelves of countries around the world, which would enhance the company's already solid bottom line. I see Coco-Cola as a buy, especially with the current dip in the price, which I doubt will last long.
PepsiCo stock closed on Monday August 13th at $83.39, down $0.42. The stock has had an excellent run up year-to-date, almost 22%. However, there is no hiding that while snack sales were up 6%, soda sales slid 1%. I do like the stock, but I'd like it better if the company announced a product that would compete with Coke Life. But until that happens I'd wait for a pull back on price before buying.
What I find interesting, as an investor, is that Coca-Cola's stock did not rise after its late June announcement that it planned to sell the mid-calorie cola in Argentina, but Evolva's stock has since risen over 15%. This tells me that if Pepsi or PureCircle does invest in a fermentation-based process, either by collaboration or an outright buy of a smaller company, look for that smaller company's stock to rise.
Disclosure: I have no positions in any stocks mentioned, and no plans to initiate any positions within the next 72 hours. I wrote this article myself, and it expresses my own opinions. I am not receiving compensation for it (other than from Seeking Alpha). I have no business relationship with any company whose stock is mentioned in this article.