A variety of considerations are beginning to coalesce into the strongest bear case on the stock market all year. Even bulls concede that easy money from the Federal Reserve, and other central banks around the world, has been a primary driver of stock market returns the last few years. But the Fed may be poised to pull back as soon as its September meeting.
A vigorous debate is shaping up in the financial markets over the prospect of tapering. Last week's strong weekly jobless claims are another data point in favor of tapering. "The notion of the Fed starting to taper after the September meeting is becoming pretty well-founded," Brad McMillian, chief investment officer at Commonwealth Financial Network, told Barron's.
Also concerning are weak earnings from two bellwether companies last week, which played an instrumental role in Thursday's sell-off. Cisco (NASDAQ:CSCO) gave a weak forecast and announced significant layoffs Wednesday afternoon. On Thursday morning, Wal-Mart (NYSE:WMT) lowered its full-year sales growth forecast to 2%-3% from 5%-6%. These are big, connected companies whose results provide a window into the overall economy.
Another concern is the peril of rising interest rates. The yield on the 10-year Treasury has soared from around 1.6% to over 2.8% in the last three months. That is deadly for interest-rate-sensitive industries like housing, and contractionary for the overall economy.
Click to enlarge image.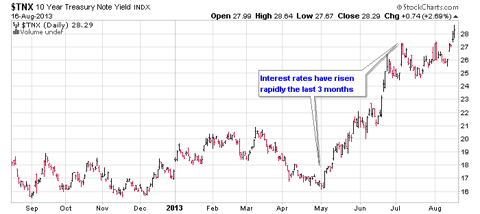 Finally, seasonality is turning negative. August is traditionally a slow month as many on Wall Street take their summer vacations. However, as summer turns into fall, September and October are notoriously bad months for stocks.
In recent articles, I have written about how I have been too bearish on stocks during the last few years. However, turning overly bullish at this stage of the game would be exactly the opposite mistake. These are warning signs that the easy gains of the first part of the year may be a thing of the past.
Disclosure: I have no positions in any stocks mentioned, and no plans to initiate any positions within the next 72 hours. I wrote this article myself, and it expresses my own opinions. I am not receiving compensation for it. I have no business relationship with any company whose stock is mentioned in this article.