Packaged food producer Smithfield Foods (NYSE:SFD) is trading down 8% today, on news that the CEO unloaded 100,000 shares of stock this week after the company enticed new investors to buy shares a couple of weeks ago. A pump-and-dump indeed.
Look at the chart: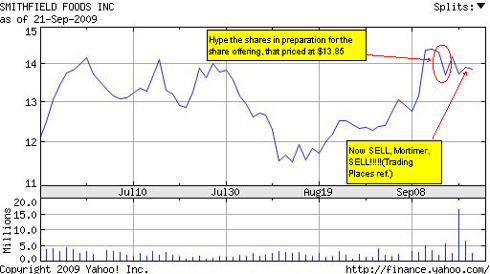 Click to enlarge
Under pressure, the company
issued a release
noting that the CEO sold for reasons of financial necessity, and that he is completely confident in the company's prospects:
Smithfield Foods, Inc. said today that its President and Chief Executive Officer, C. Larry Pope, sold 100,000 shares of Smithfield Foods common stock to meet personal financial obligations. Prior to the sale, Mr. Pope owned 322,000 shares of Smithfield Foods common stock directly, as well as stock options to purchase 670,000 additional shares. As executives are paid for performance and bonuses were not taken last year, this share sale is purely to fulfill personal commitments. Mr. Pope does not intend to sell any additional shares at this time.

Mr. Pope reiterated his enthusiasm about the future of Smithfield Foods. "Smithfield's packaged meats business is performing at record levels and profitability is already benefiting from the restructuring plan. In addition, hog production results will improve as herd reductions accelerate and supply is reduced. We continue to position the overall business for much stronger earnings and I am very optimistic about the potential earnings power of this company," said Mr. Pope.
Speaking of that stock offering, one director and large shareholder was so incensed by the unnecessary dilution that he resigned from the board.
The director that resigned in protest (and I'm not saying he was wrong) was Paul J. Fribourg, a likely descendant of Simon Fribourg, the founder of Continental Grain in Belgium, in 1813. He is currently chairman of Continental Grain, and head of Arlon, the company's internal investment wing.

Disclosure: No position