Everyone knows that the PC market is weak right now. The move to tablets and smaller, more mobile devices has certainly shaken up this industry. Those names that have more exposure to this industry have seen their stocks hit a bit in recent months, as fears that the expected rebound in the second half of this year may not be coming. Today, I'm going to make the short case for Hewlett-Packard (NYSE:HPQ). There are a variety of factors I'll explore, and I'll also explain how to make this move, given that earnings are coming this Wednesday.
If the problem is revenues, HP is not your friend:
There are a number of related names that have seen some recent troubles, which could shed a light on HP's business:
Microsoft (NASDAQ:MSFT) - Announced a huge fiscal Q4 revenue and earnings miss. Windows OEM revenue, which accounts for 65% of that division's sales, is expected to show a mid-teens adjusted drop in fiscal Q1. Microsoft is looking for ways to adjust Windows pricing as consumer demand has dropped. Microsoft Office growth is expected to be light due to the weak consumer. Microsoft shares lost 11.4% after its earnings report.
Intel (NASDAQ:INTC) - The chip giant missed on revenues and earnings for fiscal Q2. Intel also gave a lower-than-expected revenue forecast for Q3, and cut its full-year revenue forecast from some growth to none. It appears that Intel's second half growth story will turn out to be fiction. Intel shares lost 3.77% on the news, and are down 9.28% since then, when excluding dividends.
Cisco Systems (NASDAQ:CSCO) - While Cisco had slight beats on the top and bottom line, they gave a very light revenue forecast. The company said it sees a mixed macro environment. Cisco lost more than 7% Thursday on the weak guidance, and declined even more on Friday. Shares of HP were down 4.5% on Thursday, partially thanks to weak order data from Cisco. Cisco and HP are fierce competitors in the server and Ethernet switch markets, and Cisco noted a 2% drop in enterprise orders.
If you are looking at an industry that's having trouble with revenues, wouldn't you worry most about a company with falling revenues? Current estimates call for an 8% drop in fiscal Q3 revenues for HP, followed by a 6.1% drop in fiscal Q4. While revenue declines are expected to improve in the following year, analysts are looking for a two-year decline of roughly $11.5 billion, almost 10%. Given how many large tech names are seeing weak consumer demand, HP is not in a great position. The Microsoft numbers concern me the most.
Have you missed the rally?
So what if HP's results come in better than expected? Well, at that point, you have to wonder how much is baked into the stock already. As you can see from the chart below, HP shares are up nearly 40% over the past year. They are up almost 90% year-to-date, and almost 140% off their 52-week low.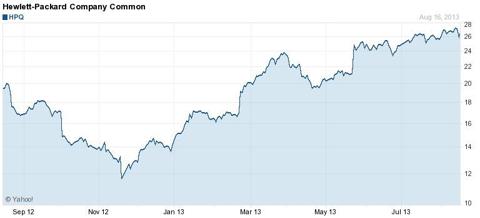 (Source: Yahoo! Finance)
At Friday's close, HP shares were just $1.36 from their 52-week high. That high was reached recently, after rumors that Carl Icahn had taken a position in HP. Those rumors have since gone away, and we now know that Icahn took a position in Apple (NASDAQ:AAPL). With shares so close to their yearly high, you could have a "buy the rumor, sell the news" phenomenon here. Even if HP's results beat, the stock could still go lower afterwards. Don't forget, HP shares trade currently at a 5.7% premium to the $25 median price target on the Street.
Most short sellers are gone already:
With HP shares still well below their levels from a few years ago, most might think that this is a heavily shorted stock. If you believe that notion, you might think a short squeeze could be possible with a good earnings report. Well, I'm sorry to disappoint you, but HP is not a very heavily shorted stock. At the latest update on short interest, less than 44 million shares were short in HP. That's about 2.3% of the 1.92 billion float, a very low percentage. A chart of HP's short interest in the past year plus can be seen below.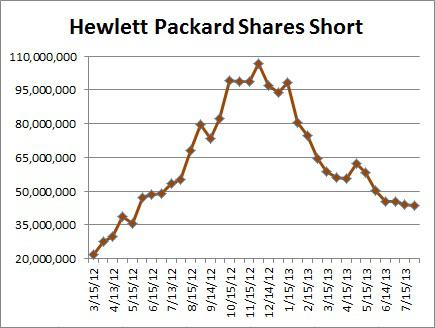 The chart shows the second piece of bad news for those looking for a short squeeze. Nearly 60% of all short positions have been covered since the 106.65 million high point set at the end of November 2012. Even at that point, only a little more than 5.5% of the float was shorted. Sure, there is still room for shorts to cover, but a large portion of them are gone already. There are always going to be some investors short a name, because some use it as a hedge, so even on a spectacular report this week there may not be too much short covering. Unfortunately, we won't get the mid-August short interest report until about a week after the earnings report. It would have been nice to see if more shorts were covering into the report, or if short interest spiked on more bearish bets.
Final Thoughts:
With many tech giants reporting soft consumer demand for PCs, Hewlett-Packard seems destined for a weak report this week. Microsoft, Intel, and Cisco have all issued downbeat commentary, and shares were punished for it. With HP shares up almost 90% year-to-date, I don't know how much room is left to run. The stock is already above the median price target on the Street, and many short sellers have already covered. HP needs a very good report to justify these gains, and with the PC market very weak, is that possible?
For the reasons listed above, I do think HP is a short candidate for the near term, until the PC market really starts to stabilize. With many names reporting weak revenue numbers, I don't want to be in the name that's also reporting sizable revenue declines. A short position in HP seems like a good way to play the weak PC market right now. However, I will give this one caution. If you do plan on shorting through earnings, I would suggest some sort of hedge (maybe whatever options strategy floats your boat), just in case there is an upside surprise. Other than the earnings report reaction, however, HP just seems a bit overextended in my opinion. I'd be even more worried if HP goes into its report at or closer to its 52-week high.
Disclosure: I have no positions in any stocks mentioned, and no plans to initiate any positions within the next 72 hours. I wrote this article myself, and it expresses my own opinions. I am not receiving compensation for it (other than from Seeking Alpha). I have no business relationship with any company whose stock is mentioned in this article.
Additional disclosure: Investors are always reminded that before making any investment, you should do your own proper due diligence on any name directly or indirectly mentioned in this article. Investors should also consider seeking advice from a broker or financial adviser before making any investment decisions. Any material in this article should be considered general information, and not relied on as a formal investment recommendation.