There is a lot of oil news out today so that is what we are focusing upon as it is offering some compelling stories for investment ideas. It is worldwide oil news relating to Egypt, the North Sea and onshore domestic oil exploration and production.
Whereas oil is an important part of our portfolios so too is uranium as it pertains to planning for future allocations and we must say that the recent price in U3O8 prices has left us unenthused about venturing into the sector in any meaningful way just yet.
Chart of the Day:
We have seen the spot U3O8 price rebound from recent lows, however $35.75/lb is an unacceptable price for producers to have to sell at based on the cost to produce the yellow metal. There are producers with world-class mines having capital issues right now due to the low prices and we have to imagine that we are nearing a bottom here based on that information and the assumption that Russia is due to pull out of the 'Megatons to Megawatts' program at the end of this year.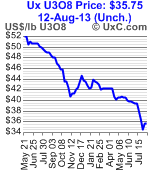 Source: UxC Consulting
Commodity prices this morning are as follows:
Gold: $1371.00/ounce, UNCH by $0.00/ounce
Silver: $23.19/ounce, down by $0.132/ounce
Oil: $106.82/barrel, down by $0.64/barrel
RBOB Gas: $2.9781/gallon, up by $0.0106/gallon
Natural Gas: $3.439/MMbtu, up by $0.071/MMbtu
Copper: $3.3375/pound, down by $0.0255/pound
Platinum: $1518.70/ounce, down by $8.80/ounce
Oil & Natural Gas
It goes without saying that right now Carl Icahn is on a huge winning streak and is at the top of his field. The man has learned that not every transaction has to be hostile and has become a statesman of sorts and built a following among average investors. This is most apparent in his recent tweets adding about $17 billion in market capitalization to Apple shares. So when we see that Mr. Icahn is creating new positions or adding to established positions in the commodity space we pay attention and on Friday we saw that he added to his Chesapeake (NYSE:CHK) position. He now owns about 9.98% of the company based on the last filing and we would venture to say that he is done adding to his position. Our guess is that he is of the opinion that the shares go nowhere but up from these levels and that he bought this last 1% of the company to be fully loaded for the rise. It makes sense to us as the company has done well working around their capital needs and seems to be hitting their stride in the Utica where mid-stream assets continue to come online and hook into the grid on a daily basis.
We were correct to believe that Chesapeake would report solid Q1 earnings and rise to the $25/share level. With the Icahn stake increase we believe that shares are headed higher or else he would not have been a purchaser.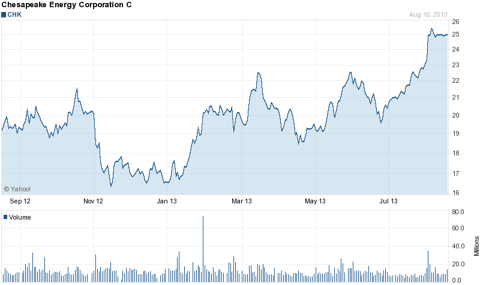 Source: Yahoo Finance
The trend of the big multi-national oil companies to seek bigger risks for bigger rewards continues as Norway's Statoil (NYSE:STO) announced this morning that they would sell four of their North Sea oil fields (interest within those fields) for a combined $2.6 billion in order to fund their efforts on the continental shelf. Statoil is big in the North Sea but readers also must remember that the company has been a big investor in the North American shale plays and it would only be reasonable to expect that their plans in the Bakken and other liquids rich shale plays would see an increase in capital expenditures as the company looks to build production back up after this transaction.
There are two downgrades we want to talk about this morning, with the first one being Southwestern (NYSE:SWN) and the second being Apache (NYSE:APA). Southwestern is the large natural gas focused E&P play that has some of the lowest cost natural gas production out there, but is still in the natural gas business. The stock has held in relatively strongly and even saw a nice bid as natural gas prices rose, however prices have since retreated. The shares were downgraded from an 'Outperform' to a 'Market Perform' at BMO Capital Markets with a price target of $40/share.
We recommended buying Apache after shares were hit due to the first uprising in Egypt and managed to time the call with the upturn in the share price. The company has listed their Egyptian assets and is in the process of selling that production, however it remains unsold and still makes up about 20% of their production. That is a lot of exposure to a region that neither management nor shareholders want exposure to right now and a region where it will be hard to extract top dollar from a buyer with the most recent events (which seem to be much worse than the events that led to the Morsi government being ushered in). We would expect further downgrades such as the one by Stifel where they took the shares from a 'Buy' to a 'Hold'. Long-term this company looks like a solid bet, so any downturn might be looked upon as an opportunity to add to positions rather than sell.
We would hope to see support at $75/share and that we would not dip below that level. So long as the situation in Egypt does not deteriorate further and the company's assets remain intact, any significant move lower could be seen as a buying opportunity.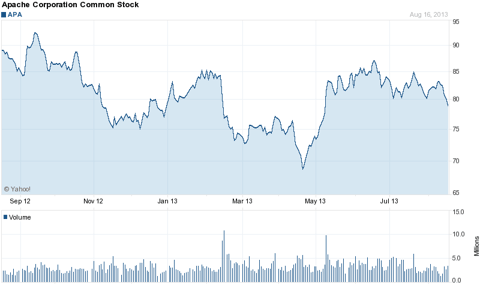 Source: Yahoo Finance
Of interest to readers...
We all knew that Aubrey McClendon would be forming a new company to raise capital and then purchase acreage in various shale plays and it appears that he has begun to put that capital to work. It is rumored that McClendon is behind the bid for the Enervest/EV Energy Partners (NASDAQ:EVEP), LP sale of 22,500 acres in the core of the NGL window in the Utica. Mr. McClendon's new venture is also believed to be behind the current high bid for Royal Dutch Shell's 50,000 acre position which is available in the 'oily' part of the Utica and we view this activity, if true, to be extremely bullish for EV Energy Partners as they have a lot of exposure to the Utica with most of it hinging upon the success of the oil window. If Mr. McClendon is making his bet here, we think that is positive and surely would want to be involved to the best of our abilities and it seems that EV Energy Partners is the way to do that.
Disclosure: I am long EVEP. I wrote this article myself, and it expresses my own opinions. I am not receiving compensation for it (other than from Seeking Alpha). I have no business relationship with any company whose stock is mentioned in this article.