Overview
Bolsas y Mercados Espanoles (BME.MC) (OTCPK:BOLYY) is the exchange operator of all stock markets and financial systems in Spain. BOLYY.PK has been a listed company since July 2006 and an IBEX 35 Index constituent since July 2007.
The company is organized in seven business units with most of its revenues coming from the commissions it charges when Spanish stocks are traded through its Spanish listing.
| | | | |
| --- | --- | --- | --- |
| First Half 2013 | | %Revenue | %EBITDA |
| Equity | | 36 | 35 |
| Clearing and Settlements | | 29 | 34 |
| Information | | 11 | 12 |
| Derivatives | | 9 | 7 |
| Listing | | 7 | 5 |
| IT & Consulting | | 6 | 4 |
| Fixed Income | | 3 | 3 |
Source: Bolsas y Mercados Espanoles, Business performance first half 2013
NOTE: All $ amounts below will be based on € amounts at constant FX 1.33 $/€.
Headwinds in market share
BOLYY.PK has historically enjoyed a nearly monopolistic moat in its activity on the Spanish markets, with a market share over 95% in the IBEX 35 Index. However, since February 2013 this situation is being challenged by BATS Chi-X (BATS:BATS) whose market share has quickly jumped from 5% to over 15%.
This trend could continue in the short term if BATS is set to converge to the average of other major European stock markets, potentially reaching a market share of up to 30%.
On top of a stronger competition, the stock markets have seen a generalized decrease in volumes over the last year. The trend in 2013 continues, with volumes until July decreasing 10.5% when compared to same period in 2012. However, July 2013 volume has been 3.1% above the previous year.
2012 vs. 2011 volumes

Euronext

-22%

Deutsche Börse

-24%

London Stock Exchange

-17%

Bolsas Y Mercados

-25%

NYSE

-25%

NASDAQ

-23%

BM&Bovespa

10%

Tokyo Stock Exchange

-12%

HKEx

-18%
Source: Bolsas y Mercados Espanoles
Volumes can also suffer from new regulations, as shown in 2012 with the ban on short selling lifted on January 2013.
Revenue, Earnings and Dividends
These factors have been impacting BOLYY.PK negatively and will probably continue to do so. Although the company is managing to avoid higher declines in EPS by diversifying its activities, these are not growing at rates that can offset the threats of declining volumes and loss in market share. The company is also a reference in terms of profitability (ROE 35%) and runs with high operational standards (efficiency 33%), which makes it more difficult to offset drops in revenue by increasing efficiency further.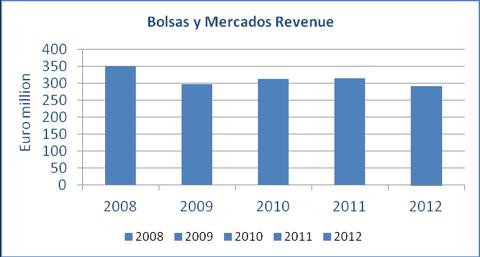 Source: Bolsas y Mercados Espanoles
BOLYY.PK currently offers a high yield of around 8% by distributing both ordinary and extraordinary dividends.
The bulk of earnings are distributed through ordinary dividends, showing the commitment from the company to keep rewarding its shareholders. However, the 98% payout through ordinary dividends casts necessary doubts on the sustainability of these payments.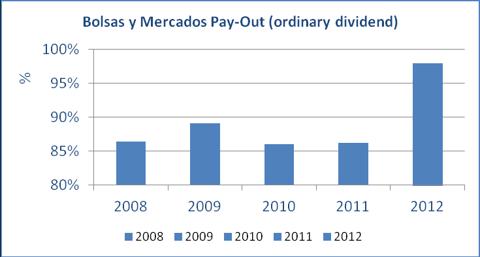 Source: Bolsas y Mercados Espanoles
On the other hand, BOLYY.PK's balance sheet is very strong with €186 ($247) million in cash plus €89 ($118) million in fixed income assets (2/3 invested in Spanish sovereign debt and 1/3 in other fixed-income securities). These add to about €3.3 ($4.4) per share.
This fact has allowed BOLYY.PK to distribute a yearly extraordinary dividend of € 0.37 ($0.49) for the last 4 years, and at the current rate the company could continue to return its excess cash to shareholders through extraordinary dividends for nearly a decade.
BOLYY.PK has kept total distribution stable at €1.97 ($2.62) every year for the last 5 years. Of course it could also use its excess cash in the future to sustain its ordinary dividends in the event that EPS keep declining, but this would lower the value of the company by an equal amount and result in a payout over 100% that would not be sustainable in the long run.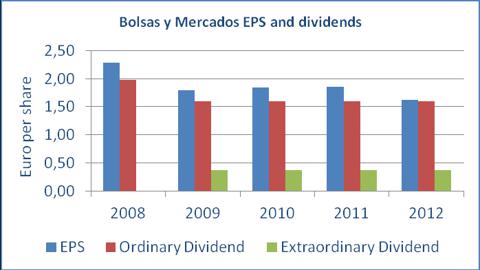 Source: Bolsas y Mercados Espanoles
Company valuation
EPS were €1.62 ($2.15) in 2012 and first half of 2013 points towards similar expectations.
For the high-level valuation scenarios below, I used two conservative assumptions. The first one is that BOLYY.PK earnings will never grow in the long term again (ever, even despite of inflation). The second is a yearly discount rate of 10% on future earnings.
Scenario 1 assumes EPS remains at the level of 2012 forever. Discounting future earnings to net present value, the operating assets of BOLYY.PK would be fairly valued at around €18 ($24). On top of this, BOLYY.PK holds non-operating assets in its balance sheet worth around €4 ($5) per share, mainly the strong cash and fixed income positions discussed above plus some other assets. A total fair value for the company would be then around €22 ($29).
Scenario 2 assumes that BOLYY.PK loses overnight 30% of its volume to competitors. BOLYY.PK's earnings are 78.5% directly linked to volumes, so EPS could get as low as €1.24 ($1.65). In this rather stressed scenario, the resulting value of operating assets would drop to €14 ($18), which together with non-operating assets would set fair price of around €18 ($24).
Conclusion
The discussed valuations suggest that BOLYY.PK might be a good share to hold for high yield returns at its current price of €22 ($29) and potentially become an excellent buy opportunity at €18 ($24) - it stood below that level for most of 2012.
The sustainability of its dividend will depend mostly on how the company decides to use its excess cash. Ordinary dividend payout is reaching its sustainability limit, but BOLYY.PK would no doubt be able to keep offering a high yield during the next years by distributing its excess cash. However, keeping a high yield at the expense of its balance sheet does not add value for the shareholders. A better option for BOLYY.PK might be to buy its own shares rather than invest its excess cash in Spanish sovereign debt (which can raise eyebrows among some potential shareholders).
Additional capital gains might bring a rosier picture in the future if BOLYY.PK is successful at diversifying its business away from volume-linked activities or if renewed appetite for Spanish assets sets volumes to grow again. If or when renewed appetite appears, BOLYY.PK is as well a good target for a takeover, which could result in additional capital gains.
Disclosure: I am long OTCPK:BOLYY. I wrote this article myself, and it expresses my own opinions. I am not receiving compensation for it (other than from Seeking Alpha). I have no business relationship with any company whose stock is mentioned in this article.
Additional disclosure: I have no positions in BATS