Zillow (NASDAQ:Z) is a website for potential homeowners, people looking to sell their homes, and real estate professionals. Zillow has provided astronomical gains to investors over the past 12 months, yielding 212.7% since the beginning of 2013 alone.
From Zillow's website:
Zillow is a home and real estate marketplace dedicated to helping homeowners, home buyers, sellers, renters, real estate agents, mortgage professionals, landlords and property managers find and share vital information about homes, real estate, mortgages, and home improvement. We are transforming the way consumers make home-related decisions and connect with professionals.

It starts with our living database of more than 110 million U.S. homes - including homes for sale, homes for rent and homes not currently on the market. Add to that Zestimate® home values, Rent Zestimates and lots of other useful information you won't find anywhere else, and as a result, consumers are given an edge in real estate.

Under the Zillow brand, Zillow operates Zillow.com, Zillow Mobile, Zillow Mortgage Marketplace, Zillow Rentals, and Zillow Digs. Zillow's portfolio also includes HotPads™ and several other businesses - Buyfolio™, Diverse Solutions®, Mortech™ and Postlets® -- that provide a robust and growing suite of tools and services to help local real estate, mortgage, rental and home improvement professionals better manage and market their businesses. Learn about the full Zillow portfolio of brands and businesses.
Zillow is part of a host of companies that I've pointed out in a previous article that trade at a large P/E ratio based on heavy future speculation. However, Zillow has something unique going for it that other companies such as LinkedIn (NYSE:LNKD) and Angie's List (NASDAQ:ANGI) do not: It's a real-estate-based stock with a heavy short position in the middle of a housing recovery. Zillow's forward P/E is about 160 at this level, compared to Yelp pushing 200 and LinkedIn at about 105.
Click to enlarge image.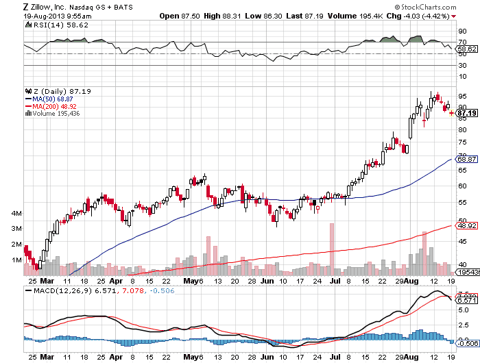 It was reported this morning that Zillow is buying StreetEasy, a New York City oriented real estate company for $50 million. This is a perfect example of Zillow digging both feet in the dirt and solidifying their position in the recovering housing market.
CNBC.com reported:
Zillow is buying the New York City-focused online real estate company StreetEasy for $50 million to strengthen its foothold in on one of the country's most lucrative markets.

StreetEasy, founded in 2006, offers sales and rental listings through partnerships with New York real estate firms. It also provides information about condominiums, co-ops, new developments and luxury real estate.

"StreetEasy is an incredibly strong and recognized brand in New York City, and complements Zillow's dominant and growing national brand," Zillow CEO Spencer Rascoff said in a statement.

The buyout is expected to close in the next few weeks.
Most of the short arguments on Zillow are based around its lofty valuation and price, but acquisitions are one way to make sure the company continues it's necessary extremely aggressive growth.
A lot of analysts, including Seeking Alpha contributor Insightful Investing, are looking at Zillow as a great short proscpect -- similar to the way I looked at LinkedIn as a short. Most of these analyses are based solely on valuations of the company. But if there's one thing that companies like LinkedIn, Netflix (NASDAQ:NFLX), and Yelp (NYSE:YELP) can teach us, it's that shorting based on valuation can sometimes lead to enormous losses. That's mainly due to the fact that general retail investors are more likely to invest on headlines and buyers panic, as opposed to valuation.
However, Zillow has something else great going for it. Just the same way that macro pullbacks in the market can kill companies, sometimes companies can be catalyzed by the boom of an underlying sector as well. Hence, we find ourselves with Zillow in the middle of the beginning of a recovering housing market.
Zillow's revenue comes from people who work in real estate and subscribe to the site. As the housing market recovers, this number is going to grow significantly. Aside from realtors, mortgage professionals, and advertisers are two other sources of revenue for the company. When people log on to the site search for real estate, it pairs them with real estate professionals and mortgage professionals who participate in the site and are in their area.
I'm contending that Zillow's a buy not only due to the housing market acting as catalyst, but also due to the company's revenue growth (61% annualized over the last four years). If the company can continue this growth with consistency, it will meet expectations of investors and continue to trade in the same bullish fashion that it has.
Risk lies in a couple of things, notably that the company is cash flow negative for the time being and that insiders are selling with regularity. Seeking Alpha contributor Jake Honeycutt points this out in his article "7 Reasons Why Zillow is Overpriced":
At the same time, heavy insider selling is rarely a sign that a stock is attractive. By my estimates, using Yahoo Finance data, it would appear that insiders have dumped over $120 million in shares over the past year. That's a lot and reminds me of similar rounds of insider dumping at overvalued companies, such as First Solar in 2008.
But, just as there's risk, there's potential reward. Yahoo Finance has pointed out that 46% of the outstanding shares are held short. The manner in which this company is valued by its investors with such a significant short position makes it an ideal candidate for a short squeeze.
Disclosure: I have no positions in any stocks mentioned, and no plans to initiate any positions within the next 72 hours. I wrote this article myself, and it expresses my own opinions. I am not receiving compensation for it (other than from Seeking Alpha). I have no business relationship with any company whose stock is mentioned in this article.