Catalyst Pharmaceutical Partners (NASDAQ:CPRX) is a rather unknown and undervalued drug development company. The company is currently focusing on the development of drugs for orphan designations (for indications where there are not a large amount of people afflicted). However, Catalyst has a very promising pipeline, a pipeline that is poised to generate fantastic returns for investors. Catalyst Pharmaceutical Partners has multiple medium-to-long term catalysts that have the potential to drive home shareholder value in the company.
Pipeline
Below is a diagram of Catalyst's pipeline, courtesy of Catalyst Pharmaceutical Partners.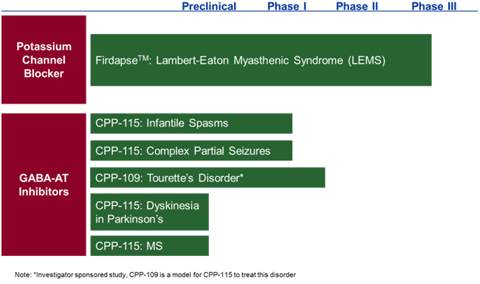 As you can clearly see, Firdapse is the most advanced product in Catalyst's pipeline. It is also one of the most, if not the most, important of the upcoming Catalysts. Due to the fact that it is the most advanced product, it is also the logical starting place in an analysis of Catalyst.
Firdapse
Firdapse is a drug that is being developed by Catalyst in order to treat Lambert-Eaton Myasthenic Syndrome. Catalyst already has orphan drug designation for Firdapse in this indication and is currently engulfed in phase III trials in the indication. While Phase III trials can always be rather unpredictable, I see no reason why Catalyst would have any problems with Firdapse in phase III trials. The product is already approved in Europe, where it is marketed by BioMarin (NASDAQ:BMRN). Catalyst licensed the rights to Firdapse from Biomarin, and in exchange, Biomarin will receive a royalty on sales as well as Biomarin took a 16% stake in Catalyst. Now, given that the product is already approved in Europe and the fact that the Phase II trials were positive and seemed to come out quite well, I am not very concerned coming into phase III trials. Also, do not forget that Catalyst is able to include some of the data from the European trials to help supplement its data package that will be sent to the FDA as part of a New Drug Application.
An important question that we must answer before we move on is why would BioMarin, a rather successful company decide to license the rights to a drug like Firdapse? While obviously we do not have any fantastic answer to that question, I would speculate that it is simply that BioMarin wanted to focus on other parts of their pipeline and that they were not interested in building up a domestic sales force for the indication. Firdapse would be better utilized in the hands of a company specializing in orphan drugs and in commercializing orphan drugs, which would mean that Catalyst is well positioned to take full advantage of licensing Firdapse. Whatever the reason, it appears as though Catalyst is well positioned to take advantage of BioMarin's decision.
Firdapse is very important to the overall long-term thesis of any investor looking to buy Catalyst Pharmaceutical's stock. We do not have any exact estimates regarding the market potential for Firdapse for Catalyst. However, a 2012 report by Citi put the estimated net market value of BioMarin's Firdapse business in Europe at between $70 million and $100 million. However, there are a number of reasons why I expect for Catalyst to do even better in North America. First of all, there will not be any competition, thanks to the orphan drug designation, and sales in Europe have been especially hindered by the fact that BioMarin is not actively promoting the drug, going along with some reimbursement issues in European countries. However, it seems as though Catalyst, at least in the United States would not have as many reimbursement issues, and would build a sales force to actively promote the drug. Even if we assume that the drug tops out at $100 million in revenue for Catalyst, it is still substantially undervalued today at a market cap of $60.06 million (as of August 14th, according to Yahoo! Finance).
The market potential in simply LEMS is rather large. However, going back to the original press release announcing the acquisition of the Firdapse asset, we can find an interesting sentence which would lead investors to believe that this is only the tip of the iceberg for Firdapse:
"other potential orphan central nervous system indications for Firdapse™ include Myasthenia Gravis and Congenital Myasthenic Syndrome, among others."
This sentence would leave me to believe that management has plans to actively expand Firdapse's label. This strategy could be very lucrative, and I assume that by the time the label is expanded to include any of the indications that are not LEMS, that there would already be a sales force in place. This would allow for Catalyst to leverage the existing sales force and produce sales without having to a hire a large amount of sales reps.
Another factor is that we must also take a look at how much money it is going to take in order to develop Firdapse. While this number is often hard to peg, Catalyst has already estimated the costs associated with all of the remaining development activities for Firdapse to be around $17 million. Now, keep in mind that Catalyst will of course have to pay milestones upon NDA acceptance and would have other costs such as the General and Administrative costs of building up a sales force, and of course, the costs of producing commercial quantities of Firdapse.
Development Timeline
With a possible release of Firdapse results in the first quarter of 2014, it appears as though Catalyst will be able to submit the New Drug Application either later on that quarter or in the next quarter. This would peg the potential approval of Firdapse at sometime in the middle of 2015. While this may be a while for investors to wait, I expect for the stock price to move upward in anticipation of the phase III results, and then after the NDA filing, we could see an interesting potential for a run-up heading into the ultimate PDUFA date.
Firdapse represents a very important opportunity for Catalyst shareholders. While Firdapse commercialization may be a year-and-a-half to two years away, the work that the company does now is laying a solid foundation for shareholder growth. Given the fact that the drug is already approved in Europe, I would expect for the phase III trial to be with a substantially smaller risk of ultimate failure. While it could happen, I would say that it is unlikely. Firdapse will substantially help Catalyst's long-term potential, and should help to drive share price growth over the coming months and years.
CPP-115
Catalyst Pharmaceuticals is in the early development stages of developing CPP-115. CPP-115 is a drug that has the same mechanism of action as CPP-109 (an older drug in Catalyst's pipeline that is not going to be under active development unless it has positive Phase II(b) data coming up in the latter half of this year). CPP-109 is currently under a phase II(b) study in Tourette Syndrome, and has results expected later on this year. CPP-115 is, however, further back in Catalyst's pipeline, but it also has a rather large potential to have a significant impact once clinical data starts rolling in.
CPP-115 offers many advantages when compared to CPP-109. The primary advantage is that Catalyst believes that CPP-115 is a more potent version of vigabitran, but with fewer side-effects. This would, if it turns out to be true, seemingly be the best of both worlds to have a drug that is more effective and with less side-effects. Currently, Catalyst is planning on developing CPP-115 in infantile spasms, for which Catalyst has orphan drug designation from the FDA. If they are ultimately successful in developing the drug for infantile spasms, it should be interesting to see how the drug is priced, considering that it would have to compete with a rather expensive drug in Questcor Pharmaceuticals' (QCOR) Acthar gel. Questcor would be one of the main competitors in this space, however, the price of Acthar gel is over $28,000 per vial. This would potentially give Catalyst some significant room to undercut Questcor in this potential market.
CPP-115 may also be effective in Tourette Syndrome, and should CPP-109 be shown to be effective in Tourette Syndrome, CPP-115 would be a fantastic drug to develop in Tourette Syndrome. CPP-115 is still in the early stages of development, but it will be interesting to see what kind of a drug Catalyst has on their hands. CPP-115 also has potential in other select central nervous system indications, so the drug has a large amount of potential for shareholders.
Financial Position
Like many development stage pharmaceutical companies, Catalyst Pharmaceutical Partners is currently losing money. One of the key measures when looking at small pharmaceutical stocks like Catalyst would be the amount of cash used in operations for each quarter. For the 6 months ended June 30th, Catalyst used up approximately $4,061,428. Most of this cash was used in development activities, primarily around Firdapse. The company projects that it will have enough cash to fund operations through the first quarter of 2014. This is not a very good omen for shareholders. This means that dilution is likely on the horizon. However, I would speculate that Catalyst would do the dilution towards the end of the year, hopefully, after the CPP-109 results have come in. If the results were positive, it should at least help to make the equity raise not as dilutive, as I project that the stock price would go up rather substantially if CPP-109 is successful in phase II testing.
The company's debt position is currently not concerning. However, as we get closer to the commercial launch of Firdapse, I would look for the company to open up some more lines of credit in order to help fund the building of a sales force.
Conclusion
While there is a risk of dilution, that does not necessarily mean that investors should not take a position in Catalyst. Actually, investors should be taking a position in Catalyst thanks to the fact that it has Phase II results for CPP-109 coming out later this year, and then results for Firdapse coming out in the first half of next year. With significant upcoming catalysts, Catalyst Pharmaceutical Partners should be a stock to watch. Catalyst Pharmaceutical Partners has a compelling opportunity for upside in the coming years and should be a stock worthy of long-term investment consideration.
Disclosure: I have no positions in any stocks mentioned, but may initiate a long position in CPRX over the next 72 hours. I wrote this article myself, and it expresses my own opinions. I am not receiving compensation for it (other than from Seeking Alpha). I have no business relationship with any company whose stock is mentioned in this article.