Introduction
In this article I'll have a closer look at Agnico Eagle Mines' (NYSE:AEM) Q2 results and its updated outlook. I'll have a look at the financial statements and its updated balance sheet as well as the updated production and cost guidance. This will result in my investment thesis at the end of this article.
The Q2 Financial Statements
Agnico Eagle produced 224,089 ounces in Q2 compared to 265,350 ounces in the same period last year. This lower production rate was caused by the longer than expected shutdown of its Kittila mine for maintenance as the mine only operated for 14 days in the quarter.
The cash cost per ounce increased to $785, which is up considerably from last year's $660/oz, because the LaRonde and Pinos Altos mines generated lower by-product revenue which obviously has a direct impact on the cash costs net of by-products.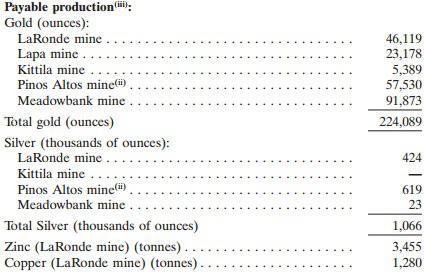 Agnico reported a revenue of $336.4M, which is approximately 20% lower than the $420.4M revenue in Q1 of this year. This difference was obviously caused by lower gold prices and the production at Kittila which was in excess of 40,000 ounces lower than in Q1.
Net loss for Q2 was $24.4M as compared to a net profit of $23.9M in Q1 of this year. Moving over to the cash flow statement, Agnico generated $75.3M in operational cash flow but spent $218.3M in investing activities (mainly on properties and its plants). The company also acquired $39.6M worth of securities in other companies (such as Probe Mines where Agnico acquired a 9.94% stake by coughing up $11.25M).
The Balance Sheet
Agnico had working capital of $481.6M of which approximately $107.4M was held in cash. Its current ratio was a very healthy 2.95. At the end of 2012, Agnico had a working capital of $626.6M and a current ratio of 3.26. Agnico Eagle had a book value of $19.76 at the end of Q2.
Outlook
Agnico Eagle remains on track to re-start production at the Globex Mine in Canada and to start production at the La India mine in Mexico. This will - together with the restart of the Kittila Mine in Finland- obviously have a positive impact on the company's future gold output. Gold production is expected to be between 970,000 and 1.01M ounces this year at a cash cost between $735 and $785/oz.
Agnico has announced a substantial reduction in capital allocation, and now expects to save an additional $50M in 2013 and $250M in 2014, which will allow the company to be more flexible with its current cash resources. The savings will mainly occur at the company's Meliadine project in Nunavut, Canada, where Agnico has slashed expenditures by $10M in 2013 and $80M in 2014 as the company now only plans to drive an exploration ramp and to conduct further exploration drilling to support the upcoming updated technical study (expected in the summer of 2014).
Why I'm glad the company is slashing its expenses in Nunavut
As Nunavut is a province in the north of Canada, it's a difficult place to work in, as usually for mining projects the employees have to be paid a high premium over normal labor costs to attract enough workers for operations that far north. On top of that, most mines there are operating on a fly in and fly out basis, so the companies have to provide housing to its employees which increases both the capex and the operating cash cost.
If we look at the numbers for its currently operating mine in Nunavut, the Meadowbank mine, we see this mine has the second highest cash cost per ounce of gold at $912/oz, despite its production profile of 350,000 ounces per annum which is almost twice as high as its second largest project, where you'd expect a lot of economies of scale on such a large project. This shows it's quite expensive to operate mines in Nunavut, and it might be unviable to construct a new mine there with the gold price just trading at $1300-1350/oz. That's why I think it's a good idea to defer some expenses on its Meliadine project.
Investment Thesis
I'm looking forward to the restart of the Globex Mine which has been put on care and maintenance in the fall of 2011. As Agnico expects a Q4 output of 15,000 ounces of gold, the updated mine plan at Globex could have considerable impact on the 2014 production guidance. The La India project in Mexico should also be a useful addition to its production profile.
I'm glad the company is scaling back its Nunavut spending pattern, as I don't think the current gold price warrants a lot of money to be spent at projects in high-cost environments.
The company maintains its dividend and will pay a $0.22 dividend to shareholders of record on September 3rd and December 2nd, which gives AEM a yield of 2.84% at the current share price of $31.
It might be a good idea to write a P20 January 2014 which yields a $0.50 option premium for an annualized yield of 6%. If Agnico Eagle expires at a share price lower than $20, you'll have to buy the shares at that price. If Agnico expires higher, you just keep the option premium.
Disclosure: I have no positions in any stocks mentioned, and no plans to initiate any positions within the next 72 hours. I wrote this article myself, and it expresses my own opinions. I am not receiving compensation for it (other than from Seeking Alpha). I have no business relationship with any company whose stock is mentioned in this article.