I am always fascinated by investor psychology and sentiment. Earlier in the year, income investors were pushing the dividend paying sectors through the roof in search of yield. Consumer Staples & the Utility sectors moved to substantial premiums to the overall market despite their slow growth. Master Limited Partnerships (MLPS) & Real Estate Investment Trusts (REITs) also did very well. Now that interest rates have moved higher by a little more than one percent, these same investors cannot get out of these sectors fast enough even as share prices have substantially declined and are offering much better long term values that when they were bid up earlier in the year.
I believe it is time to add to one's income portfolio as we get closer to a three percent yield on the 10 Year Treasuries. I think pundits are incorrect believing that higher yields portend much faster economic growth in the second half of the year. There are a myriad of reasons I am of a mind that the most likely outcome over the next few months will be that the market will decline and interest rates will fall. This will be the subject of a full column later this week. Two of main concerns I think investors should have right now are listed below.
Job Growth Is Misleading
The Federal Reserve is intensely focused on job growth as they decide when to begin the "Taper". However, despite the unemployment rate consistently falling over the last year; job growth is not as strong as it appears. Although the "official" unemployment rate is 7.5%, if one includes part time workers looking for full-time work known as the "U6", the "real" unemployment rate is closer to 14%.
In addition, the vast majority of jobs created in 2013 are of the part-time variety. Through the first seven months of the year, 172,000 full-time jobs have been created against new part-time jobs of 1.038mm. Implementation of the Affordable Care Act and lack of business confidence have been the main culprits for this divergence which is likely to continue for the foreseeable future. The simple fact is that we have been much more adept to adding to the welfare rolls over the past five years than creating full-time employment.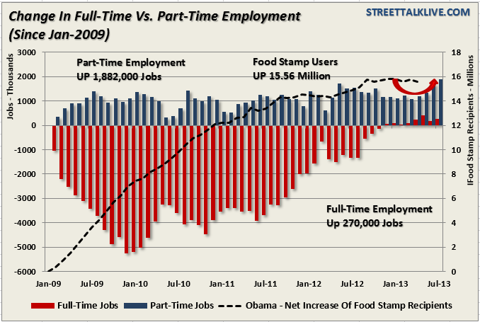 Click to enlarge
(Click to enlarge)
Smart Money Is Cashing Out
It is almost always a bad sign when the "smart" money is getting out of the market. There are a couple of signs that is currently occurring. First, IPO activity is running at its highest level since just before the market starting its descent into the Great Recession in 2007. In addition, insiders are cashing out. The ratio of insider selling versus insider buying has been above its normal range of 12 to 20:1 recently.
Over the next couple of months, I believe the market will pullback and interest rates will reverse some of their recent uptrend. This should lead to high yield stocks outperforming the overall market. Over the next couple of weeks, I will pen several articles on some high yield equities that are offering solid value after their recent declines. We will begin today with a Hotel REIT and an energy limited partnership.
Chatham Lodging Trust (NYSE:CLDT) is a stock I have held for over a year since I purchased shares at $13 a share in February 2012. It is also an outfit I have written about many times, most recently in June. I recently added to my position at under $18 a share after the shares had declined more than ten percent from recent highs. This REIT yields 4.7% and pays a monthly dividend. The shares are cheap at under 11x next year's projected earnings. Revenues are tracking to better than 15% growth this year and analysts expect just under 10% growth in 2014 as RevPAR rates continue to grow throughout the hotel industry.
In addition, the REIT has attracted the attention of active value investor HG Vora Capital which has produced impressive returns in Morgans Hotel Group (NASDAQ:MHGC), Great Wolf and 7 Days within the hotel space. Its recent filing is non-confrontational but the fund has had good success in this sort of investment in the past and could help Chatham unlock additional shareholder value.
Oneok Partners (NYSE:OKS) is a limited partnership that owns & operates natural gas gathering, processing, storage, and transportation facilities throughout the United States. I picked up these shares at $48 a share earlier today after they had fallen some 20% from highs earlier in the year. OKS also took a hit recently from an announcement of a new share offering, even though the proceeds will be used to pay down debt. The shares have sold off even as consensus earnings estimates for both FY2013 & FY2014 have risen nicely over the past three months.
This limited partnership is offering a juicy 5.9% yield and the company has raised its payout by ~20% since coming public in late 2011. Revenues are expected to accelerate to over 20% in 2014 from the low teens in 2013 as new projects come on line. The median price target on the shares by the 11 analysts that follow the stock is $55 a share. In addition, Robert W Baird upgraded the shares to "Outperform" from "Neutral" in late July. Insiders have made over $700K in new net purchases over the last six months.
Disclosure: I am long CLDT, OKS. I wrote this article myself, and it expresses my own opinions. I am not receiving compensation for it (other than from Seeking Alpha). I have no business relationship with any company whose stock is mentioned in this article.