Ever since March 1, 2009, when the share price of TriMas Corp (NASDAQ:TRS) was sitting at just over $1.00 per share, the company has continued to run up, with only one significant blip on the journey in 2011, when it fell from $26.24 on July 4 to $13.84 on September 19. As I write it's trading at over $37.00 per share.
There aren't a lot of stocks I see as having a lot of room to jump after a performance like that, but I see nothing to stop TriMas from continuing to rise in price. It has strong organic growth, as well as significant growth via acquisitions, and is able to integrate and boost margin significantly with the companies it acquires.
TriMas is excellent at generating a strong mix with products, geographically, organically and with acquisitions, and via its segments.
It continues to outperform strongly in a weakening global economic environment, and that bodes well for those invested in the company.
Those not invested in TriMas now have missed the big move since 2009, where it has been about a 35-bagger for those who have held on. While those days are gone, there is still a lot of money to be made with this company.
source: StockCharts.com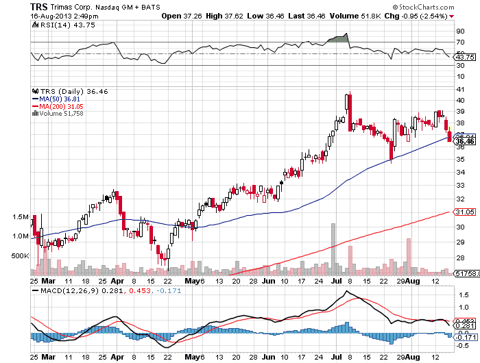 Click to enlarge
source: Yahoo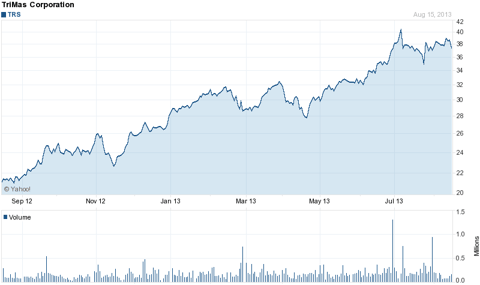 Click to enlarge
Latest Earnings Report
Revenue in the latest quarter rose to $378 million, a gain of 11.7% over the same quarter of 2012, a company record. That's the thirteenth quarter in a row that revenue has outperformed the same quarter the year before on a double digit basis.
Diluted earnings per share in the quarter came in at $0.69, climbing 13% over the $0.61 generated in the second quarter of 2012. That was especially impressive because the company had to absorb 6% more share from its equity offerings in May 2012.
Earnings per share guidance for 2013 is in a range of $2.15 to $2.25, up 20% over 2012. When including acquisitions and the resultant temporary pressure on margin, this would be a terrific performance, and one that I expect the company will be able to attain, based on past performance.
Based upon GAAP calculations, gross margin in the quarter was 27.3%, 180 basis points lower year-over-year. Operating margin came in at 11.0%, 250 basis points down from the second quarter of 2012. Net margin was 7.1%, improving 220 basis points over last year in the same reporting period. Margin doesn't bother me with TriMas too much because of its acquisition strategy, which will shrink it because of the way it prefers to accelerate integration of the companies it buys.
Free cash flow in the quarter was just under $40 million.
As for mix, even with a strong acquisition record and performance, organic growth accounted for over 50% of the growth in the quarter. Bolt-on acquisitions performed as the company expected them to.
When taking into account the headwinds in the global economy, this is an extraordinary performance by any measure, one that is expected to continue on into the future.
Income Statement
source: Ycharts

Click to enlarge
Cash Flow
source: Ycharts

Click to enlarge
Balance Sheet
source: Ycharts

Click to enlarge
Acquisition Expertise
One underrated aspect of the quality businesses is the expertise they have when making acquisitions. This includes identifying companies that are a good fit, complementing and extending the existing product line, as well as identifying hidden potential because of operating inefficiencies.
Anyone can buy a company and temporarily increase the topline. But a company that can make acquisitions and increase the bottom line and top line is one that has a strong moat and defendable position. This is a major reason TriMas has been growing organically and via acquisitions. Not only does it get the immediate value of revenue and earnings, but it is able to expand margin and grow even more with repeat business.
I also like the fact TriMas doesn't mind temporarily shrinking margin when acquiring a company. Over time TriMas has proven it can fairly quickly bring that margin back up. This type of long-term outlook and value creation is what I look for in a company. TriMas has all of that going for it.
Contrary to many companies, TriMas doesn't make acquisitions just to boost revenue temporarily. It makes acquisitions to add value to a segment, providing products and services which can expand existing markets and enter new markets.
As for the acquisition strategy of TriMas, it has recently been focused on international markets. The United Kingdom, Brazil and Thailand have been some of the countries it has made acquisitions in.
TriMas' Segments and How They're Performing
TriMas operates in six segments, including Packaging, Energy, Aerospace and Defense, Engineered Components, Cequent Asia Pacific and Cequent North America. We'll look at the recent performance of each segment and what their prospects are going forward.
In the second quarter the packaging unit's revenue was up by 11%. Much of that success was the result of specialty system product sales in North America, Asia and Europe. The company has a long-term goal of generating sustainable operating profit margin in the mid-20% range.
Revenue in its Energy division soared by about 25% in the second quarter of 2013 against the second quarter of 2012. That was driven primarily by acquisitions during the quarter in Brazil, the United Kingdom and Thailand. An incremental improvement in sales in Europe was also part of the revenue growth. Going forward the company will continue to focus on improving margin in this segment, especially with the new acquisitions.
The Aerospace and Defense revenue was up 23% in the second quarter, partially from the acquisition of Martinic Engineering earlier in the year. With aircraft build rates climbing, the division has also enjoyed an increasing number of orders. There are record levels of backlogs, which the company is building a new facility in Tempe, Arizona, to alleviate. This suggests long-term growth for this unit. The new facility will serve the more important customers the company serves in this market. Geographic expansion and qualification of new products will also contribute to growth.
Engineered Components was the only poor performer in the quarter, with revenue declining 5%. That was almost entirely the result of the falling demand for its Arrow Engine. Other products such as compressors also experienced a drop in demand because of well completions and a cut back in drilling. That is expected to improve in the latter part of 2013 and early 2014.
Cequent represents two segments of TriMas, based upon geography. One segment is Cequent America and the other Cequent APEA (formally called Cequent Asia-Pacific). The name change was made to better represent the segment, which includes Europe and Africa.
Revenue was up 7% in Cequent America, most of that attributable to the increase in sales in the auto OEM aftermarket. Those results would have been better, but the unrest in Brazil resulted in the company not being allowed to ship. That should be resolved and the numbers will improve.
Revenue in Cequent APEA soared by 34% in the second quarter, driven by acquisitions and new customers in South Africa and Asia. TriMas will focus primarily on direct leverage, regional expansion and improved productivity to improve the division.
These are enviable numbers, and it appears, even with the headwinds of an overall weak global economy, that TriMas will continue to grow at these levels, and probably even improve as Engineered Components rebounds and Cequent America increases revenue.
What will happen when global economic growth returns in a significant manner and should frighten many of its competitors and warm the hearts of its shareholders? All of the growth mentioned in the first paragraph of the article happened during a very weak recovery. We really haven't seen what TriMas can do in a robust economy. If it keeps on performing like it has, maybe it's better that the economy continues on as it has.
Conclusion
TriMas has been a juggernaut that has no negative catalyst I can see that will stop it from continuing to grow. Only a complete collapse of the global economy would be able to stop the company in light of the successful execution of its strategy.
It has a health mix of organic and acquisition growth, proven ability to boost margin, generates solid free cash flow, and can do it in a weak economic environment. We may not have seen the best of TriMas yet, even after its extraordinary performance.
To have thirteen quarters in a row of double digit revenue growth over the prior year's quarter is an amazing feat, confirming it's a trend, and that it's competence and execution driving the performance.
Finally, the company can take the companies it acquires and rapidly integrate them into the company with minimal, temporary effect. It does lower the margin some in the short term, but over the long haul the company improves margin and organic growth with repeat sales. And it is continuing to look at great acquisitions to grow the company out, specifically in international markets. Add to that its strong organic growth and you can see why it doesn't get much better than this for a growth company.
The results TriMas has generated is the proof this is a well-run company that has a terrific future. It won't grow its share price like it has over the last four years, but it will still make shareholders a lot of money in the years ahead.
Even though TriMas has almost doubled its share price in 2013 at the current trading price, I don't see this as a negative because of the strengths mentioned throughout this article. This is a growth company that isn't even close to leveling off yet. Having said that, it has pulled back about $4.00 per share from its 52-week high of $40.79, so it may be time to think about getting in. At this time the market has been correcting, so it may be prudent to wait to see if TriMas is done being pulled down with the broader market. Watch it closely though, as you don't want to start chasing this stock up once it starts turning around.
Disclosure: I have no positions in any stocks mentioned, and no plans to initiate any positions within the next 72 hours. I wrote this article myself, and it expresses my own opinions. I am not receiving compensation for it (other than from Seeking Alpha). I have no business relationship with any company whose stock is mentioned in this article.