The most interesting time to be an investor is when there is great conflict or uncertainty. I talked about two big contrarian trends last week and here is another one to think about.
Again, I'm going to pull a chart out of the most recent edition of the Bank of America Merrill Lynch Global Fund Manager Survey. I have been thinking deeply about this chart entitled "what would you most like to see companies doing with cash flow?"

Click to enlarge
Now maybe it is just markets being generally near all-time highs but the growing dichotomy between the proportion of investors who want increased capex versus those who want cash returned to shareholders (via dividends and buybacks) is increasingly marked. Investors now perceive that the marginal Dollar or Euro or Yen should be spent in ways to directly benefit the company's earnings and cash flow generative ability in future years.
This is well and good. Most investors are sympathetic with the notion of medium-term value creation and understand that companies have to dedicate monies to achieve this irrespective of what business sector they happen to be in.
The really interesting difference is what the average company is thinking.
This chart is from the Goldman Sachs Portfolio Strategy Team. Based on the analysis of company data it observed that companies are not boosting capex and R&D spending based on proportional use of cash flow. And looking forward to 2014 the expectation is that the combined capex and R&D spending proportion will fall to its lowest level since 2007.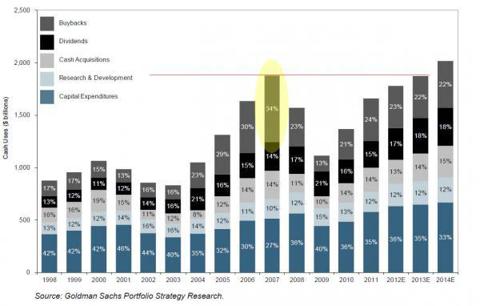 Click to enlarge
Now this is an interesting dichotomy. Proportionately companies, over the last five years, have preferred to raise their buyback/dividend spend. The Bank of America - Merrill Lynch chart shows us that such actions are now out-of-step with investor preferences.
So why are companies acting like this? One explanation would be the fear that the global economy is not going to decisively improve over the next year or two, and that the more patchy economic conditions which colored recent corporate updates from heavyweights such as Cisco (NASDAQ:CSCO) and Wal-Mart (WMT), is the reality.
So who do believe? Companies with their direct oversight on trading conditions and realities or investors driven by animal spirits after a period of higher share prices. Essentially primary insights versus sentiment-based ones.
A final thought: are these are the same investors who pour over whether earnings "beat" or "missed" by a cent?
My conclusion has to be to trust the company-level insight and retain awareness about the still tricky conditions out there. A few more bad weeks in the markets and fickle investors will be preferring the stability of a dividend, a buyback or a debt reduction again.
Disclosure: I am long CSCO. I wrote this article myself, and it expresses my own opinions. I am not receiving compensation for it. I have no business relationship with any company whose stock is mentioned in this article.