HollyFrontier Corporation (NYSE:HFC) is a downstream oil and gas refiner and marketer, which produces asphalt, diesel fuel, fuel oil, gasoline, jet fuel, lubricants, and petroleum gas. HFC focuses on the petroleum refinery process. It has a market capitalization of $8.9 billion and serves the US energy market, primarily in the Midwest. HFC is the product of the merger of Frontier Oil Corporation and Holly Corporation, which closed on July 1, 2011 for $3.7 billion. HFC's operations can be divided into two segments: Refining and Holly Energy Partners (NYSE:HEP). The Company owns petroleum refineries in Kansas, Oklahoma, New Mexico, Utah, and Wyoming. In addition, its minority interest in HEP owns terminal and pipeline assets integrated into the company's numerous refineries within the mid-continent and southwest.
With the explosive shale oil boom in the United States, an oversupply of WTI grade oil has permitted refiners to leverage the spread between WTI and Brent prices, allowing them to expand profits at unforeseen rates.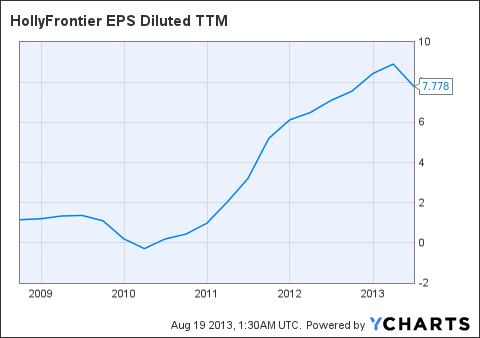 HFC EPS Diluted TTM data by YCharts
This impressive earnings growth was reflected in the market through the stock price.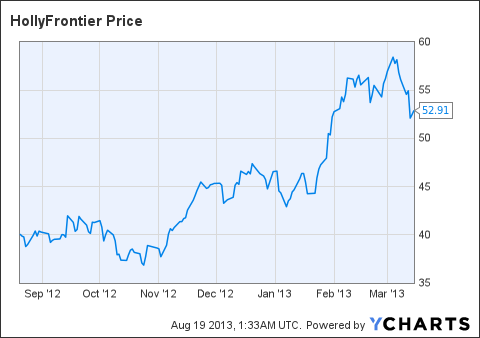 The market was not the only reflection of this earnings growth, for HFC's dividend has grown with its earnings at an impressive rate. Inclusive of this dividend growth is a consistent special quarterly dividend of $.50 per share over the past 9 quarters, bringing this oil refiner's dividend yield to an astounding 7.8%.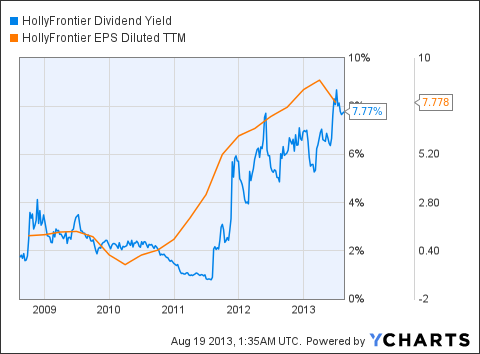 HFC Dividend Yield data by YCharts
Recently, however, the downstream segment has come under attack due to the confluence of two factors: the rise in the depressed price of WTI grade oil and the decline in the price of Brent crude. These two variables, though helpful for some in other industries, leads to disaster in the U.S. based refinery business as the Brent-WTI spread begins to close and "trades dead." Since this crucial spread can act as a proxy to predict earnings within the refinery segment, the market has anticipated losses within the sector through the massive sell-off in refiner stocks throughout the 2Q 2013.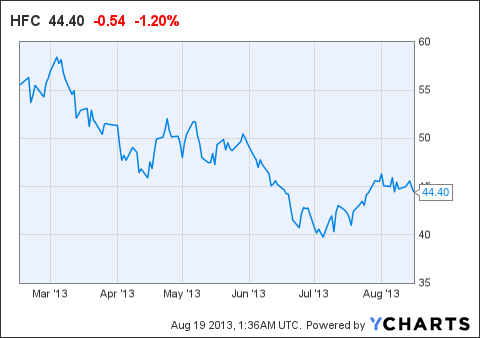 Investors and the media have feared that the closure of this spread will strain earnings growth and contract margins for HFC. Nevertheless, despite the bearish sentiment of the market, the price HollyFrontier Corporation presents an enticing dividend play within the sector, and the security is currently priced at a discount to peers. The closing of the Brent-WTI spread, although presenting a significant risk to earnings, undermines the truly important indicators of profits for HFC: The 3-2-1 Crack Spread and the Brent-WCS spread. The eventual market realization of Holly's ability to capitalize on these larger spreads will allow investors to profit on a healthy dividend yield in the near-term and substantial capital gains in the medium to long term.
Spreads and Earnings Trends
HollyFrontier Corporation's earnings, along with the majority of U.S. based oil refiners, are linked to the spread between WTI and Brent crude. This has to do with the traditional operations of these companies and the available oil within the United States. WTI, a lighter and sweeter crude than Brent, is the predominant grade of crude oil found in the United States. Refined gasoline produced by U.S. refiners, however, is sold at a premium to WTI. Brent crude has been set as that new premium recently, which has been abnormally higher than WTI prices during 2012 and the first half of 2013, as seen by the following chart.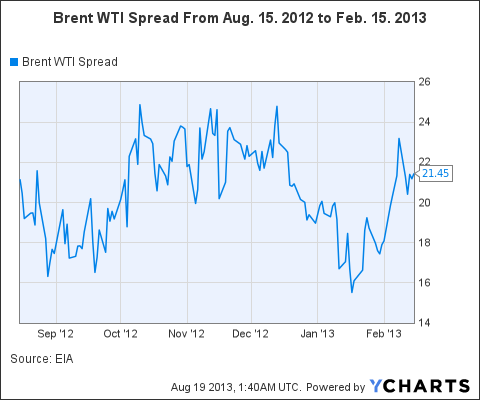 Brent WTI Spread data by YCharts
The bottom-line reasoning for this widening spread: a reduction in supply of Brent crude, predicated by the instability of the region in which it was tapped, and a supply glut of WTI within the U.S. due to an abysmal lack of midstream infrastructure capacity. Of course, the dislocation in pricing was affected by myriad complex variables, but these are outside of the individual investor's control and the scope of this article (literally, tomes have been written on energy pricing and the energy market). The EIA is an excellent source to learn more about this important spread, and I have linked an article here.
This growing spread, however, has collapsed in recent months, as can be seen in the following chart.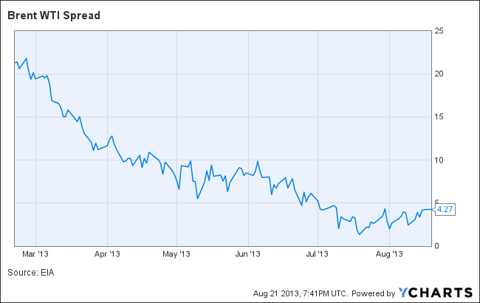 Brent WTI Spread data by YCharts
HFC's modus operandi has always been to purchase WTI grade oil, refine and process the oil into gasoline, distillates, etc, and sell the processed fuel at a premium to the highest spot price. Traditionally, the spread between these two grades of crude has traded nearly to zero, and WTI has historically traded at a premium to Brent for many years.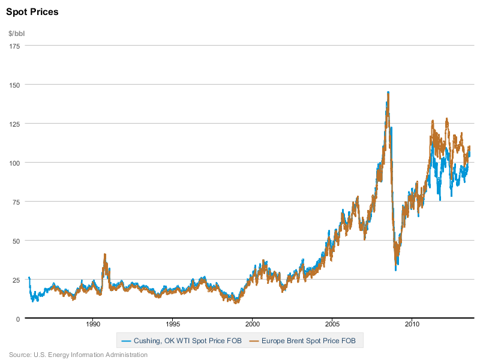 (Source: EIA Spot Prices for Crude Oil)
However, oil refiners have still been profitable during past "dead spreads." This trend is corroborated by management in past earnings calls. Addressing concerns over the closing spread, David L. Lamp and Michael C. Jennings have stated,
"Well, I think our view would be ultimately the differential goes to the pipeline cost to transport barrels to the clearing point of the market. As far as the low-value products, I mean, where it impacts us -- would impact us the most is at intermediate or attempts to sell intermediates, like gas oil or BTBs or bottoms, of that sort. So I mean, it affects us in terms of those type of products. But the other factors, the LPGs, which are long in the Mid-Con and in most of our markets that export out, so those get impacted also. But in terms of the yield slate, it's still a relatively small piece of the total equation. Yes, the fuel oil that we're needing to move to the Gulf Coast or other markets might be between 5,000 and 8,000 barrels a day. So I don't think it materially affects crude running. But yes, at a $3 differential, assuming current rail costs and current inland versus coastal pricing dynamics, that would bite into those economics."
Clearly, the closing spread is a significant concern to HFC, but this particular spread is merely an ancillary concern to the Company. Rather, the far more important spread for HFC, and all other refiners for that matter, is the NYMEX Gulf Coast 3-2-1 Crack Spread.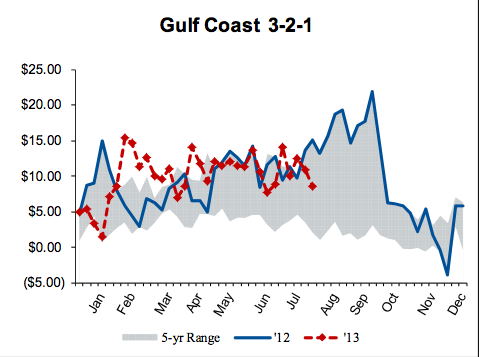 (Source: Howard Weil Refining Report)
This spread is calculated as the sum of the price of two barrels of gasoline, and one barrel of heating oil, subtracted by the price of three barrels of WTI crude. The crack spread is a far better proxy of the differential between the finished product and crude oil, essentially the income for refiners. This spread, albeit witnessing a slight decrease over the past quarter, has not seen nearly as volatile price action as the Brent-WTI spread over the past few months. Although this decrease will cut into earnings for HFC, the market and analysts' emphasis on the Brent-WTI spread has dislocated the true value of HFC and its earnings potential when the Brent-WTI spread does compress.
Another Market Misstep: The Brent-WCS Spread and the Nelson Complexity Index
A common misconception with oil refineries is that they all process the same grade of crude. This is certainly not the case. All refineries are not created equal, and they are rated using an industry term known as the Nelson Complexity Index. The index is essentially a weighted score of the ability of a certain refinery to process crude into refined products and distillates. The higher the number, the more products a refinery can handle and refine. The mean score in the United States is 9.5, and it is far lower in the rest of the world. A summary of peer and HFC's nelson index is presented below.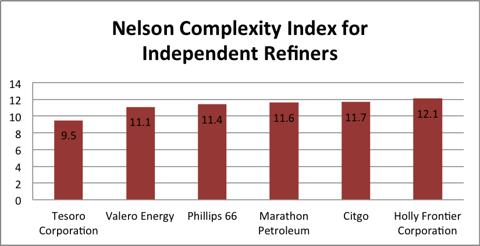 (Source: MPC DeutscheBank Investor Presentation)
Clearly, refineries with the highest index score are at an operational advantage in leveraging current assets to refine heavier crude, and HFC currently holds the highest average Nelson Index score at 12.1. Thus, as the Brent-WTI spread narrows, HFC will find it far easier to switch to refining heavier grade crude than its peers. For North American refiners, heavier grade crude entails Western Canadian Sands grade crude ("WCS"), which trades at a significant discount to both Brent and WTI due to its API and sulfur content mixture.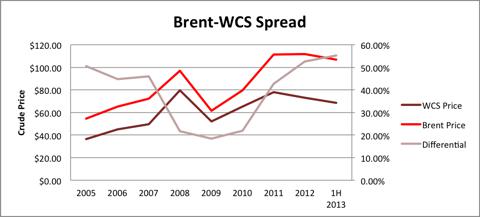 (Source: Baytex Energy Benchmark Heavy Oil Pricing)
This spread, in addition to the 3-2-1 spread has not witnessed the same level of contraction that the Brent-WTI spread has over the past few months. Granted, the spread has contracted recently, but the spread is still large enough for HFC to sustain a healthy profit in an increasingly competitive sector.
Current Valuation
As noted earlier, there has been a swath of bearish sentiment on the street behind refiner stocks, and this is not without good reason. However, the market has been far too cruel to the likes of HFC, a refiner who will not be severely debilitated by a decline in the Brent-WTI spread. This decline has priced HFC at a discount to peers. Using a comparable companies' universe comprising ten companies, HFC is currently trading at a discount to the median for peers on an EV/EBITDA, EV/UFCF, P/TTME, P/LFCF, and P/BV basis.

(Source: Company 10-K's)
It does, however, exceed the median multiple on a P/TangBV basis, primarily due to a large goodwill asset on the balance sheet from its merger with Frontier Corporation in 2011. In addition to trading at a discount to peers, HFC also stacks up nicely in comparable operating metrics, boasting a best-in-class EBITDA margin, a strong ROE, and an outstanding payout ratio.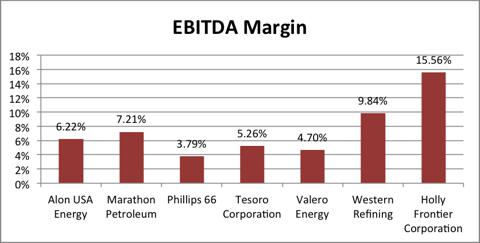 (Source: Company 10-K's)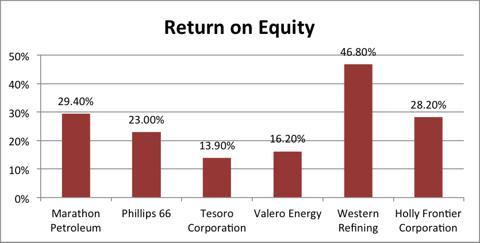 (Source: Company 10-K's)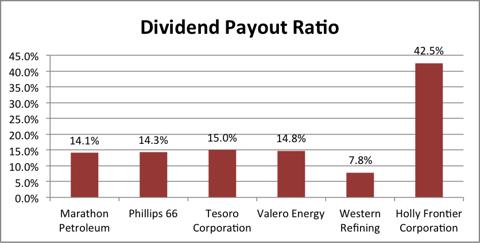 (Source: Company 10-K's)
A base case DCF analysis, with a decline in revenue of -1.1% yearly due to contracting spreads and a 3.0x exit multiple, yields a share price of $53.94.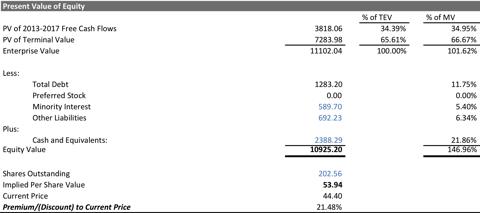 HFC, along with many U.S. based refiners, has little room for organic growth, and many analysts believe that the company will not be able to sustain its revenue growth. However, the reasons outlined above tell a different story. Assuming a modest upside case of 1.0% revenue growth as HFC switches to WCS grade crude yields an implied share price of $59.10, a healthy 33.1% capital appreciation upside. In a downside case, with revenue growth collapsing to -5.0% year-over-year, a DCF yields a share price of $45.36. HFC's discount can best be visualized through a valuation football field.

On nearly all metrics, HFC is priced at a discount, implying that shares are cheap at current prices.
Conclusion
The disappointing closure of the Brent-WTI spread has been disastrous for the share price of several refiners. Bearish sentiment on the U.S. refining sector is not hard to find on the street, and shares of many refiners have underperformed the market during the Brent-WTI spread compression. HFC shares have tagged along for the ride down. However, this sell-off within the sector has severely discounted HFC's ability to turn profits under a compressed Brent-WTI spread. Though hardly a GARP investment, HFC stands as an excellent addition to any portfolio. The fabulous dividend yield is certainly a major factor, but a high dividend yield should not be the individual investor's only consideration. HFC stands alone in the independent refiner space as a superior investment to its peers. The company outshines similar companies in its operating metrics, has a competent and candid management team that is investor friendly (read "Dividend Diamond"), and has the potential to capitalize on heavier grade crude as a greater amount is shipped through the inevitable creation of Keystone XL. In spite of this, it currently trades at a discount to peers. The combination of a strong dividend, and its discount to peers, will allow investors to sleep easily at night, knowing that they can enjoy both short-term distribution profits and long-term capital gains.
Disclosure: I am long HFC. I wrote this article myself, and it expresses my own opinions. I am not receiving compensation for it (other than from Seeking Alpha). I have no business relationship with any company whose stock is mentioned in this article.