Valuentum followers know we don't like First Solar's (NASDAQ:FSLR) long-term prospects, especially considering the industry's ultra-competitiveness and its forecast for weak gross margins. The company announced disappointing second-quarter results, confirming some of the issues we have long held with its business.
During the quarter, revenue at First Solar declined 46% year-over-year, to $520 million, more than $200 million short of consensus estimates. Earnings per share were 71% lower than a year ago, coming in at $0.37, again well below consensus expectations. Free cash flow was also materially weaker, registering $168 million (down 49% year-over-year) and equal to 32% of revenue.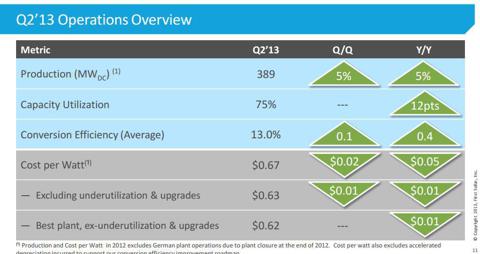 Image Source: FSLR 2Q 2013 Earnings Slides
The situation for First Solar remains a story of weak market demand and lackluster gross margins. During the second quarter, First Solar was able to lower its cost per watt by two cents sequentially, to $0.67. However, capacity utilization was flat quarter-over-quarter at 75%, so the cost savings weren't able to fall completely to the bottom line. The firm increased production 5% sequentially, but still was able to reduce its inventories 14% over the same period.
Ideally, we'd like to see the company deplete inventory at a pace more in-line with the revenue decline, but First Solar likely can't slow down production in fear of operating margin deleverage. Inventory is a great asset when demand is strong, but it can hurt First Solar's financial flexibility in the event of a downturn in the solar market. Luckily for First Solar, the firm raised equity capital when its stock was trading in the high-$40 range, so the firm has ample financial cushion.
Gross margins weren't great at 27%, but were up 140 basis points year-over-year. Management noted that this increase was related to product mix as well as lower module manufacturing costs per watt.
First Solar also announced the acquisition of General Electric's (NYSE:GE) cadmium telluride (CdTe) solar intellectual property portfolio. First Solar hopes the intellectual property (IP) will help boost the fortunes of its photovoltaic (PV) solar technology. In addition to the IP, GE and First Solar will collaborate on further CdTe technology advancements.
The deal will cost 1.75 million shares of First Solar, which equates to somewhere in the mid-$80 million range, and 2% of shares outstanding. Management sounded quite excited about the deal, explaining the logic behind it, saying:
"GE currently holds the efficiency record for a 10-cell research cell at 19.6%, which eclipsed the recent First Solar cell record at 18.7%...
…GE has over 450 issued patents and pending applications on their 10-cell technology which effectively doubles our patent position. The combination of the company's complementary technologies and First Solar's existing manufacturing capabilities are expected to accelerate the development of test cells over module performance and create significant improvements in efficiency at full manufacturing scale. GE Global Research and First Solar research and development will also collaborate on future technology development to further advance cadmium-telluride solar technology."
Frankly, given the competitive nature of the global solar market, we're less excited about the IP First Solar acquired than we are about the joint development with GE. With margins and prices under pressure, increasing efficiency will be crucial for the firm's survival, and we think odds have improved with GE's intellectual capital on board. GE will hold its shares of First Solar for at least three years; thus, GE has ample incentive to make strides in solar productivity.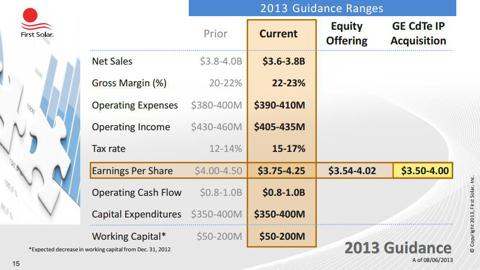 Image Source: FSLR 2Q 2013 Earnings Slides
Looking ahead, First Solar lowered its revenue forecast by $200 million (shown above), approximately equal to the revenue miss. Earnings per share were lowered due to the increased share count as well as the lower revenue outlook. Interestingly, the firm's operating cash flow target and capital expenditures target remained the same, explaining why we have no need to reassess our free cash flow outlook.
Valuentum's Take
First Solar's second quarter wasn't very strong, but we had already believed the Street's forecast was running ahead of reality. We do not anticipate a material change to our fair value range, but we remain extremely cautious with respect to the solar panel maker. We're staying on the sidelines at this time.
Why does Valuentum use such a large margin of safety for some firms like First Solar? Click here.
Disclosure: I have no positions in any stocks mentioned, and no plans to initiate any positions within the next 72 hours. I wrote this article myself, and it expresses my own opinions. I am not receiving compensation for it (other than from Seeking Alpha). I have no business relationship with any company whose stock is mentioned in this article.