As we all know, mining companies have been in the doldrums the last two years. Falling commodity prices together with staggering exploration and mining costs have challenged most mining companies.
North American Palladium (NYSEMKT:PAL) has not been an exception to the rule. In fact, palladium has been one of the stronger commodities but it couldn't save PAL from a near breakdown.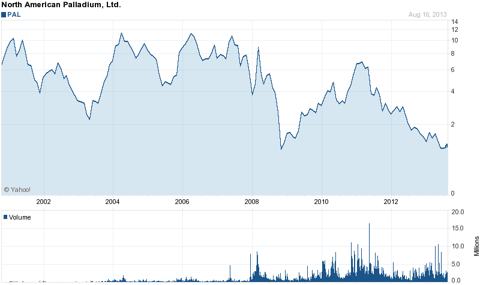 North American Palladium share performance since 2002 (source:Yahoo.finance.com)
Then there was Brookfield. Brookfield Capital Partners jumped in when PAL needed additional financing. The terms which both parties agreed on suggests at least that Brookfield more or less could dictate the conditions.
PAL has to pay annual interest of 15%. The $130 million credit facility is being secured by the assets in the ground, accounts receivable and inventories.
Furthermore, PAL issued $20 million on extra shares and extended its $60 million credit facility, of which $38 million is already been used.
The stock price moved up some 15% when the news was announced but moved down to the original price later that day.
Now there are two things PAL is assuming in order to get the company profitable:
Strong demand for palladium
Lower cash cost through shaft implementation
First of all, the palladium market looks bright and shining. Palladium from Russia and South-Africa is drying up and Russia is not willing to complement the demand with palladium from its strategic reserves. On the demand side, car sales are heating up which implicates stronger demand for palladium. The largest use of palladium today is for automobile catalyst converters. The shortage in the palladium market, started in 2012 and still ongoing, predicts a higher price for the already costly material.
Secondly, North American Palladium is working on a new shaft which should mine palladium from a depth of 825 meters. In progress, this new mining method could bring down cash cost of production to the range of $300-350 per ounce. At the moment PAL is calculating with a cash cost of $564, leaving a margin of $155 with an average selling price of palladium in Q2 of $719.
If this shaft is going to work out as PAL management predicts, cash flow and margins will improve radically.
The big risk
The big risk is in the belief of management that the new shaft will be operational by the end of the year. Although things have been running quite smoothly in the first phase, there is almost no room for the company to delay the commissioning of the shaft. If technicians fail, or need more time, PAL is forced to look for additional capital.
What happens if...
Additional capital will be hard to find for PAL. As it seems to me, there's only one party left to turn to: Brookfield. The assets in the ground have already been mortgaged. Brookfield, on the other hand, then can choose what to do: throw in another $100 million, or claim the assets in the ground, leaving shareholders with empty pockets.
Too risky investment
For current shareholders, I hope PAL can proceed the way management is predicting. The share price, however, has not responded at all to last month's rise of commodities. North American Palladium is a very risky investment under the current circumstances and I first would like to see the shaft in progress before I spend another dollar on it.
Disclosure: I have no positions in any stocks mentioned, and no plans to initiate any positions within the next 72 hours. I wrote this article myself, and it expresses my own opinions. I am not receiving compensation for it (other than from Seeking Alpha). I have no business relationship with any company whose stock is mentioned in this article.