Aluminum (NYSEARCA:JJU) is an interesting commodity because it can be recycled repeatedly without losing quality and has unique characteristics that make it ideal for many industries. Before 1886, when aluminum could not be smelted on a large scale, the metal had been more valuable than gold (NYSEARCA:GLD). Now, with electrolytic reduction (the process of smelting aluminum), aluminum can be produced on a large scale, but it requires large amounts of electricity. While the energy necessary to smelt aluminum has decreased 70% in the last century, electricity still remains a key variable cost in aluminum production.
Alcoa (NYSE:AA), the third-largest aluminum producer, projects that the global aluminum demand will grow by 7% in 2013. The main problem facing the aluminum producing industry, however, is its overcapacity; currently there is an excess of 12 million tons of worldwide aluminum inventory. The World Aluminum Congress contends that to solve this problem, the aluminum industry will have to close at least 3 million tons of capacity immediately. Rusal, the second largest aluminum producer, projects that the current trajectory of production cuts will cause the price of aluminum to rise to more than $2,000 per ton up from $1,835 per ton in May.
Though the entire industry has been struggling to remain profitable, its concerted effort to reduce production and the U.S. Congress's recent efforts to investigate aluminum price manipulation by investment banks such as Goldman Sachs will help increase profits for aluminum producers. Alcoa is in the best position to benefit from increased aluminum demand because of its high-margin ancillary business, manufacturing engineered aluminum products. Tim Ghriskey of Solaris Asset Management said, "Alcoa continues to show they can cut costs and will be a survivor. This is a company that remains profitable and strong despite the tough environment."
Additionally, our algorithm predicts that Alcoa's stock will increase in the three-month time horizon. With the aluminum production industry at a longtime low, I believe that Alcoa is in the best position to take advantage of the growing demand, lower artificial price premium, and impending increased aluminum prices.
The Major Players and Markets
Though there are many smaller regional producers: the five largest aluminum producers in the world are Rio Tinto Alcan, Rusal, Alcoa, Chalco (NYSE:ACH), and Norsk Hydro. China is by far the largest market for aluminum and snippets of news on shifts in China's demand often have big effects on the price of aluminum. Chalco is a large, but regional Chinese aluminum producer, whereas the other four producers all have international presences. Rio Tinto (NYSE:RIO) is a large mining conglomerate, but its aluminum production is only a small component of its business; therefore, Rio Tinto's stock is barely influenced by aluminum pricing and news. Alcoa and Chalco are the only major aluminum producers listed on the NYSE; Alcoa is also included in the DJIA.
Rising Aluminum Demand and Uses for Aluminum
Asia, and specifically China, is by far the largest aluminum market and growth is expected to continue at an even stronger pace, at least through 2025 (see Chart 1). The many Chinese local aluminum producers are often stymied by the government's strict energy efficiency standards. As aluminum production is highly linked to energy consumption, many local inefficient Chinese producers are being forced to shut down.
Click to enlarge images.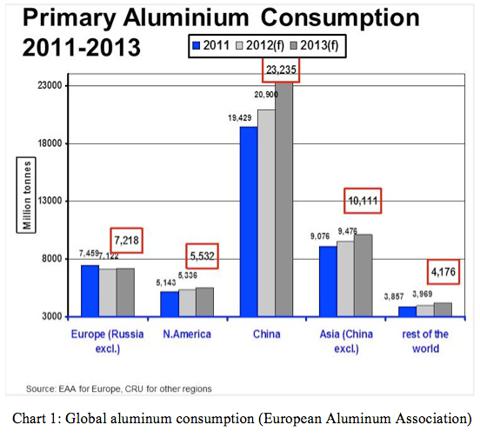 Click to enlarge
As the rest of the world begins to implement energy efficiency standards, aluminum consumption is also expected to increase. Since aluminum is lightweight and easily formed, many auto, train, and plane manufacturers are using more aluminum in their vehicles to increase fuel efficiency (see Chart 2). Packagers are using more aluminum to decrease the weight of their packages and save money on shipping costs. Builders are taking advantage of aluminum's corrosion-resistant, highly reflective, non-toxic, and durable characteristics, not to mention its sleek look. All industries benefit from aluminum's ability to be rolled, cast, and extruded, its ability to supplement alloys to make them stronger, and especially its non-toxicity.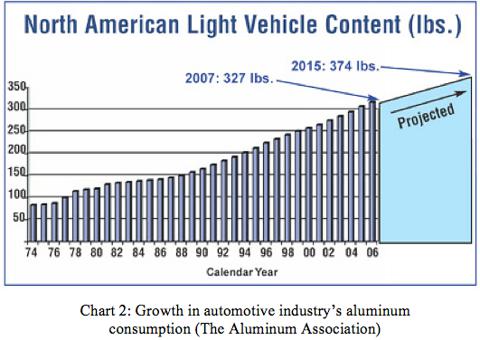 Click to enlarge
Aluminum is also an interesting commodity because it is infinitely recyclable with no loss in quality, and 75% of all aluminum ever smelted is still in use. Therefore, aluminum's price is not as reliant on the price of mineral ore as are other commodities. Additionally, the price of aluminum is highly dependent on the price of electricity, as the only known method for producing the metal required huge quantities of power. For local Chinese producers with low efficiencies, electricity comprises 44% of production costs. Rusal is able to keep this percentage as low as 12% because of its plants' proximities to cheap hydroelectric power. Though Rio Tinto's plants in Australia benefit from their proximities to bauxite ore, electricity comprises 59% of the cost of production.
Aluminum Price Manipulation and Its Consequences
On July 20, the New York Times published an exposé on Goldman Sach's manipulation of the aluminum market. Goldman Sachs took advantage of the 1999 Gramm-Leach-Bliley Act, which repealed many important regulations instated during the Great Depression, by buying up a large share of the aluminum storage business. Goldman Sachs sketchily took advantage of some loopholes in the regulation of aluminum storage to skirt the remaining regulations. They also partly owned (along with other investment banks) the principal regulator of aluminum storage, the London Metal Exchange until last year. Goldman Sach's elaborate scheme -- which includes intentionally creating bottlenecks in its warehouses to exact higher storage fees -- has increased aluminum prices by about $300 per ton, about a 17% premium on aluminum, which currently costs about $1,800 per ton. This premium has been shifted largely to consumers, who must pay more for products ranging from cars to soda.
This price manipulation is particularly frustrating to aluminum producers, as investment banks are eating away at their profits while contributing no added value. This is especially tough during a period of already low prices resulting from the global aluminum production overcapacity and large existing stockpiles. In July, Alcoa sent a plea to the Senate banking Committee requesting that aluminum be regulated by the more transparent U.S. Commodity Futures Trading Commission (CFTC). Its competitors Rusal and Norsk Hydro agree with Alcoa that more regulation of the aluminum industry is necessary. Many companies that use aluminum in manufacturing including MillerCoors, Coca-Cola (NYSE:KO), and Novelis have also voiced complaints.
Washington has responded to the general outcry by holding hearings on the various arguments for separating investment banks and physical commodities holdings. Senator Sherrod Brown of Ohio, the leader of the hearings, called for greater regulation of anticompetitive commodity manipulation and the mandatory curtailment of banking activities in the non-banking sector. CFTC commissioner, Bart Chilton recently announced that he believes the Federal Reserve should disallow banks from trading in physical commodities.
Though Washington tends to move slowly, there is much hope across a broad range of American industries that its new regulation will come soon. The near elimination of the aluminum premium should both lower the price of aluminum, increasing demand and eliminating some of the industry's overcapacity and also allow producers to reap more of the profits from the sale of aluminum. Even if it takes Washington time to act, banks may decide that the negative press is detrimental enough to voluntarily pull out of this unpopular industry.
Alcoa Projections
We use a unique algorithm to predict the stock market. The stock algorithm constantly updates itself as it processes new information and averages many independent models to output a continuous stream of signals that project the magnitude that each particular stock will move. (To learn more about the algorithm, see my article on Citigroup). The relatively high signals of Alcoa indicate that the algorithm believes that the stock will increase in the three-month time horizon (see Chart 3).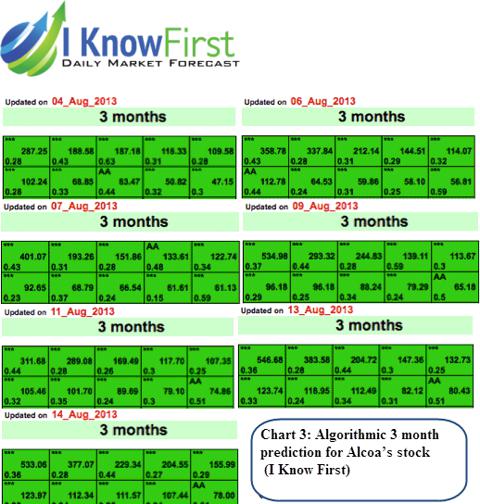 Click to enlarge
Wall Street's Puts on Alcoa
Wall Street has an ambivalent outlook for Alcoa with four analysts recommending buys, seven holds, and three sells. Bank of America lowered it rating for Alcoa from "neutral" to "underperform" on Aug. 16. Most concerning, however, is Wall Street's aggressive purchasing of puts on Alcoa, making Alcoa the most shorted component on the DJIA. Perhaps this is just a mechanism to hedge the markets, but it may be a result of speculation that Alcoa, already the smallest component of the Dow, will soon be ejected from the index. Alcoa has underperformed the rest of the Dow for decades and its credit rating was downgraded to speculative-grade a few months ago. There is no question that Alcoa has been struggling, but a global turnaround in the aluminum market may be just what it needs to reverse its prolonged decline.
Conclusion
Aluminum is the most common metal on earth and the second most used metal in the world after steel (iron). This month Congress created a bipartisan Aluminum Caucus to increase awareness of aluminum's importance in U.S. industry and its positive environmental impact as well as to promote the aluminum industry's growth. As the aluminum industry's overcapacity is managed and as investment banks cease to manipulate the aluminum market, aluminum producers will be able to increase their profits. Aluminum consumers, on the other hand, will also benefit from increased transparency in the aluminum market as well as increased price stability. Perhaps some of the industry's efforts have begun to take effect because the price of aluminum has started to rise during the past month after years of falling prices (see Chart 4).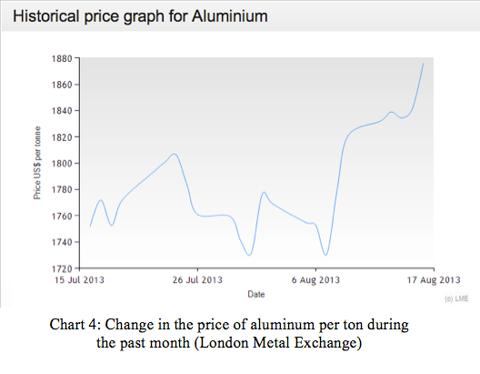 Click to enlarge
Even though many Wall Street analysts are bearish on Alcoa and the aluminum producing industry in general, the industry can defy these predictions by combating oversupply and price manipulation. Alcoa is in the best position to succeed in the aluminum industry because of its ability to cut costs and expand its high margin aluminum engineering businesses. Additionally, our algorithm predicts that Alcoa will succeed in the three-month time horizon. I believe the aluminum industry will rebound eventually, as aluminum plays a vital and expanding role in the global economy; and Alcoa has the most to gain for such a turnaround. Though the aluminum production industry may not rebound in the next month or even the next year, it is important to pay attention to the developments in aluminum supply and regulation as these will be the catalysts necessary to jumpstart the industry.
Disclosure: I have no positions in any stocks mentioned, and no plans to initiate any positions within the next 72 hours. I wrote this article myself, and it expresses my own opinions. I am not receiving compensation for it (other than from Seeking Alpha). I have no business relationship with any company whose stock is mentioned in this article.
Business relationship disclosure: I Know First Research is the analytic branch of I Know First, a financial startup company that specializes in quantitatively predicting the stock market. This article was written by Ethan Fried (Harvard College '16) one of our analysts. We did not receive compensation for this article (other than from Seeking Alpha), and we have no business relationship with any company whose stock is mentioned in this article.