Three dimensional printing pioneer 3D Systems (NYSE:DDD) reported fantastic second quarter results. Revenue surged 45% year-over-year to $121 million, handily exceeding consensus expectations. Non-GAAP earnings per share increased 11% year-over-year to $0.20, slightly below consensus estimates. For a firm in a high revenue growth phase, free cash flow is solid year-to-date at $9 million, equal to 6% of total revenue.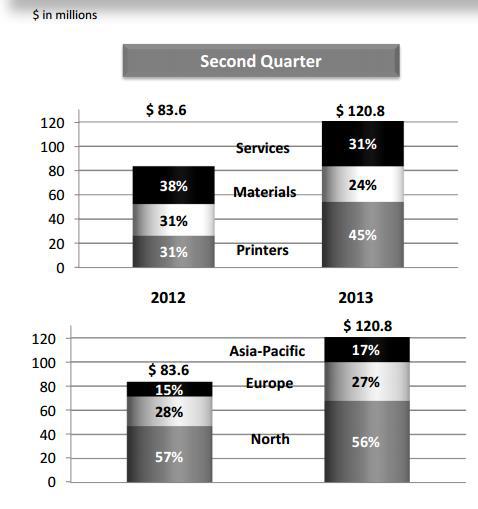 Image Source: DDD 2Q 2013 Presentation
Revenue growth was broad-based, as "products" revenue surged 60% year-over-year to $83.4 million. "Services" revenue grew at a slightly lower rate, up 19% year-over-year to $37 million. 3D Systems also posted decent gross-margin expansion, up 40 basis points firmwide to 51.8%. "printers and other products" gross margins surged 250 basis points year-over-year to 45.6% and "materials" gross margins were 800 basis points higher than a year-ago at 73.6%. "Service" gross margins, however, declined 260 basis points to 43.8%. The firm's "services" segment doesn't experience the same operating leverage as its "printers" or "materials" operations, nor does it constitute a huge portion of 3D Systems' total gross margin dollars (at this time).
Video Source: 3D Printing Systems
What once seemed like an unattainable pipe dream is now a very powerful means of production. 3D Systems is seeing strong demand from manufacturing customers, and the firm's consumer products have recently hit Staples' (NASDAQ:SPLS) shelves with a positive reception from consumers. Demand could even improve, as the firm added more technology to its arsenal. CEO Avi Reichental explained the firm's latest acquisition on the conference call, saying:
"And a few weeks ago we completed the acquisition of 81% of Phoenix System, a leading global provider of Direct Metal Selective Laser Sintering systems that's based in rearm fronts.
Phoenix designs manufactures and sales proprietary Direct Metal 3D Printers that can print chemically pure fully dense metal and ceramic parts from very fine powders with the granularity of 6 microns to 9 microns. Materials include stainless steel, tool steel, super alloys, nonferrous alloys, precious metals and alumina for a variety of advance aerospace automotive and patient specific medical device applications."
The only potential "negative" from the firm's report was the near-doubling in research and development costs. However, R&D only constituted 7.9% of sales - not a number we'd be worried about. In fact, we like to see the firm reinvesting in the business in hopes that such efforts will drive even further revenue expansion. In fact, it seems the firm is doing everything in its power to create value for its customers - something we believe is positive for the company's long-term success.
SG&A increased 50% year-over-year to $36.2 million, equal to 30% of total revenue. Considering the firm's need to boost awareness around its products and support growth, we aren't too worried about this increase at the moment, especially considering the firm's hefty gross margin profile.
Going forward, the firm reiterated its full-year revenue guidance of $485-$510 million, driving non-GAAP earnings per share of $1.05-$1.20. We think the Street may have been looking for a raise, but we think 3D Systems' guidance was strong nonetheless.
Valuentum's Take
3D printing seems to be gaining steam, particularly with businesses. 3D Systems is expanding gross margins and growing revenue at a rapid clip, but shares look fairly valued at this time. Thus, we won't be adding shares to the portfolio of our Best Ideas Newsletter.
Disclosure: I have no positions in any stocks mentioned, and no plans to initiate any positions within the next 72 hours. I wrote this article myself, and it expresses my own opinions. I am not receiving compensation for it (other than from Seeking Alpha). I have no business relationship with any company whose stock is mentioned in this article.