After purchasing 60% of Premier Royalty back in January 2013, Sandstorm Gold (NYSEMKT:SAND) has agreed to acquire the remaining 40% of the company, with the total value of $28.3 million in this transaction. I had previously written in an article that I thought Sandstorm would eventually buy out the remaining shares of Premier, and I was a little surprised that it came this soon.
I believe this is a decent, low-risk deal for Sandstorm because it adds immediate growth to their production profile and cash flow from a number of quality mines, operated by major mining partners like Yamana Gold (NYSE:AUY) and AngloGold Ashanti (NYSE:AU):
The Arrangement values the Premier Royalty Shares at approximately C$0.89 per Premier Royalty Share, which represents a premium of 16% to the 20-day volume weighted average trading price of the Premier Royalty Shares on the Toronto Stock Exchange (the "TSX") of approximately C$0.77. Premier Royalty shareholders will receive common shares of Sandstorm (the "Sandstorm Shares") on the basis of 0.145 of a Sandstorm Share for each Premier Royalty Share held. (Source: Aug. 14 news release.)
The previous deal on Jan. 29, 2013, saw Sandstorm acquire roughly 60% of the company, or 46,678,221 shares, at a value of $1.98 per share for approximately $92.4 million (when gold was at a much higher price, over $1,700 an ounce). So This brings the total takeover to about $120 million.
At first glance it might look like $120 million for company currently bringing in less than $8 million annual cash flow is a bad deal. However, as I mentioned previously, the first transaction was made when gold was several hundred ounces higher. As gold (NYSEARCA:GLD) heads higher, so too will the value of these NSRs.
What does Sandstorm land in this deal? Premier Royalty has a number of cash flowing royalties that will add immediate ounces to Sandstorm Gold's production profile, as mentioned previously.
Click to enlarge images.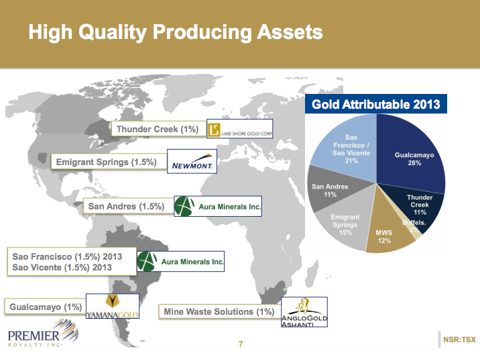 Click to enlarge
1.5% NSR on the San Andres deposit in Honduras and the Sao Vicente and Sao Francisco Mines in Brazil, operated by Aura Minerals, Inc.
1.5% NSR on the new (Q4 2012) Emigrant Springs Mine operated by Newmont on the Carlin Trend in Nevada, U.S.
1% NSR on the new (Q1 2012) Thunder Creek Deposit of the Timmins West Mine operated by Lake Shore Gold Mines in Timmins, Canada.
1% the Mine Waste Solutions (MWS) tailings processing facility operated by AngloGold Ashanti in South Africa.
1% on the new (2010) Gualcamayo Mine operated by Yamana Gold in San Juan Province, Argentina.
Premier Royalty had given a Q2 estimate of 1,745 ounces attributable. They smashed this estimate on their recent Q2 earnings release, with 1,859 ounces recorded.
Premier Performance in the Second Quarter
Here is the actual ounces attributable to Premier in Q2 vs. the company's estimates:
Gualcamayo (Yamana Gold)
Emigrant Springs (Newmont Mining)
Mine Waste Solutions (AngloGold Ashanti)
Thunder Creek (Lake Shore Gold)
San Francisco and Sao Vincente (Aura Minerals)
San Andres
Total Ounces
| | |
| --- | --- |
| Estimate | Actual |
| 1,745 | 1,859 |
San Francisco and Sao Vincente are slated to close in 2013.
Why the Deal Is Good for Premier Shareholders
As you can see from the chart below, ounces attributable are expected to decline in 2014 from the closure of the two mines mentioned above. Production is then expected to remain flat until 2016.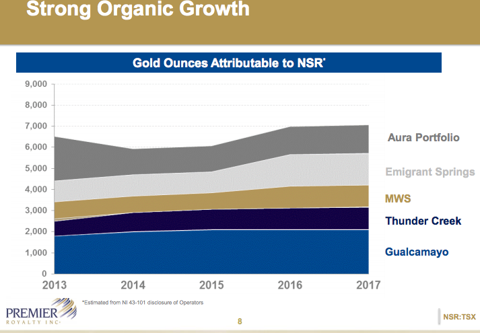 Click to enlarge
I think that in the current environment, Premier was having a tough time finding NSRs that would add immediate or near-term cash flow. The company had over $30 million cash and a credit facility at their disposal, but couldn't get any significant deals done since the first transaction with Sandstorm was announced in January.
Why This Deal Made Sense for Sandstorm
With the gold price low, CEO Nolan Watson is a little bit more hesitant to use up the company's large $95 million cash balance to acquire streams. This deal allows the company to add roughly 7,000 annual ounces to their portfolio and a number of high-quality exploration and development assets.
Previously, Sandstorm was only allowed to record sales and royalty revenue from their 60% interest in Premier:
As a result of acquiring a 59.9% controlling interest in Premier Royalty, the transaction was accounted for as a business combination. As such, the Company is required to consolidate all the operating results of Premier Royalty post acquisition date (Jan. 30, 2013) and reflect the consolidated financial results for both companies.
As you can see from the picture of the recent Sandstorm quarterly results, they were not able to add ounces attributle this past quarter.

Click to enlarge
Sandstorm will now likely increase their annual production guidance from this deal by at least 6,000 ounces. Here are their previous estimates: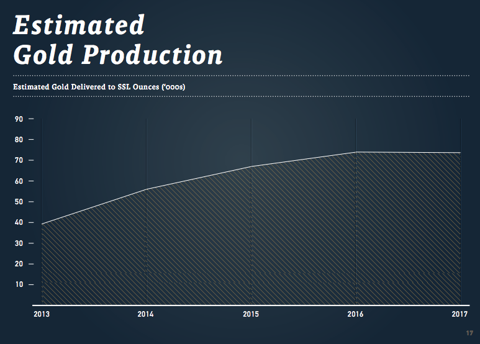 Click to enlarge
In conclusion, while this deal is not a home run for Sandstorm Gold, it does make sense for the company. This deal will add high-quality assets to Sandstorm's portfolio and the company should have no problem beating their previous guidance. Sandstorm Gold still has nearly $100 million in cash plus a $100 million credit facility to complete more streams -- not to mention quarterly cash flow of $9 million at current gold prices.
My biggest concern previously was the financial health of Metanor Resources, which operates the Bachelor Lake mine (Sandstorm owns a 20% stream on that mine and the mine is expected to produce 60K ounces a year at full production). With the price of gold breaking out to $1,375, Metanor's stock has nearly doubled over the past one to two weeks, giving the company a current market cap of $39.2 million.
The Premier deal feels like a safe one and with the price of gold recovering, I would urge Watson to consider getting more aggressive here. Having said that, I would like to see the next one to two deals focus on near-term production and cash flow, as opposed to long-term potential like the Entree Deal. It will be interesting to see how much value the company can add in their next few deals, and I hope they go for triples and home runs as opposed to singles and doubles. I continue to buy shares and warrants on any dips, and I am quite optimistic on the price of gold going forward.
Disclosure: I am long SAND. I wrote this article myself, and it expresses my own opinions. I am not receiving compensation for it (other than from Seeking Alpha). I have no business relationship with any company whose stock is mentioned in this article.