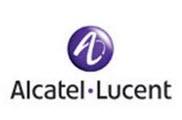 Executive Summary
"Keep your eye clear, and hit 'em where they ain't" - William Henry Keeler
William Henry Keeler was a right fielder in Major League Baseball who played from 1892 to 1910. Keeler, one of the best hitters of his time, was elected into the Baseball Hall of Fame.
I love this quote because it describes one of my investing mantras. I interpret it as saying look to unloved stocks for your greatest return. Alcatel-Lucent, S.A. (ALU) is a good example of this. If you bought ALU's stock at the time of my initial recommendation in November of last year, you would be up 144% to date. The stock has run from $1.10 to $2.68.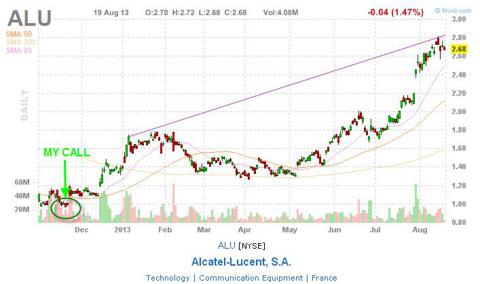 The question is what now? Has the stock caught up with the story? Is there more room to run? I say it's time to take profits. The stock has run so far so fast it has reached an inflection point. In the following section, I will lay out my bearish case for the stock.
Fundamental weaknesses vs. peers are glaring
When the stock was trading for $1, it was easier to look at the fundamental picture from a glass half full perspective. Now that the stock has run approximately 150% in nine months, some issues come to the fore. For instance, the lack of profits and heavy long-term debt burden. Please review the following tables provided by Scottrade and Ycharts detailing ALU's fundamental position compared to its peers.
Profitability
Across the board, ALU is underperforming the industry in regards to profitability. With gross margins only half the industry average and a trailing two-month negative profit margin of nearly 20%, things don't look well regarding profitability.

Valuation
ALU doesn't compare when it comes to valuation because the company is not currently profitable. The only point is the vast difference in the price-to-sales ratio. This reflects the extremely high risk associated with these sales.

Sales Growth
Although sales growth is on the rise in the short term, over the last five years it is still down over 4%. This is significantly below the industry average of 4% positive growth. Dividend and EPS growth are non-existent as well.

Financial Strength
As you can see, ALU has a much higher LT Debt/Equity ratio than the industry norm. This debt load is a heavy burden to bear in such a competitive industry. With profit margins cut to the bone, there is little room for profits. The additional interest expense on the debt could be the deciding factor regarding profitability.

Management Effectiveness
Management's effective use of company profits and assets is probably the most important data to analyze when deciding to invest in a company. ALU's management is in the midst of a turnaround program. So the bad numbers here are not quite as important as determining if they are improving. At this point, they are improving. But there is still a long way to go.

Price-To-Book Comparison
ALU trades for the highest price-to-book ratio as compared to its peers. Cisco Systems, Inc. (NASDAQ:CSCO), Juniper Networks, Inc. (NYSE:JNPR) and QUALCOMM Incorporated (NASDAQ:QCOM) all trade for less.

Downside Risks
There are several downside risks to the company and stock currently. In the following sections I will detail each one.
Competitive Pressures
ALU is in good shape in the Chinese and U.S. markets. Nevertheless, product price pressures and revenue shortfalls from clients possibly deferring network upgrades are always a factor.
Restructuring Risks
Restructuring can help streamline a company and make it profitable. Even so, the process always comes with cost and risk. ALU still has assets on the books it plans to divest. Any divergence from plan in the execution of these transactions can have vast effects on the bottom line. Furthermore, the recent CEO change could throw a wrench into the schedule as well.
Long-Term Debt Costs
The company's liquidity issues were the primary reason for the stock's underperformance in 2012. By divesting of unprofitable business segments and taking on long-term debt, the company has resolved its current liquidity issues but not without costs. The interest expense on the debt will weigh on profits near-term as well as any costs associated with discontinued operations.
Macro Market Exposure
The month of August has been one of highs and lows. It seems the summer doldrums may finally be taking effect as the performance of the major averages have turned south. The market looks frothy to me. The latest Bull Run looks extremely long in the tooth at over four years. Why not lock in some profits now? A rising tide lifts all boats, but it can sink them just as easily. Stocks tend to take the stairs up and the elevator down. Watch over your profits.
Summary
It is a competitive world out there. Risks that new technologies will be developed to supplant those of ALU are always on the horizon. At some point, you have to start making money. ALU has a net profit margin of approximately negative 20%. If the company cannot get its house in order and turn a profit, it cannot continue as a going concern. Although, we are not there yet with ALU.
Conclusion
The proliferation in spending by major telecom companies, a major contract win and receiving a loan to boost liquidity are the major catalysts propelling ALU shares higher. The telecom sector is growing by leaps and bounds. Nonetheless, I believe all this good news is already priced into the stock. The stock is currently overvalued.
The stock has simply run too far too fast. The risk is to the downside after such an amazing run. With the current competitive environment pricing and revenue risks, restructuring plan and debt risks, it appears ALU's stock has overshot to the upside. At $1 it was worth it; at $3, I'd take the money and run. I would take profits now if I was long and wait for the stock to pull back and at least test the 50-day sma at approximately $2.20.
This postulated a 20% correction in the stock is significant enough to acknowledge. If you are long and wish to hold throughout the digestion period of the most recent rally, do it. Don't forget what happened to Winnie the Pooh though. He stuck his head into the honey pot one too many times and it got stuck.
Disclosure: I have no positions in any stocks mentioned, and no plans to initiate any positions within the next 72 hours. I wrote this article myself, and it expresses my own opinions. I am not receiving compensation for it (other than from Seeking Alpha). I have no business relationship with any company whose stock is mentioned in this article.