By Brad Zigler
The two historic bellwethers of inflation -- oil and gold -- parted ways this week as gold faltered in its climb above the $1,000 mark. Gold's momentum shift really amounted to a test of support at its breakout levels, while oil's resurgence was driven by an uptick in gasoline demand.
In sum, this week featured moderation in the near-term inflation that's been signaled since Aug. 24.
Among the key inflation indicators Thursday:
London morning gold fixings slipped 0.8% lower for the week to an average price of $997.25 per ounce. Meanwhile, spot COMEX settlements rose 0.2% to average $996.70.
There was little change in the London gold contango this week. Over the past month, the three-month spread has shrunk by 8 cents an ounce, or 7.3%.
While losing ground this week, gold stocks again outperformed the broader equity market. The NYSE Arca Gold Miners Index (GDM) dipped 1.6%, while the Dow Jones Industrial Average fell 2.0%.
Nearby NYMEX (NMX) crude oil staged a turnaround and rose 8.8% on the week, to an average barrel price of $70.82. The three-month roll, at $1.26 a barrel, retreated from last week's average of $1.60.
The gold/oil ratio fell to 7.9% to a 14.1x multiple.
Minor easing in short-term credit was reflected in a one basis point (0.1%) decline in the three-month TED spread -- the yield premium of the London Interbank Offered Rate over U.S. Treasury bills. The week's average spread was 19 basis points.
Yields dropped at the long end of the curve as well. The 30-year Treasury bond declined 20 basis points to 3.97%. The spread between three-month bills and the long bond came in 2 basis points to 3.88%.
The euro lost ground to the U.S. dollar in interbank trading. The average cross rate slid 1.1% to $1.4643.
Our daily updates in the 12-month monetary inflation rate averaged 0.8% for the week, indicating further slowing in near-term velocity.
Long-Term Monetary Inflation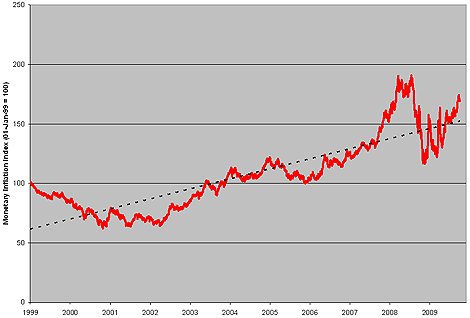 *Note: The monetary inflation rate is calculated daily and represents the change in our proprietary index over the last 12 months. We update long-term inflation in real time as well. Since 1999, the compound annual growth rate in our index is 4.9%.