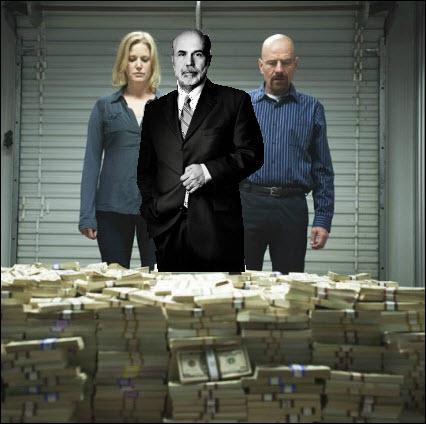 The pressure from rising yields will continue to act as a drag on stock prices. As long as interest rates continue to rise, stock prices will either remain restrained or continue to decline. After all, higher yields will make bonds more competitive. As most know, QE and ZIRP policies with liquidity added have been the primary driver for higher stock prices. Without this influence, many believe economic fundamentals and earnings growth just don't justify high stock prices. The Fed safety net and the liquidity has provided make many believe stocks would never have reached current levels and in fact would be much lower.
It's a dangerous act the Fed has introduced to markets. After all, if you're a Breaking Bad aficionado, no one in that exciting TV series can find a way out of their predicament. The Fed can't either, no matter how hard they try to soften up investors to accept that money printing will be reduced or even come to an end.
You can name your poison to what period previous markets resemble now. Things appear more like the late summer and early fall of 2011. As you might recall, the debt ceiling debate was in the forefront then and will soon be again. So investors have that negative feeling once again assisted by tapering.
Currency issues are front and center these past few weeks. The effort to dramatically lower the Japanese Yen to revive that nation's economy has been well known these past few months. This has led to more currency wars as sometimes these can get out of control. We've seen this in Brazil and other BRIC countries. The Indian Rupee collapsed last night notching its largest collapse in 20 years. Since early May the rupee has fallen 18%. Indian authorities have tried to ban gold coins in the country but to no avail since nowhere on the planet is gold more valued than in India. But India isn't alone since the Indonesian Rupiah has witnessed similar declines. Yet all these holders would have done well with gold holdings as a backstop. We featured a short public chart video of India ETF (EPI) today.
Leading sectors lower on Monday included Financials (NYSEARCA:XLF), Banks (NYSEARCA:KBE), REITs (NYSEARCA:VNQ), Homebuilders (NYSEARCA:ITB), Miners (NYSEARCA:XME), Energy (NYSEARCA:XLE), Emerging Markets (NYSEARCA:VWO), Brazil (NYSEARCA:EWZ) and Mexico (NYSEARCA:EWW). Also sharply weaker on the day were bonds (NYSEARCA:TLT) while few sectors saw any gains. Markets are short-term oversold and this you'll see plainly on the last $NYMO chart below. With this in place, could there be a Turnaround Tuesday?
Volume was light once again and breadth per the WSJ was quite negative.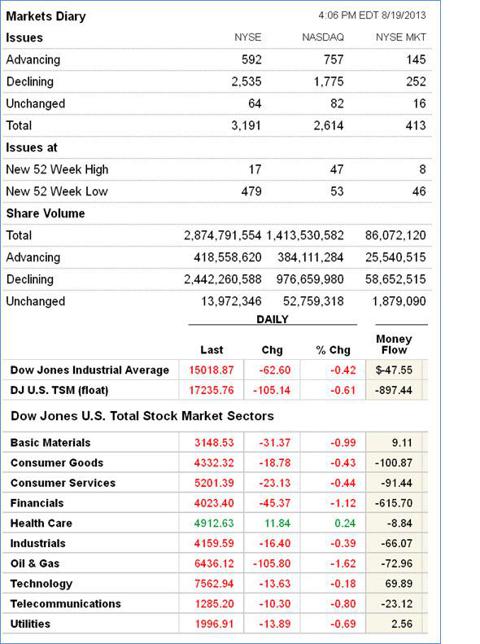 Click to enlarge

Click to enlarge
Follow us on twitter and become a fan of ETF Digest on facebook.
NYMO

The NYMO is a market breadth indicator that is based on the difference between the number of advancing and declining issues on the NYSE. When readings are +60/-60 markets are extended short-term.

NYSI

The McClellan Summation Index is a long-term version of the McClellan Oscillator. It is a market breadth indicator, and interpretation is similar to that of the McClellan Oscillator, except that it is more suited to major trends. I believe readings of +1000/-1000 reveal markets as much extended.

VIX

The VIX is a widely used measure of market risk and is often referred to as the "investor fear gauge." Our own interpretation is highlighted in the chart above. The VIX measures the level of put option activity over a 30-day period. Greater buying of put options (protection) causes the index to rise.

SPY 5 MINUTE

SPX WEEKLY

INDU WEEKLY

RUT WEEKLY

QQQ WEEKLY

QQEW WEEKLY

XLF WEEKLY

XLU WEEKLY

IBB WEEKLY

ITB WEEKLY

IYR WEEKLY

IYT WEEKLY

XLV WEEKLY

HYG WEEKLY

LQD WEEKLY

MUB WEEKLY

TLT WEEKLY

UUP WEEKLY

FXE WEEKLY

GLD WEEKLY

GDXJ WEEKLY

SIL WEEKLY

DBB WEEKLY

DBA WEEKLY

GCC WEEKLY

USO WEEKLY

VEA WEEKLY

IEV WEEKLY

VWO WEEKLY

EWG WEEKLY

EWA WEEKLY

EWZ WEEKLY

FXI WEEKLY
Closing Comments
There will be just a little more in the way of earnings this week with Home Depot (NYSE:HD) and others.
The NYMO indicates markets are extremely short term oversold, so perhaps we'll have some sort of rally to cure this soon enough.
Most of the action will pick up Wednesday with Fed Minutes and more from Jackson Hole Fed chatter toward Thursday and Friday.
Let's see what happens.
Disclaimer: The charts and comments are only the author's view of market activity and aren't recommendations to buy or sell any security. Market sectors and related ETFs are selected based on his opinion as to their importance in providing the viewer a comprehensive summary of market conditions for the featured period. Chart annotations aren't predictive of any future market action rather they only demonstrate the author's opinion as to a range of possibilities going forward. More detailed information, including actionable alerts, are available to subscribers at www.etfdigest.com.
Disclosure: I am long QQEW, IBB, GLD, SIL, GCC, USO, VEA, VWO, EWA, FXI. I wrote this article myself, and it expresses my own opinions. I am not receiving compensation for it. I have no business relationship with any company whose stock is mentioned in this article.