The Nokia (NYSE:NOK) Lumia 1020 has been available less than one month on AT&T (NYSE:T) and it is already being hailed as King of the smartphone world. Except for some apps of questionable value, such as Instagram, Vine and Snapchat (really?) critics are hard pressed to find a flaw in this beast that will go unmatched for years to come, thanks to Nokia's brilliant research and development and legal teams. What's the point in having those previously mentioned apps if they do not allow you to share the best quality photographs and videos that the L1020 can produce?
In my view, the L1020 should be the device that finally wakes the US to Nokia's design prowess and reaffirms the company's status in the rest of the globe. Because the US is such an important public relations market, strong success here will not only help sales elsewhere, but it will provide a strong catalyst to the share price that has stubbornly been going sideways for the last 6 months.
If you go to AT&T's website, you will see that the first of 18 smartphones is the Nokia Lumia 1020. In the top 3, you will find in order the Lumia 1020, Apple's (NASDAQ:AAPL) iPhone 5, and Samsung's (OTC:SSNLF) Galaxy S4. Note that only the L1020 has any reviews or any stars, 25 and 4.75+ respectively despite it being available for the shortest period.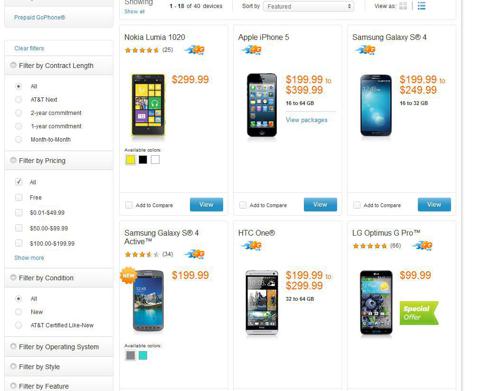 Top 3 smartphones at AT&T
| | | | | |
| --- | --- | --- | --- | --- |
| Phone | Reviews | Stars | Release Date | Price |
| Nokia Lumia 1020 | 25 | 4.75+ | July 26, 2013 | $299.99 |
| Apple iPhone 5 | 0 | none | Sept. 21, 2012 | $199.99-399.99 |
| Samsung Galaxy S4 | 0 | none | Late April 2013 | $199.99-249.99 |
If you head over to Amazon's website, the Nokia Lumia 1020 is featured in the top of the page will the headline reading: "Featuring a 41-MP camera. Take pictures like a pro." Below, the L1020 is featured at positions 8, 9 of the Top-10 Best Sellers at AT&T.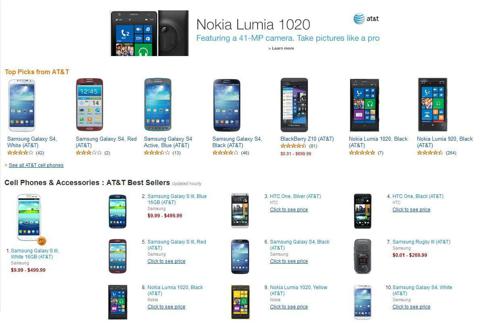 Nokia Lumia 1020 in AT&T's Top 10 at Amazon
Now, it's one thing to read mostly glowing reviews on the web: it's still second-hand information. If you want to really know about investing in Nokia, you should check it out for yourself and buy a Lumia 1020. I did. Since my Lumia 800 was 15 months old, and I was getting a sore jaw looking at pictures taken by Nokia's Symbian PureView 808, I decided to jump on the opportunity to purchase the Lumia 1020 immediately when it became available for preorder. Living in Canada, my only option was to buy an unlocked version as it is currently exclusive to AT&T.
Having done my due diligence, I can say with much confidence that North Americans can purchase the unlocked device and use it on the carrier of their choice. Lumia's brilliance isn't skin deep, it goes to his core. The L1020 is versatile in many ways and adaptable to the most common 3G and 4G network protocols, whether it is LTE, WCDMA (HSDPA, UMTS HSUPA) or GSM, on a wide range of frequencies.
Smartphone habits are personal and varied throughout the world. In my case, being self-employed, I use the 1020 for both business and pleasure. I do not download any app unless it's useful. In other words, I don't use it for games. Having Outlook with Microsoft (NASDAQ:MSFT) Exchange email protocol performs wonderfully giving me instant access to emails, calendar and tasks, perfectly synced between smartphone, laptop and desktop. SkyDrive performs the same sync function for documents, spreadsheets, photos, videos and music, and very cheaply, I must add. In my case it's only $20 a year.
In my personal time, I very much appreciate OneNote to sync my numerous lists and notes which also comes in handy at work. The other major use I get out of my smartphone is the camera and video functions. During my first evening with the phone on Saturday August 10, I was at a BBQ where I took several pictures until 9:20 PM without a flash. I don't know about where you live, but on the east coast of Canada, at that date, it is dark at 9 PM. Look at the three pictures below I took in the dark, with all settings on automatic. Did I mention that these were taken without a flash? The full resolution originals are available here. Time stamps on the pictures of the cottage, beach (rocks, sand, ocean and sky), and landscape were taken at 9:00:23 PM, 9:09:50 and 9:12:48 respectively.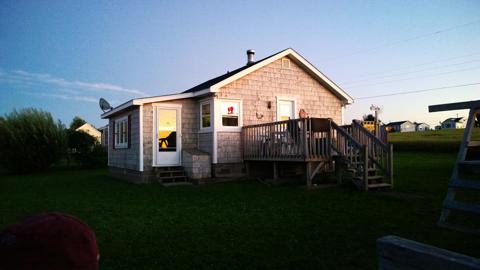 Cottage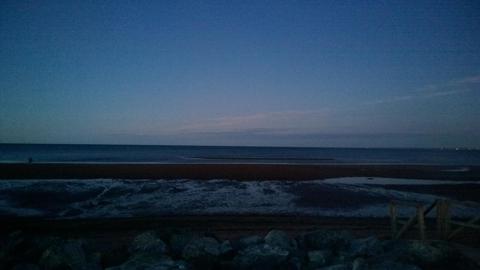 Rock wall, sand, ocean and sky. Note the visible lights further down the coast (more visible on the original, high resolution).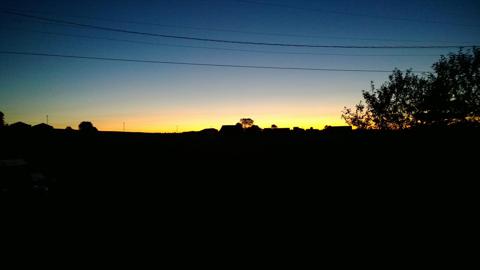 Landscape
When I first saw pictures of the Nokia 808, then later the L1020, I thought it would make stand-alone cameras obsolete. After using the L1020 I wager that for most people it will. But for those who need to be able to zoom in to small objects 10 feet away or more (3 meters), the Lumia 1020 is still no match for longer optical zooms in delivering detail. For those that believe current smartphone cameras are good enough, they surely have not used the Lumia 1020 and made a side by side photo comparison. It's human nature to always want more, and the best that's available, within reason of course. In this case, good enough will no longer be good enough because something better is available in the same price range of top-tier smartphones. Once the same crowd who jumped on the iPhone and iPad see with their own eyes what the Lumia 1020 can do, they will want it. Because it's the very best at what it does. I am not wanting in the app category. But for those who think Candy Crush and Instagram are deal-breakers, I can only say that if their respective developers have any business sense, they will be porting those apps to WP8 ASAP.
Now if you have used a stand-alone camera in the past with a substantial optical zoom while bird watching or during other personal or work activities, the Lumia 1020 may not be a suitable replacement for those occasions.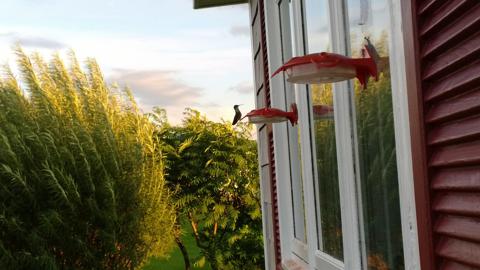 Hummingbird drinking
If you download the high resolution original of this picture using the link provided above and zoom in to see the hummingbird perched at the second feeder, you will notice the limitations of the L1020's photographic ability. Sure, had I taken more time to manually adjust for the proper lighting, perhaps more details could be viewed. Take into consideration that I was standing perfectly still no more than 10 feet away from this ultra-quick creature, trying to capture a somewhat dark object with a brighter background. On the other side of the coin, taking pictures of humans 10-15 (3-5 meters) feet away with the Lumia 1020 shows more details (imperfections) than the subjects usually appreciate.
Conclusion
While it may not be a replacement of the stand-alone camera for more demanding amateur and professional photographers, the Nokia Lumia 1020 blows away any other smartphone and rests on a throne that will be unattainable by competitors for years to come, as ensured by patents that are the fruits of years and billions of dollars invested in R&D. Properly marketed, PureView and the Lumia 1020's 41 megapixel camera should distinguish Nokia from the other me-too brands, such as Apple, Samsung and Google (NASDAQ:GOOG) that haven't offered any truly distinctive feature in years. We are starting to see some original marketing coming out of Nokia, in relation to its PureView advantage, such as this hilarious French language commercial. If Nokia can make hay while the sun shines, Q3 could show another 30% plus increase in smartphone sales. With increasing momentum, Q4 could deliver the share price that some Nokia shareholders have been waiting for several years.
Disclosure: I am long NOK. I wrote this article myself, and it expresses my own opinions. I am not receiving compensation for it (other than from Seeking Alpha). I have no business relationship with any company whose stock is mentioned in this article.