With a market-cap of about $17.25 billion and no profits to show one may feel Tesla (NASDAQ:TSLA) is overvalued. This valuation may look expensive, but those who believe in the long-term success of EVs (electric vehicles) and trust the capabilities of the management these valuations are not that expensive. In fact if the company meets its near term targets, set by the management, it will be not only able to break even, at all levels, but also would generate significant cash flows, as early as next financial year.
Let's first calculate how much the company will earn if it meets the management targets. (The latest six-months results will be used as the base)
Latest financials: (Source: Q-10 period ended June 2013)
During six months ended June 30, 2013, the company sold about 10050 vehicles and generates $956.7 million from automotive sales and made about $191.3 million of gross profit from automotive sales. This means the company made about 19.9% of gross profit from automotive sales or about $19000 per vehicle sold. "Selling, general and administrative expense" comes at about $10647 per vehicle. R&D expense was at about $107.2 million though it's not related to the number of vehicle sold. (See the table below)

Click to enlarge
Management estimates/targets:
1. Management hopes to bring its gross margin to about 25% in the next six months:
"We expect our gross margin to continue to rise to our target of 25% in the fourth quarter of 2013, which assumes no ZEV credit revenue and continued efficiencies resulting from our cost reduction efforts and offering of new vehicle options." (Source: Q-10 period ended June 2013 page 24)
2. Management hopes to bring its sales to 40000 units in the next year and a half:
"If demonstrated demand in North America and Europe is matched by similar demand in Asia, annualized sales for Model S could exceed 40,000 units per year by late 2014." (Source: letter to shareholders August 7, 2013)
If the company achieves this, then the company will make gross profit of about $23,750 per vehicle and if the "selling, general and administrative" expense remains same at $10,647 per vehicle, even then the company operating profit per vehicle will be about $13,103 per vehicle or $249 million of operating profit for the company. (See the table below)

Click to enlarge
The company not only sets up the targets, but is also building-up the strong foundation to meet those targets or even exceeds those targets.
Building a service infrastructure:
The company is building a service infrastructure that has never been build before by an electric vehicle company. In fact the company is competing with the traditional gasoline vehicles and is working on to eliminate several disadvantages of electric vehicles over gasoline run vehicles like:
Easy recharge/refueling facilities and that too for free:
One of the major disadvantages of electric vehicles over gas run vehicles is lack of battery recharging facilities that restrain the electric vehicles owners to plan a long trip. To get this problem out of its way the company is increasing its recharging stations, known as Tesla superchargers, manifolds to allow its customers to recharge more frequently when needed. In fact the company is planning to cover about 80% of U.S. population by 2014, through these recharge stations. Moreover, Tesla Model S customers can use these services for free, forever.
The map below shows its current coverage: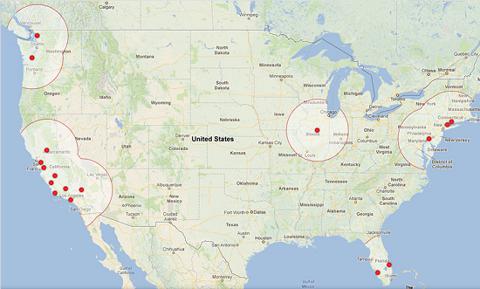 Click to enlarge
The map below shows its coverage by 2014: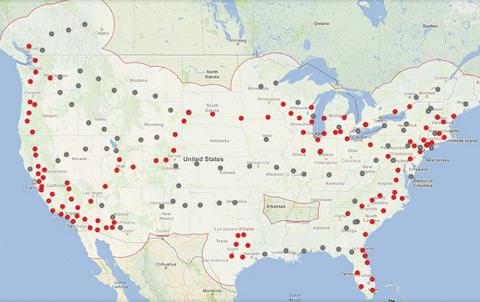 Click to enlarge
Traditionally, electric vehicles take much more time than gas vehicles to get recharged/refueled and consume much more time. To tackle this disadvantage the company will offer "90 second battery swap technology" through which the company offers its customers a battery swap facility which will replace an exhausted battery with fully recharged battery in just 90 seconds. The company will offer this facility through its supercharger stations for a fee. So it's not a free service.
Limited competition:
The company is practically the only electric vehicle company that offers high end electric vehicles, and faces no competition in the segment (230 - 300 mi range) from any other player. People are taking about BMW i3 as the potential competitor but this too doesn't belongs to the said segment, in-fact it's not even near the said segment.
Improving margins:
The company's gross margins have shown exceptional improvement in last two quarters.
"Total non-GAAP gross margin improved to 22%, up from 17% last quarter. Despite an expected unfavorable product mix in Q2, non-GAAP automotive gross margin excluding zero emission vehicle (ZEV) credits improved by 8 percentage points. This was in addition to the 9 percentage points of improvement last quarter." (Source: letter to shareholders August 7, 2013)
ZEV credit revenues; sustainable source of revenue:
ZEV credit so far is one of the major sources of income for the company, and most people have their concerns about this revenue source as, they don't see it as a sustainable source of revenue. Though the revenues from ZEV credits are expected to decline in the future due to increasing exports to Europe, the company will keep generating ZEV credits for the vehicles sold in California. In fact the demand for ZEV credits will rise year on year due to regularity requirements by the California Air Resources Board. (See the table below)

Click to enlarge
Future growth catalysts:
The company is gradually building-up its product pipeline and intends to offer new models in times to come and also intends to offer more variants for existing models. These new models when introduced will further accelerate its sales. The picture below shows its to be introduced model (model X).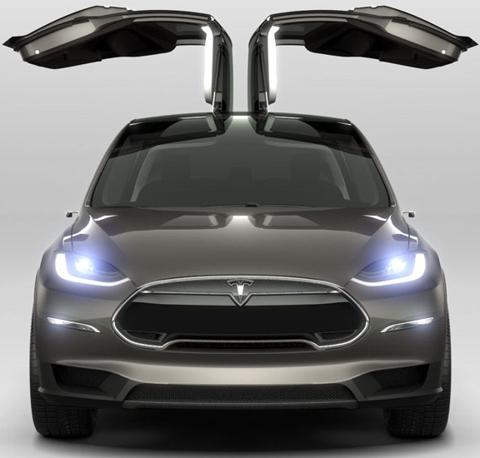 Click to enlarge
The company is also plans to offer less-expensive electric vehicles in next few years. This segment is much bigger than its current segment and the company is targeting sales of at least 200,000 units after launch.
The company is gradually making its entry in Europe (Norway, Switzerland and the Netherlands) and is also planning to enter Asia. The company has already opened retail locations in Europe and Asia, 8 in Europe and 3 in Asia. Its recent entry in Europe and Asia will further accelerate its sales and allow it to build the infrastructure for future models.
Conclusion:
The company has shown that it has technology that is commercially viable (so far with the support of ZEV credits). In the next 12 months, the company is willing to show that its technology and production process is viable even without the support of ZEV credits.
The company has shown a great success in selling "Model S", it sold around 13,000 vehicles in last 12 months with very limited service infrastructure. So, there is no reason why the company can't meet its sales targets with the huge service infrastructure that it's currently building, along with offering things like free life time fuel for "Model S" customers through supercharger-stations and resale value guarantee.
So far, the company has delivered what it had promised. From the limited success of Roadster to full-scale commercialization of "Model S" the company is going strong. The company holds the all ingredients for a long-run growth story:
Proved and proprietary technology.
Growing demand of "Model S".
Strong product development pipeline.
Huge, unmatched and unique service infrastructure.
Capable management.
Strong balance-sheet.
The company is an exceptional long-term growth story. Don't compare it with other automobile companies (Ford (NYSE:F), General Motors (NYSE:GM), etc), it's an emerging electric technology company that uses its technology to run automobiles.
Disclaimer: Investments in stock markets carry significant risk, stock prices can rise or fall without any understandable or fundamental reasons. Enter only if one has the appetite to take risk and heart to withstand the volatile nature of the stock markets.
This article reflects the personal views of the author about the company and one must read offer prospectus and consult its financial adviser before making any decision.
Disclosure: I have no positions in any stocks mentioned, and no plans to initiate any positions within the next 72 hours. I wrote this article myself, and it expresses my own opinions. I am not receiving compensation for it (other than from Seeking Alpha). I have no business relationship with any company whose stock is mentioned in this article.