It should not be surprising that Freeport-McMoRan's (NYSE:FCX) stock price has taken a hit over the last quarters as its most important commodity, copper, is down about 10% year to date. Speculation about a mining sector slowdown in China has elevated fears and contributed to the drop in precious metals prices.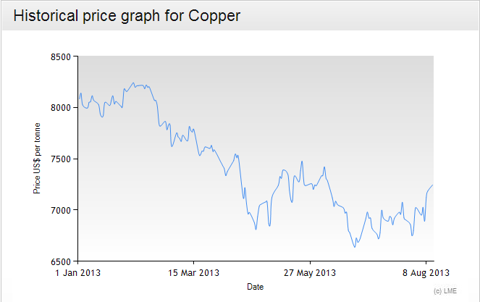 Click to enlarge
Big name mining companies such as Rio Tinto (NYSE:RIO), BHP Billiton (NYSE:BHP), Newmont Mining (NYSE:NEM) and others are facing massive impairment charges as precious metal prices have come down, fueling fears about an end of a decade-long boom in commodities. Marketwatch summarized the condition of the mining industry:
OZ Minerals Ltd., which runs one of Australia's largest copper mines, and gold producer Evolution Mining Ltd. Monday warned of a combined hit to their bottom lines of up to 640 million Australian dollars (US$593 million). Each blamed the looming write-downs on sharp falls in prices of commodities like gold--Australia's third-biggest export--as the U.S. edges toward tighter monetary policy and China's economy cools.

In a major move, Australia's largest-listed gold producer Newcrest Mining Ltd. last month warned it may write down the value of its assets by as much as A$6 billion in response to a steep fall in precious metal prices.
But declining prices in core commodities such as copper, zinc or gold do not only affect resource companies. Mining equipment manufacturer Caterpillar (NYSE:CAT) already took a massive Q2 hit with earnings down over 40% y-o-y amid lower demand in its mining segment. Moreover, famous short seller Jim Chanos is quite vocal about his bearish stance on the mining sector in general, slamming Caterpillar in particular.
With negative sentiment regarding the mining industry, stock prices of resource companies have performed poorly over the last two years.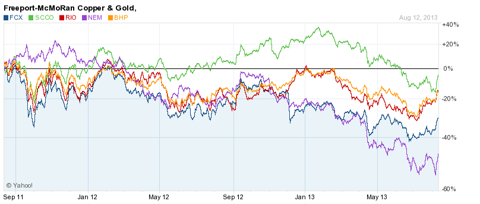 Click to enlarge
Interestingly, investors keen to pursue a mining investment can now purchase Freeport at the same price it fetched four and five years ago.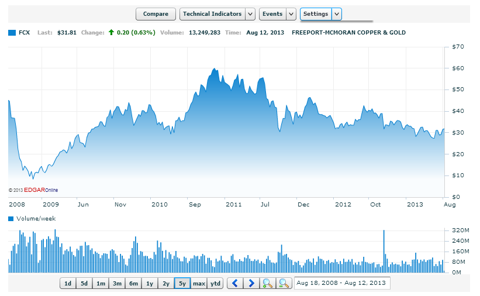 Click to enlarge
Freeport's underlying business fundamentals remain strong: Copper is an industrial metal that, because of its outstanding conductivity, cannot be substituted by other commodities. Its main applications are in electrical wires, machinery, circuits and electric motors. Consequently, copper depicts a supply/demand picture that is very favorable for copper miners and Freeport in particular. Market perception, however, is entirely focused on short-term price fluctuations that are independent of Freeport's long-term importance for the construction and telecommunications industry.
Peer group valuation
Investors who see past short-term volatility and headline-risk can buy Freeport at an attractive price compared to its peers.
Click to enlarge
Long-term investors can purchase Freeport at only 10x earnings and pocket a $1.25 dividend per share (dividend yield of 4%) while waiting for price appreciation. Freeport's P/B ratio stands at 1.6 which is the lowest of the peer group. It also has a 40% discount to the average peer group P/B ratio of 2.78. Earnings-driven investors who desire a company with a strong strategic position in its key copper market should consider Freeport only as a long-term investment and sit out short-term price volatility.
Free cash flow valuation
I estimate that 2013 free cash flow comes in at $300 million which is about $0.30 per share which equates to a free cash flow yield of only 1%. However, copper prices are lower now than in the last two years adversely affecting operating cash flow. Further, Freeport is going to increase its capital expenditures from $5.5 billion in 2013 to $6.5 billion in 2014 (plus 18%) and to $6.7 billion in 2015 (up a total of 22% over a two year period). This increase in capex lowers free cash flow in the short-term, but should increase it in the long-term.
The following table illustrates a FCF valuation attempt considering that FCF has been normalized for depressed copper prices, fluctuating capital expenditures and business cycle effects. As can be seen, low free cash flow profitability is reflected in a low fair value of the stock, that presently could be 50% lower than the market price.

Click to enlarge
Conclusion
Freeport operates a business whose most important mining commodity faces favorable long-term supply/demand dynamics and inelastic demand from a variety of industries. Freeport is undervalued from an earnings perspective but has clearly low free cash flow yields which are presently lowered by compressed operating cash flow and increasing capital expenditures. Dividend investors can buy a 4% dividend income stream which I think is sustainable. Investors who base their investment decision-making on free cash flow rather than earnings metrics should reconsider a purchase in Freeport based on its demonstrated current low free cash flow profitability.
Disclosure: I have no positions in any stocks mentioned, and no plans to initiate any positions within the next 72 hours. I wrote this article myself, and it expresses my own opinions. I am not receiving compensation for it (other than from Seeking Alpha). I have no business relationship with any company whose stock is mentioned in this article.