CVS Is Undervalued, Fair Value: $69.45
Shares of CVS Caremark Corp (NYSE:CVS) are trading at a discount to the intrinsic value of the company's future earnings and free cash flows; strong growth can be bought, on sale, at these levels. Discounted cash flow analysis suggests that current market price, $58.74, offers a long position and 18.223% upside, in keeping with a $69.45 price target on CVS. The values used in DCF calculation are shown in the chart below.
| | |
| --- | --- |
| EPS (Current Year Dec '13) | 3.96 |
| 10 Year Growth Rate | 12.8% |
| Terminal Growth Rate (Current Inflation) | 2.00% |
| Years of Terminal Growth | 5 |
| Discount Rate (Avg. Return S&P 500) | 9.3% |
A forward, 5 year expected, PEG ratio of 1.05 augments the credibility of the DCF analysis, and corroborates the argument for a potential 10.71 point move, up to fair value. CVS price movement, in relation to PEG Ratio, and P/E Ratio TTM, is displayed over a 10 year period, on the chart below. Growth is especially evident after 2012; as the price of CVS increases, PEG decreases.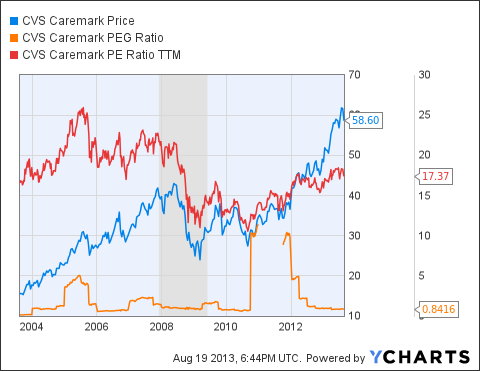 Examining Earnings Growth With Reverse-DCF Analysis
Applying reverse-DCF analysis to shares of CVS reveals that in order to justify the current share price of $58.74, the necessary growth rate would be 10.13% over 10 years. In that period, CVS has increased EPS by 13.08%, increased revenue by 17.68%, and increased EBITDA by 19.00%. The 10 year growth statistics, charted below, tell a story of growth that is more robust than the 10.13% earnings growth number that a share price of $58.74 necessitates, based on reverse-DCF analysis. This indicates that shares of CVS are undervalued in that the actual earnings growth of the company, over the past 10 years, has trumped the rate at which the company would need to have grown earnings - 10.13% - to justify the current market price. The present value market price is therefore discounted to the real value of current earnings potential, as well as to the intrinsic value of future earnings.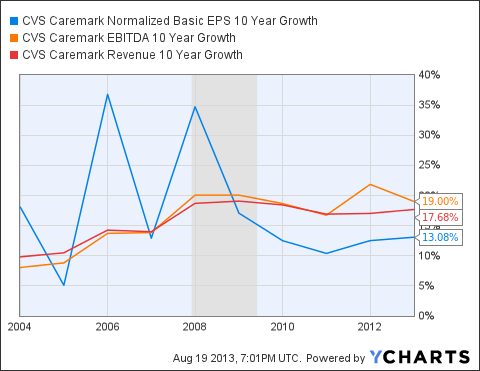 Increasing Profitability and Unlocking Value
CVS has done well to increase operating efficiency, and unlock value for shareholders over the past 10 years; increasing ROIC by 8.72%, ROE by 11.10%, ROA by 6.40%, and growing operating margin by 6.30%. This pattern, of increased efficiency and enhanced profitability, is shown on the chart below.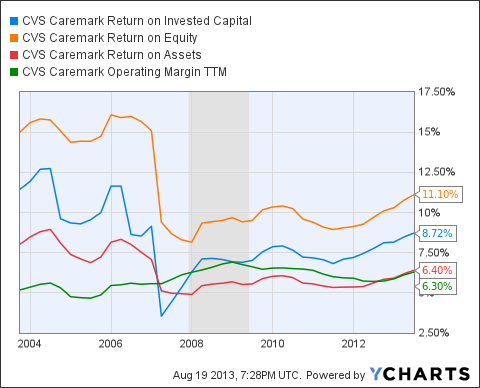 Conclusion
CVS is undervalued at market price. With a price target of $69.45, there is substantial upside potential for CVS, 18.223%, based on DCF analysis. Trading at a discount to the intrinsic value of future earnings growth, CVS presents an excellent long opportunity, at these levels.
Disclosure: I am long CVS. I wrote this article myself, and it expresses my own opinions. I am not receiving compensation for it. I have no business relationship with any company whose stock is mentioned in this article.