European Recovery
The GDP of the EA-17 has finally shown signs of life this quarter as it was announced on Wednesday that the collection of nations posted a 0.3% growth in GDP for the second quarter of 2013; the first time their GDP has grown since the end of 2011. This growth has led many investors to believe that it is finally time to start feeling safe about buying shares of European companies again. Some investors have preemptively shown confidence in European companies, but in a video on FOX Business News, Oppenheimer Chief Market Strategist John Stoltzfus says that it's not too late to get involved in the recovery. Stoltzfus admits that investors will be subject to high volatility but believes that this is a long-term opportunity for patient investors. This recovery is in its infancy and as Mr. Stoltzfus pointed out, there will definitely be some volatility remaining with European-based stocks (dependent upon future news from Europe), but the I believe the recovery has started and if an investor can find the right company, there is a ton of profit to be made.
Spanish Economy
The Spanish Economy's GDP has been unimpressive over recent years, but is by no means one of Europe's severe laggards (See Cyprus, Greece). One astonishing figure about Spain's current economic condition is their substantial unemployment rate which sits at 26.90%, the highest of every member of the European Union just edging out Greece and ahead of 3rd place Portugal by 9.3 percentage points. The benchmark interest rate has also severely plunged over the last few years falling to 0.50% from levels over 4.00% as recently as 2009. These facts may scare some investors away but I see this as a buying opportunity.
A large part of my optimism is due to impressive Q2 earnings growth from two of Spain's largest banks, Banco Bilbao Vizcaya Argentaria (NYSE:BBVA) and Banco Santander, S.A. (NYSE:SAN). Spanish Prime Minister Mariano Rajoy also believes that his country's economy is on the upswing, recently stating: "Our economy has turned a corner and we are at the start of a change of trends which will allow us, with effort, to create jobs again. The foundations have been laid." Rajoy also claimed that he expects Spain to post positive GDP growth as soon as Q3 2013 instead of the previously expected Q4 2013. This article from The Economist reiterates a lot of what I have been saying so far, Spain has a long way to go, with some serious risk, but looks like it will eventually come out as one of Europe's strongest economies. It's this volatility and uncertainty that attracts me towards high-yielding European securities such as BBVA and SAN. Even if you suffer short-term losses, their exceptional yields will shelter you in the near future while their future growth prospects will propel their stock prices higher in the coming years.
Banco Bilbao Vizcaya Argentaria
Some of you soccer fans may recognize this bank as it is the official sponsor of Spain's "La Liga", but it is also one of the biggest banks in the country. The banking giant's net income has more than doubled y/y, partially due to the sale of pension assets in South America. BBVA is up 6.90% YTD and 38.06% over the last year according to Yahoo! Finance.
BBVA is a very diversified bank, as declared by COO Angel Cano Fernandez on their Quarterly Conference Call, receiving 58% of their business from foreign markets broken down by the company into these divisions: Mexico, Eurasia, South America and the United States. The breakdown of BBVA's earnings in all areas can be found below:
Spain: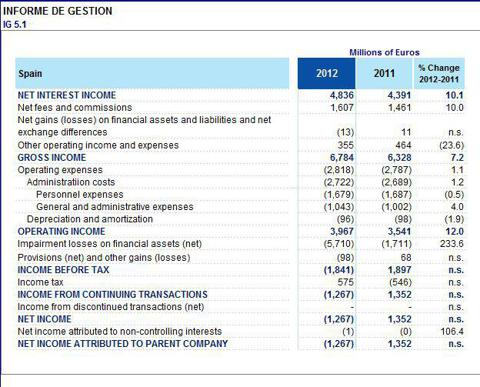 Click to enlargeEurasia: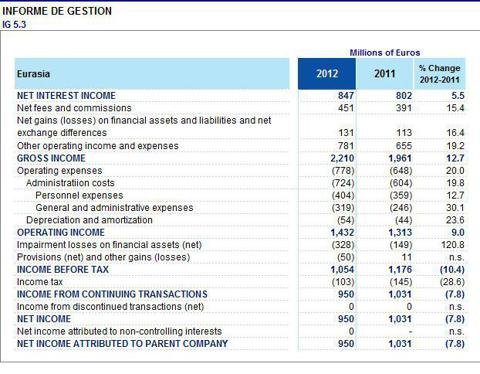 Mexico: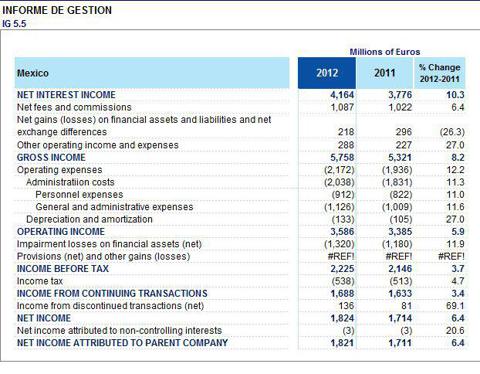 Click to enlarge
South America: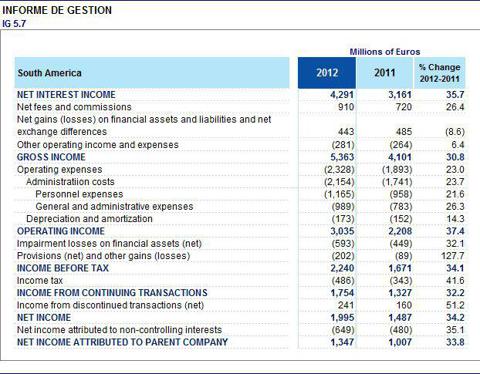 Click to enlarge
United States: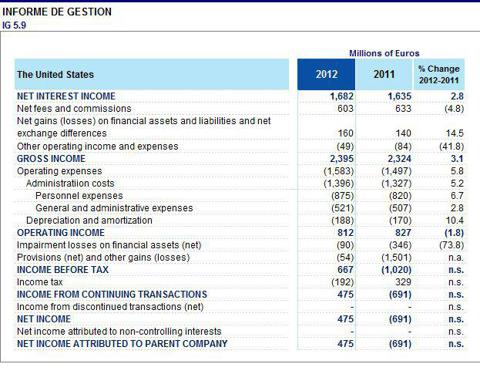 Click to enlarge
Business is booming and growing in Eurasia, Mexico and South America while the United States made the crossover out of the red to become profitable. Domestic business seems to be the only laggard holding the company back from large earnings and as stated before, Spain is coming back.
Despite the recent downturn in the Spanish Economy, BBVA has not reported negative annual earnings over the last 10 years. In fact, the company has posted gains in Total Net Revenue every year since 2010 and is currently on track to continue that trend in 2013.
Dividend
BBVA currently yields 5.34% according to Google Finance, with the most recent dividend at $0.13/share. BBVA has paid a dividend since 1989, shortly after going public in December of 1988. It's dividend has not dipped below $0.10/share since 2003 and has been over $0.30/per share three times since then.
BBVA pay dividends in cash twice a year as well as in shares twice a year. On the Conference Call, Fernandez stated that the company has no plans to change this policy. The dividend looks to be stable considering their increasing cash position, profitable business model in foreign markets and their history of delivering solid dividends to shareholders.
Banco Santander, S.A.
SAN is considered to be the largest bank in all of Spain with a massive market cap of $82.73B. It's stock price is down 5.70% YTD but is up 17.70% over the last month, according to Yahoo! Finance. Similar to BBVA, SAN posted impressive earnings for Q2; their net income rose 29% y/y. The bank has been cash flow positive for the last three years as well as substantially improving their cash position over the last 5 years. SAN's balance sheet boasts over 1.2T Euros in assets and 118B Euros in cash. SAN will also see a large cash inflow due to their sale of 50% of their asset management department. The deal has been valued at approximately 2B Euros ($2.7B).
In terms of debt, CEO Javier Marin Romano claimed on their most recent Quarterly Conference Call that the narrowing of the trade deposit gap by 63B Euros will cover all their medium-long term debt for the next 18 months. The bank has also seen a decline in risk-weighted assets of 7% which Romano attributes to "reduced credit risk and improvement in market and operational risk". The bank has also been able to lower loan loss provisions in several countries, most notably Spain.
In another parallel to BBVA, SAN is very diversified in its business as well. It draws 56% of its business from foreign markets according to the following breakdown:
Brazil: 25%
United Kingdom: 13%
United States: 12%
Mexico: 12%
Poland: 6%
Chile: 5%
Germany: 5%
This diversification is what has allowed SAN to remain profitable during the worst economic recession is recent memory. To couple this already extraordinary global reach, some bank executives feel that the company can reach much further heights.
On the Conference Call, CFO Jose Antonio Alvarez that the bank continues to gain market share in deposits and mutual funds. This statement comes a few weeks after Senior Executive Vice President of Commercial Banking Enrique Garcia Candelas predicted that 70% of the Spanish financial sector will be held between SAN, BBVA and CaixaBank at the end of the recovery (with SAN holding the largest market share of the three). This potential growth has some investors who are willing to weather storm salivating.
Dividend
SAN pays its shareholders a very high yield of 10.19% according to Google Finance. Banco Santander paid its first dividend in April of 1988, after becoming a public corporation in July of 1987. The company has regularly paid dividends since then. Their last dividend was for $0.20/share and SAN was recently endorsed by Forbes as a top 25 Dividend Giant.
Conclusion
I believe that the Spanish Economy is on its way back. It's going to take time but so did our economy, especially our banks (remember when BAC was trading at just $3 in 2009?). The yields these two companies offer are too attractive when combined with their potential growth. These two stocks have seen a positive surge since the news about the European GDP was released last week, but both pulled back about 3% today. I believe that this would be a decent entry point to start a position in either of these Spanish banking giants. I expect shares to slide a little more in the near future. If an entry point that meets your requirements is reached then I would highly recommend investing in one of these two companies.
Disclosure: I have no positions in any stocks mentioned, but may initiate a long position in SAN, BBVA over the next 72 hours. I wrote this article myself, and it expresses my own opinions. I am not receiving compensation for it (other than from Seeking Alpha). I have no business relationship with any company whose stock is mentioned in this article.