By James Cordier and Michael Gross
The short and abrupt rally in natural gas prices off of multi-year lows appears to be coming to an end.
Natural Gas prices have been severely depressed in 2009, as a combination of slack industrial demand and burgeoning supplies drove prices to 7 year lows last month.
While the September rally to $5.75 per mbtu may have caught some traders off guard, those familiar with seasonal tendencies are more than likely shaking their heads in recognition.
September is a pivotal month of the year in the demand cycle for natural gas. By late summer, distributors begin accumulating inventories of natural gas in order to have enough supply on hand to meet winter supply needs. This can often result in price strength in natural gas as demand increases at the wholesale level.
The combination of this demand build and a falling dollar has supported higher prices in natural gas through most of September. A quick look at the chart, however, shows that as prices climbed, volume and open interest declined. This indicates that the rally was not fueled by investors taking new long positions. It was fueled primarily by traders, most likely funds, covering short positions – typically not a recipe for a healthy bull market.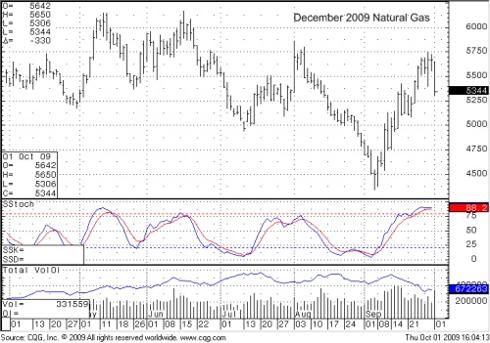 Natural gas may have a bright future in the US and global energy picture. But in the near term, fundamentals are poor. While inventory accumulation may have supported demand, natural gas supplies are near record highs for this time of year. This should begin to weaken seasonal price support as distributor inventory building will be less aggressive with burdensome supplies in storage. Wholesalers, well aware of the supply picture, may be willing to wait for lower prices to secure inventory through the autumn months.

Prices in natural gas can often peak in October or November as desired inventory levels are attained and new buying dries up. However, with inventory levels likely achieved early this year in many areas while others await lower prices, we may have already seen a seasonal top.
We would recommend selling call options instead of shorting the futures, just in case the highs are still ahead of us. However, natural gas prices have several bearish forces aligning them as October begins:
·
Fund short covering appears to have run its course
·
The market is extremely overbought
·
Hurricane season is drawing to a close
·
The cash market is burdened with excess supply
·
A potentially strengthening US dollar
This is not a bullish set up. Natural gas prices will have an uphill battle if they want to achieve higher ground in October. Look for the path of least resistance to be lower.
An extreme cold snap or a sharp collapse of the dollar are two factors that could spur prices to new highs. However, selling options at strikes nearly double the current price of the commodity should go a long way towards insulating portfolios against such an occurrence.
Remember, as an option seller, you only have to pick where the market is not going to go. You don't have to predict what will happen to price. Only what won't.
We will look for isolated periods of price strength as opportunities for selling call options and collecting premiums for strikes nearly 100% out of the money. You can't do this with stocks but you can with commodities.
And you won't have to worry about a boardroom decision or lackluster earnings wrecking your trade.