I have been bearish on bonds for most of the summer. Over this time I have been following Bill Gross and Pimco to understand their view on bonds and, specifically, the yield on the 10-Year Treasury. Earlier this summer Gross seemed bullish on the 10-year, but the tone of his recent statements is different. I have a lot of respect for Gross and it is worth following the co-CIO of a firm that has $1.97 trillion in assets under management. Specifically, I focus on the Pimco Total Return Exchange-Traded Fund ETF (NYSEARCA:BOND), which is managed by Bill Gross. In this article I will look at how the BOND ETF is positioned with regard to its Treasury holdings as well as its duration risk. I will also analyze Bill Gross' recent statements about the yield on the 10-year and how he is investing.
Overview of BOND ETF
As of August 16, 2013, BOND had an NAV of $104.56 and a market price of $104.51. Its SEC 30-Day Yield was 2.08%
More information about BOND can be found here.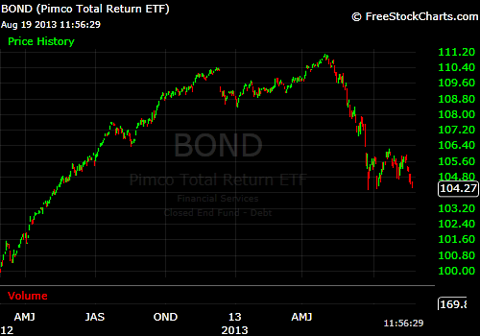 (Source: FreeStockCharts.com)
The BOND ETF is benchmarked against the Barclays U.S. Aggregate Index. According to Pimco, the index "covers the U.S. investment grade fixed rate bond market, with index components for government and corporate securities, mortgage pass-through securities, and asset-backed securities" (source: BOND fact sheet).
Since April 2012, the BOND ETF has performed well compared to the iShares Barclays Aggregate Bond ETF (NYSEARCA:AGG) and the iShares Barclays 20+ Yr Treasury Bond ETF (NYSEARCA:TLT).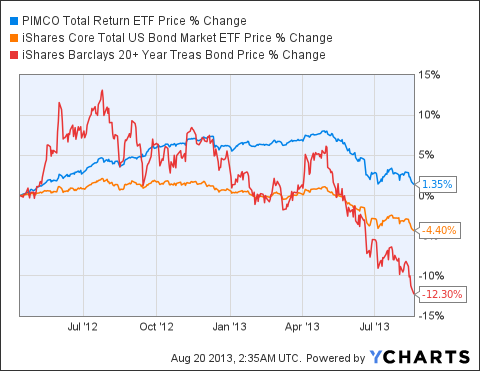 The following is the composition of BOND (red highlights added by the author):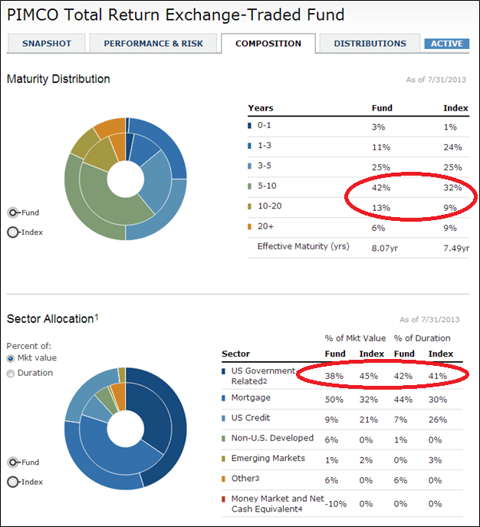 (Source: BOND ETF website)
This information is a snapshot as of July 31, 2013 and likely changed since then. However, it is interesting to see how BOND was positioned coming into August:
BOND was overweight duration. Its 5-10 year and 10-20 year duration ranges were much higher than the index.
BOND was underweight Treasury bonds on the basis of market value, but was in-line with the index in terms of duration.
Bill Gross's Commentary About Bonds
Bill Gross has shifted his perspective on duration.
In the July investment outlook titled "The Tipping Point" Bill Gross said:
"Yields have adjusted by too much. While T.V. and the press focus on 10-year Treasuries at 2.55% as their guiding star, subjective stabs by yours truly or anyone else are difficult day to day. The technicals, as Mohamed has written, can dominate while the fundamentals are flushed to second page priorities. When analyzing the fundamentals though, I like to point to a "North Star" that is as permanent as possible within the context of current market instability. Tapering aside, if the Fed has consistently informed the market that its policy rate - Fed Funds at 25 basis points - will stay there for a substantial period of time even after the end of QE, then to my eye, Fed Funds will not increase until at least mid-2015 and even then subject to a consistently strong economy that produces 2%+ inflation. I wonder if we can get there in this decade to tell you the truth. But the beauty of this North Star Fed Funds sextant is that it can be rather directly observed in futures markets, either for Fed Funds or for Eurodollars, which are a close companion. Right now, Fed Funds futures markets are predicting a 75 basis point yield in 2015, and Eurodollars validating a similar conclusion. That would suggest a mispricing, despite the obvious caveat of professional observers that some of the 75 is a surcharge for potential volatility. In any case, if frontend curves are up to 50 basis points cheap, then intermediate curves - the 10-year Treasury - may be as much as 35 basis points too cheap. They belong in our opinion at 2.20% instead of 2.55%." (Note: bold and underlining from the original.)
In summary, Gross believed that yield on bonds, and specifically the 10-year, was too high (and the price was too low) and was due for a reversal.
The July monthly commentary for the BOND ETF stated:
"PIMCO intends to maintain a slight overweight to duration... We look to remain concentrated in the 5 -10 year portion of the yield curve where we see superior opportunities for roll down."
However, the August investment outlook "Bond Wars" did not repeat the bullish outlook on the 10-year. In fact, seemed to reverse his position on duration. As mentioned above, in July the BOND ETF was overweight duration (meaning it had more bonds longer term maturities). In the August investment outlook he said:
"Will PIMCO charge the machine-gun-laden front lines with consistently overweighted durational bond strategies? No, but we might try to outflank them if yields rise too much like today." (Note: bold from the original.)
I found the August investment outlook somewhat confusing. This August 14 interview with Gross is easier to understand. A few highlights from the interview:
Around minute 2:50 he says that long term Treasuries should be sold and 1-5 year and 1-10 year maturities should be bought.
Around minute 4:10 he says that the 10-year at 2.6%-2.65% does not represent value relative to inflation, but represents value relative to where it was a few months ago.
Around minute 6:00 he said that Pimco is emphasizing duration less.
Over the last two months, Gross and Pimco went from bullish on duration to bearish.
It less clear what Gross thinks about the 10-year. At a yield of 2.60% - 2.65% the 10-year did not represent value relative to inflation. But, he grouped the 10-year into the bucket of maturities that he would buy because he thinks the Fed will keep short term interest rates low.
My reading of this is that Gross is becoming less bullish on the 10-year.
What's Next As Interest Rates Creep Higher
Since Gross made these comments, bond yields have continued to rise. The yield on the 5-year climbed to 1.61% and the yield on the 10-year reached 2.88%.
As bond yields rise, bond prices fall, so it will be interesting to see if Pimco is buying this weakness, especially in the 10-year. If Pimco, and other bond managers, continue to shorten the duration of the portfolio, then the yield on the 10-year may have a lot more upside.
For more about my perspective on Treasury bonds, please see Disaster Scenario For Treasury Bonds: Is The 10-Year At 2.83% A Trigger Or Trap?
Conclusions
Bill Gross and Pimco changed their perspective on duration. In July, the BOND ETF was overweight duration (long term maturities). But, in August, Gross made several statements that reversed this position.
Pimco may have been late to shorten the duration of the BOND ETF, but better late than never.
However, if the duration bulls capitulate there could be more losses for 10-year bonds as yields move higher.
Disclaimer: The opinions expressed above should not be construed as investment advice. This article is not tailored to specific investment objectives. Reliance on this information for the purpose of buying the securities to which this information relates may expose a person to significant risk. The information contained in this article is not intended to make any offer, inducement, invitation or commitment to purchase, subscribe to, provide or sell any securities, service or product or to provide any recommendations on which one should rely for financial, securities, investment or other advice or to take any decision. Readers are encouraged to seek individual advice from their personal, financial, legal and other advisers before making any investment or financial decisions or purchasing any financial, securities or investment related service or product.
Information provided, whether charts or any other statements regarding market, real estate or other financial information, is obtained from sources, which we and our suppliers believe reliable, but we do not warrant or guarantee the timeliness or accuracy of this information. Nothing in this article should be interpreted to state or imply that past results are an indication of future performance.
THERE ARE NO WARRANTIES EXPRESSED OR IMPLIED AS TO ACCURACY, TIMELINESS, COMPLETENESS, OR RESULTS OBTAINED FROM ANY INFORMATION IN THIS ARTICLE OR ANY LINKED WEBSITE.
Disclosure: I have no positions in any stocks mentioned, but may initiate a short position in TLT over the next 72 hours. I wrote this article myself, and it expresses my own opinions. I am not receiving compensation for it (other than from Seeking Alpha). I have no business relationship with any company whose stock is mentioned in this article.
Additional disclosure: I may trade any of the securities mentioned in this article at any time, including in the next 72 hours.