On Monday, shares of chip giant Intel (NASDAQ:INTC) sported a decent rally after an analyst upgrade. The rally helped boost Intel shares from a multi-month low, sparking some optimism in a stock that's been beaten down in recent weeks. However, the stock's rally may have been a simple dead cat bounce, dying as Monday went on, and I would caution investors to make sure that they read between the lines. Today, I'll discuss why I think Intel shares still have some downside left over the next couple of months.
Did you actually read what the analyst said?
Piper Jaffray analyst Gus Richard doesn't think PCs are going away anytime soon, and is looking for mid-single digit revenue growth for Intel in 2014 after two years of declines. He thinks that revenue growth will be driven by the corporate refresh of Microsoft's (NASDAQ:MSFT) Windows 8.1, and the end of support for Microsoft's XP operating system. Additionally, Intel's Bay Trail processor could help to provide gains in tablet market share for Intel.
While that seems all well and good, the analyst's overall actions tell a different story. The analyst upgraded Intel to neutral from underperform, or as some say, a sell rating. He did not upgrade Intel to buy. That is a key point. The second key point is that Intel's price target was raised from $20 to $22. That seems nice as it is a 10% raise in his price target for the name. However, Intel closed Monday at $22.28, meaning the analyst thinks Intel still goes 1.26% lower from here. Intel was as high as $22.70 on Monday, more than three percent above the analyst's target. So the analyst is not telling you to buy, and think the stock goes lower. Is that really a positive thing?
Intel estimates still coming down:
One of the main reasons why I can't buy into one simple analyst "upgrade" is that estimates continue to come down for Intel. This is not a surprise, thanks to Intel's takedown of its full-year forecast. The following table shows a longer-term view of how Intel's 2013 revenue and earnings estimates have fared.

*Before Intel reported Q4 results in January, the change number above was based on the expectation for 2012 full-year numbers. So up until (and including) the January 17th number, the change number was based on the expected full-year number for 2012. Any numbers after that are based on actual results reported for the 2012 year.
I'm not just trying to be negative here, because current estimates are at the lowest point I've seen. They've come down quite a bit in the last ten months, as you can see above. However, this isn't the worst part. The October 2012 numbers from above were after Intel's huge Q3 warning, so really, if you go back another couple of months, the numbers are even worse. Back in the summer of 2012, Intel analysts were looking for approximately $2.65 in earnings per share this year. Now they are expecting $1.87, and that includes help from Intel's stock buyback plan.
We are also starting to see 2014 estimates come down as well. Intel's revenue estimate has come down from $56.16 billion at the Q1 report (April 16th this year) to $55.05 billion. Factoring in the change for this year's revenue number, and the 2014 growth expectation has gone from 4.6% to 3.9%. The average 2014 earnings per share estimate has gone from $2.05 to $1.97 over that time.
Short interest - another new high:
Intel recently made my bi-monthly list of significant rises in short interest, and this is something that's happened a lot lately. Intel's short interest saw a rise of 160 thousand shares in the last few weeks of July, a very small amount given the short interest count of more than 243 million currently. So why was Intel on my list for significant increases in short interest? Well, as you can see in the chart below, this marked another new high in short interest for the chip giant. Over the past 12 months, short interest in Intel is up 66%. Since the April 13th, 2012 update, it is up 174.27%.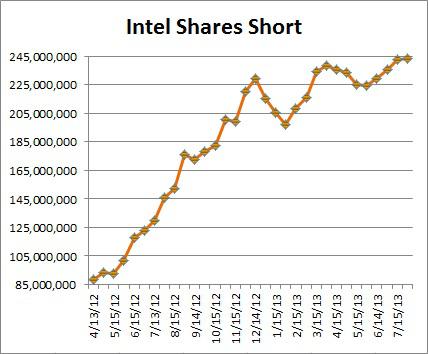 Over the last year or so, Intel's short interest rise only compares to one other large cap tech name, and that is Apple (NASDAQ:AAPL). Over the same time period, Apple's short interest is up roughly 160%, as you can see in the chart below.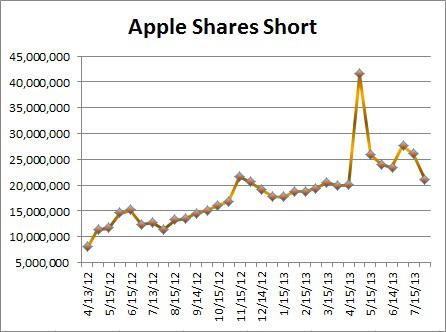 Apple's short interest has come off its recent highs, reflecting increased optimism in the tech giant. It's obvious that shares have felt the impact, rallying from the $380s to over $500 in just a matter of weeks. However, Intel has not seen that turn in short interest, and the stock hasn't turned yet either. One must wonder though if short interest will start to come down with Intel shares at multi-month lows. We'll see when we get the next round of short interest data in a week, and I'll certainly report on Intel if there is a significant move.
Examining the Barron's piece:
There was an interesting article out from Barron's recently about Intel playing catch-up in the tablet and smartphone space. As many know, Intel has been late to the mobile party, part of the reason why it is struggling so much. The overall discussion is in regards to Intel possibly disclosing an accelerated schedule for production of its new 14-nanometer generation of Atom chips for smartphone and tablet computers. Some key pieces from the article are below:
In part, Intel trails in the mobile-chip race because it has treated tablets and smartphones as second-class citizens, providing their makers with only its Atom line of microprocessors. Historically, these haven't been as technologically sophisticated, fast, or powerful as the microprocessors Intel makes for personal computers and servers. Making chips smaller can enormously boost their efficiency, measured by how much work they can do per watt of power expended.

For a year or more, Intel has been shipping PC and server chips, dubbed "Core," with transistors that measure 22 nanometers, or billionths of a meter. But the first 22-nanometer Atom chips are only now reaching production. Devices using them aren't expected to reach stores before the holidays, says microprocessor analyst Tom Halfhill of the Linley Group. That would put Atom about a year behind the Core family of chips in adopting 22-nanometer technology.

The next step for Intel is to introduce its still-faster 14-nanometer designs, which are expected to enter production in its Core line of chips by about 2014's second quarter. According to a person close to Intel, the company is likely to announce a schedule at IDF that would significantly trim the inevitable one-year lag for boosting the Atom chip to the next level in speed. And in fact, Atoms will go into 14-nanometer production just six months after the Core chips.

ARM-based chips have had an advantage in power efficiency, one of the main reasons they're favored for use in phones and tablets, where battery life is partially determined by the efficiency of the microprocessor. Intel has been closing the gap, but not fast enough. The 22-nanometer Atom chips probably are about at parity with ARM-based chips in delivering the same performance at comparable power levels, says Halfhill.
I do believe that Intel's new chip sets will definitely be troublesome for ARM Holdings (NASDAQ:ARMH). ARM has the advantage now, but Intel will certainly catch up soon. If Intel can get into some Apple products, it could be a huge win for Intel, and that will likely be a key turning point for the chip sector. But with Intel's new chips not being produced for several months, it seems to me that they could miss the next set of Apple launches this fall.
So I do have two worries when it comes to this positive news from Barron's. The first is in regards to timing. The Barron's article states that Intel's announcement could come at IDF, the company's annual conference for developers. IDF is scheduled for September 10th through 12th. What's so important about those dates? Well, Apple is expected to launch its next iPhone on September 10th, and that is going to get a tremendous amount of coverage, both in the financial and regular news media. Intel's launch will be big for Intel, but it could get lost in the Apple shuffle.
The second issue is in terms of expectations, and this has to do with timing in a sense as well. The Barron's article specifically stated that "The next step for Intel is to introduce its still-faster 14-nanometer designs, which are expected to enter production in its Core line of chips by about 2014's second quarter." Even if these chips get out early, you probably are looking at the first quarter of 2014. What's my point here? Well, I already showed above how 2013 expectations have come down, with an Intel rebound expected in 2014. Ignore for the moment that a similar thing was said in 2012 about 2013, and that didn't happen. My worry here is that Intel could still see Q3 and Q4 weakness in 2013, leading to further downside for shares. I don't expect Intel to provide a 2014 forecast until its Q4 report, which will be about five months from now in January. Intel could still miss revenues in Q3 and guide lower for Q4, and we won't see the "expected rebound" for a few months after that. We aren't likely to see a huge Q3 warning like Intel had last year, but a weak Q4 forecast for Intel is likely to pressure shares further.
Microsoft dependent / key technical level:
Intel's reliance on the PC market has been one reason why shares have struggled. I don't think that too many disagree there. But the correlation between Microsoft and Intel goes beyond just business. It can also be seen in their stocks recently. Just look at the following six-month chart between these two names.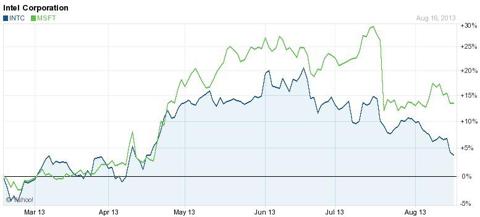 (Source: Yahoo! Finance)
I only showed the chart through Friday due to Intel's "upgrade" sending Intel shares higher for one day. Will that be a trend going forward, or a one-time issue? That may depend on whether Intel can shed the "dead-money" feeling that many also have with Microsoft. Apple is flashy and back in favor. Intel needs to jump on that train, but it may not be able to for quite a while.
I also mentioned in my latest Intel article how the dividend yield was now above 4%, and Intel broke through its 200-day moving average. Intel's yield has risen thanks to the poor guidance as well as the lack of a dividend raise. Breaking through the 200-day moving average should not be taken lightly either. Intel is in a downward trend, and the fact that shares were not able to hold much of Monday's gains doesn't help out the bull case.
Final Thoughts:
While Intel shares initially popped on an analyst "upgrade," investors must look at the whole picture. The analyst did not state investors should be buying shares or that the stock has big upside from here, which is one reason why shares fell later in the day. Intel's estimates have continued to be cut, hitting new lows almost daily. Short interest is at new highs, and new chips may not be coming for several months. Intel's Q3 and Q4 numbers still have a lot to prove, and guidance cuts were not welcomed recently. Intel did not raise its dividend, but the yield has risen over 4% with the stock's fall. Intel was late for the mobile party, and they are now playing catch up. If you believe that process won't be in full swing until 2014, Intel remains a solid short candidate. The short case was even better earlier on Monday, but I wouldn't be surprised if Intel has another dollar or two of downside from here, especially as the stock struggles to hold its 200-day moving average. Intel has a lot to prove, and they've basically failed in 2013 in my opinion so far.
Disclosure: I have no positions in any stocks mentioned, and no plans to initiate any positions within the next 72 hours. I wrote this article myself, and it expresses my own opinions. I am not receiving compensation for it (other than from Seeking Alpha). I have no business relationship with any company whose stock is mentioned in this article.
Additional disclosure: Investors are always reminded that before making any investment, you should do your own proper due diligence on any name directly or indirectly mentioned in this article. Investors should also consider seeking advice from a broker or financial adviser before making any investment decisions. Any material in this article should be considered general information, and not relied on as a formal investment recommendation.