In this series I will discuss the changes in risk for the 25 BDCs that I cover compared to the previous quarter including portfolio yields, non-accruals, leverage ratios and portfolio investment mix. In the previous articles I discussed changes in analyst recommendations, earnings projections and price targets, dividend coverage from net investment income ("NII"), changes in net asset value ("NAV") per share, portfolio investment classes, debt to equity ratios, the ability to cover interest payments on borrowing with quarterly NII, and the amount of floating rate investments.
The charts below show the 'relative risk' rankings before and after taking into account the most recent financial results. Both Prospect Capital (NASDAQ:PSEC) and Full Circle Capital (FULL) are reporting later this week and the changes in risk scores (mostly for PSEC) are due to relative changes compared to other BDCs rather than specific changes in the company. For PSEC most of the change in score was due to other BDCs decreasing portfolio yields or changing the direction of those yields.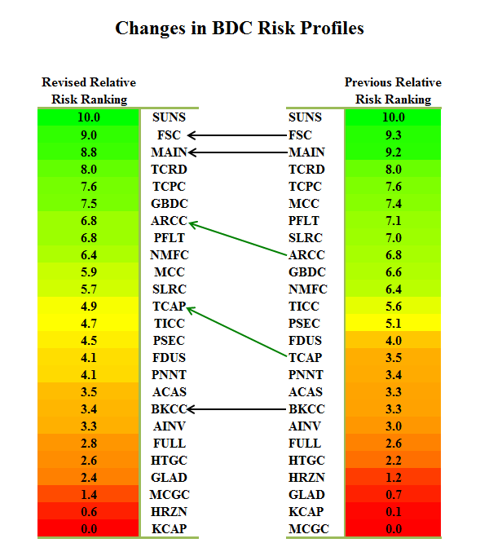 Main Street Capital (NYSE:MAIN)
I am long MAIN and it is considered overpriced by many investors, but as I discussed in "Main Street Capital: More Than Just Dividends?" it has a much better than average risk profile and should be priced near the top of the range for BDC multiples. It has a history of excellent dividend coverage and NAV growth but has recently started to increase leverage, using debt to grow the portfolio. Senior type debt investments still make up over 78% of the portfolio and yields are slightly less than the previous quarter and below the current average for BDCs implying a lower amount of investment risk. Non-accruals remain lower than the average BDC as shown in the chart below.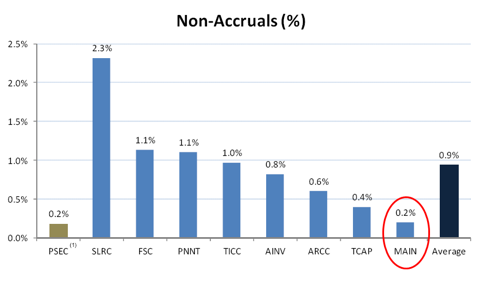 MAIN's risk profile remained higher than average but I reduced its score to reflect the increased amounts of leverage. However I believe MAIN will announce a follow on equity offering and use the proceeds to reduce debt levels and make portfolio investments. Given the current stock price trading over a 50% premium to NAV per share this would be an accretive transaction. For potential investors this could be a buying opportunity.
Triangle Capital (NYSE:TCAP)
TCAP is another BDC that many consider overpriced as discussed in "High Priced BDCs: Are They Worth It?" and "Triangle Capital: Is It Priced For Total Return?" but it recently improved its risk profile, had excellent dividend coverage and grew its NAV per share more than most BDCs as discussed in Part 2. Its portfolio investment classes remained stable with around 80% in subordinated debt and its weighted average yield on debt investments was the same as the previous quarter at 14.8% but higher than average. Its debt to equity levels were reduced slightly but its interest coverage from NII improved due to higher earnings. TCAP reduced its non-accruals to 0.3% of its portfolio at fair value and was already well below average as shown in the previous chart.
Fifth Street Finance (NYSE:FSC)
FSC remained near the top of the risk rankings but its score was reduced slightly because of missing its projected EPS and not covering dividends for the quarter. Due to continued equity offerings, FSC has timing differences between the capital it raises and the income received from the deployments of that capital. Trying to come up with a normalized EPS run rate is difficult but I believe it is enough to cover dividends and FSC's NAV per share has remained stable at around $9.90 since 2011 while paying dividends that are currently yielding over 11% to investors.
As discussed in "BDC Rankings For Q2 2013: Part 3" FSC reduced its debt levels from 0.71 to 0.56 and its portfolio has one of the safer mixes of investments with 79% in senior debt, 16% in subordinated debt and only 5% in equity type investments. FSC has reduced its non-accruals shown in the chart above at 1.1% to 0% and was able to recapture the interest income from Eagle Hospital Physicians that was not accrued for the quarter ended March 31, 2013, but was subsequently collected during the quarter ended June 30, 2013. Its yield on debt investments declined from the previous quarter and have been declining since 2008 as shown in the chart below: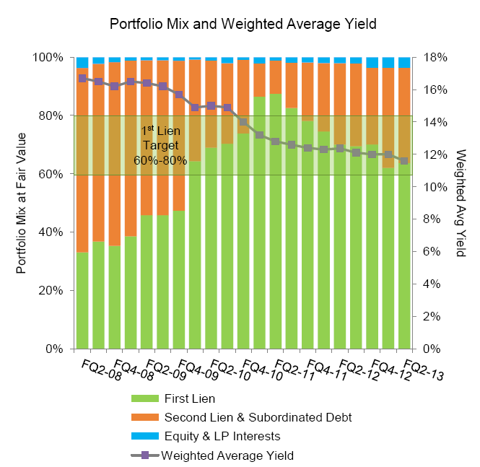 Ares Capital (NASDAQ:ARCC)
ARCC also remained near the top of the rankings and moved up but retained a similar score and was one of nine to actually grow NAV per share from the previous quarter. It missed projected EPS but it was close to covering its dividends with NII even after issuing an additional 19 million shares during the quarter. Its debt to equity ratio increased slightly but remains close to the industry average and its portfolio investment mix improved marginally and remains well positioned for raising rates as discussed in "Ares Capital: Ready For Rising Rates?". ARCC had the same amount of non-accruals as the previous quarter but reduced its portfolio yield as shown in the chart below: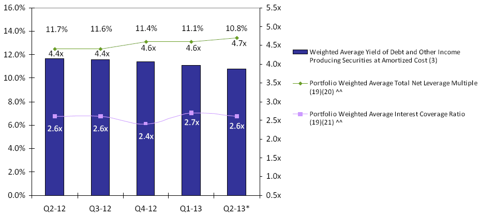 BlackRock Kelso Capital (NASDAQ:BKCC)
BKCC remains at the low end of my risk rankings for a few reasons. Its NAV per share value has been on the decline over the last two years as well as positioning its portfolio into riskier equity investments and away from senior and subordinated debt investments as shown in the chart below (equity is in orange).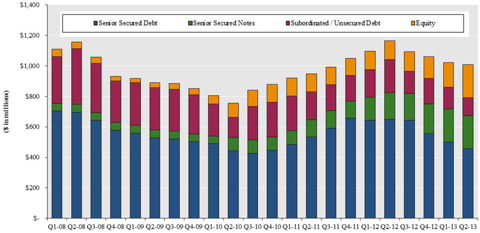 Its debt to equity levels are similar to the previous quarter and its portfolio yield has remained close to 12.2% but currently above the average. BKCC has some of the highest volatility ratios and performs poorly during market corrections.
In the remainder of this series I will cover the risk profiles for the other 20 BDCs that I follow as well as my personal price targets for each BDC based on their relative risk rankings.
Investors should only use this information as a starting point for due diligence. See the following for more information:
Disclosure: I am long MAIN. I wrote this article myself, and it expresses my own opinions. I am not receiving compensation for it (other than from Seeking Alpha). I have no business relationship with any company whose stock is mentioned in this article.