Editors' Note: This article covers a micro-cap stock. Please be aware of the risks associated with these stocks.
According to David Cole, an analyst at research group DFC Intelligence, revenue from games on mobile and portable devices is expected to grow about 38 percent to $8 billion in 2013 and touch $20 billion in 2018. This is an extremely large and new market waiting to be tapped by both game developers and console makers. In the next few weeks we will see the launch of the new Playstation (NYSE:SNE) as well as the Xbox One (NASDAQ:MSFT) and that will drive sales even more.
The worldwide smart phone market hit a new high in the second quarter of 2013 as manufacturers shipped one new unit for every 30 human beings in the world over the course of three months, according to a new report. For the three-month period ended June 30, worldwide smart phone unit shipments reached 237.9 million, up a staggering 52.3 percent from the same period in 2012, IDC reported.
With this proliferation of smartphones and tablets, the market for apps and games will continue to grow. Last week it was reported that Amazon (NASDAQ:AMZN) will ship an android console this year. With Amazon taking an interest in this very new market it should be a strong signal of the huge potential that exists. Two android consoles have already hit the market, Ouya, and NvidiaShield (NASDAQ:NVDA). Both were rushed to market, where priced too high, had few games available and thus sales have been less than stellar.
That brings me to MadCatz, Inc (NYSEMKT:MCZ), the focus of this article and its much hyped about MOJO android console. As you can see from the image below, the new MOJO console is small and slick. It can fit in the palm of your hand, making it very mobile. It will also come with a controller that is similar to the Xbox controllers. Investors should note that MCZ also has a license deal with Microsoft to manufacture branded Xbox controllers.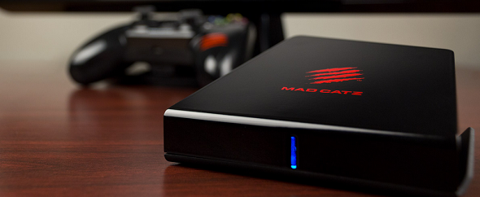 Click to enlarge
At the E3 Gamers Expo in June, MCZ rolled out its much anticipated android console to many positive reviews. The company has stated that the mini-console with USB and HDMI connections will come with a controller, and contain access to the Google Play, Amazon and Nvidia TegraZone stores. This is the main reason I believe MCZ could dominate the mini-console market this year. The MOJO will not lock down users to a specific environment. Amazon's console will only play Kindle based games, just like the Kindle Fire currently. The same is true for the NvidiaSheild. In fact, the MOJO will be the only console that allows access to ALL stores including the biggest one, the Google Play store (NASDAQ:GOOG). This will open a huge market potential for MCZ.
According to MCZ 's global PR director Alex Verrey,
Because Mojo runs stock Android, you have day-one access to literally hundreds of thousands of games and applications, we're going down a very different road to the competition and believe in being open, honest and fair with the consumer.
Mojo will also stream 1080p perfectly, meaning it should be compatible with apps like Netflix (NASDAQ:NFLX). It will also come with no less than 16GB internal storage, with microSD expansion supported. These are all areas that the Ouya and NvidiaShield failed to do and so far that failure has resulted in poor sales. That is a big positive for MCZ.
Now MCZ is not without its issues. The most recent earnings report showed a loss, not really a surprise as console accessory manufacturers always see a drop in revenue before the launch of new consoles. However, once the new consoles roll out, namely PS4 and the Xbox One, accessory sales will ramp up. This is the cycle in the sector. Net sales in the last quarter declined 14% to $18.7 million, as a 37% decrease in sales to North America was partially offset by increases in sales of 3% in Europe and 24% in APAC. The large gain in the Asian market is the big positive from the last earnings report.
Another big positive i see from the most recent report is that gross margins held steady at 28.7% and even with declining sales the company was able to cut 6% from their operating expenses. The loss per share was also identical to last year. Expense management right before a new console growth cycle is a strong positive for the stock.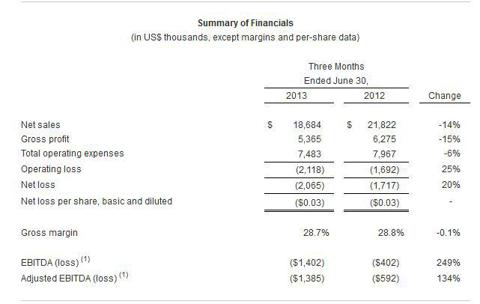 Click to enlarge
MCZ has shown investors in the past that it can rapidly scale up revenue when it has a popular product. In the 3rd quarter of 2010 the company reported a 91% increase in net sales to $93m and a 73% increase in net income. This massive sales and net income increase came from their Call of Duty headset sales. MCZ has proven before that when it has a hot product its sales can increase dramatically in a short period of time. In the four month period from November 2011 to April 2012, the stock price of MCZ moved from 42c to $2.39, a 460% gain. A similar return could be seen again this year on a successful rollout of MOJO and ramp up in sales. If the MOJO can be this year's holiday success, the revenue growth potential could be huge.
Another positive sign for investors right now is that insiders have been accumulating shares of MCZ since the MOJO announcement. As you can see from the image below MCZ insiders have purchased 383,500 shares since June.

Click to enlarge
Investors should note that a similar pattern of large insider buying also occurred in June through August of 2010. You can see the large buying that occurred in 2010 in the image below.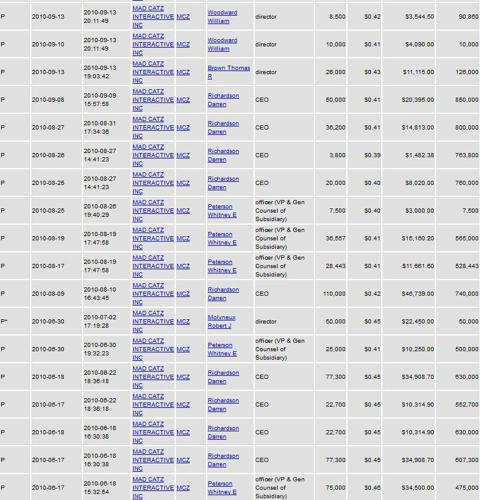 Click to enlarge
The insiders also started buying in the 40c zone and cashed out a few months later at $2 per share. This is a very noticeable trend for investors to take advantage of right now. In a very cyclical sector such as gaming the players in the market have first hand knowledge of sales trends. Here we have a rollout of TWO new gaming soles plus the addition of the companies own, cheaper mini-console.
There has been some concern from investors in MCZ that there is no set date yet for the MOJO launch. However, I have discovered that MOJO protective cases are available for sale at skinomi.com. This is a positive sign that a product launch date is at hand and we could see an announcement of this any day.
OUYA can be considered a flop. Sales have been poor and the company is looking for more funding already. The reason is simple. There are NO GAMES for it. MCZ is taking the best approach, OPEN. On launch MOJO will have hundreds of thousands of games available on the Google Play store. Right now we see a rush to the bottom on smartphone pricing. Even Apple, Inc (NASDAQ:AAPL) is set to roll out a cheaper version of its iPhone. Consumers want cheaper versions of everything. The same will be true for consoles. Sure, there will be a large sales spike for the PS4 and Xbox One, but the android mini-consoles that allow you to play all your smartphone games will explode. This niche market could make MCZ a lot of money very quickly.
The fact that Amazon is moving into this early stage market shows the huge potential for revenue growth. Amazon will also be a walled garden so even though Amazon will enter the sector MCZ should do very well. MCZ is a small cap stock and that carries risk. However, that risk seems very well worth it with the potential rewards that exist for a holiday hit. The Xbox One and PS4 will sell millions of consoles into year end. A cheaper version sitting on the shelves at big box retailers that has access to thousands of games is a very attractive alternative to consumers. The android mini-consoles will do gaming what the android OS has done to the smartphone market, explode its sales. MCZ should see a large piece of that sales pie and investors jumping in now could reap very nice rewards.
Disclosure: I am long MCZ, GOOG. I wrote this article myself, and it expresses my own opinions. I am not receiving compensation for it (other than from Seeking Alpha). I have no business relationship with any company whose stock is mentioned in this article.