One quarter ago I warned REIT investors that valuations in the space were becoming universally frothy in an article titled, "Raising a Yellow Flag Over REIT valuation." With hindsight, perhaps I should have changed the color of the flag from yellow to red, given the sector's subsequent substantial sell-off. The confluence of elevated valuations, Fed taper commentary, and rising bond yields has served as a perfect storm to derail the sector near-term and eliminate YTD gains. Indeed, in the one-year chart below, one can see how Vanguard REIT Index (NYSEARCA:VNQ) has meaningfully diverged from the performance of the broader market as represented by SPY.
is Now The Time To Gamble On REITs?
Earlier in the week, my REIT cohort Brad Thomas queried whether now was the time to "double down" on the REIT space given the sell-off. Brad's conclusion was that the downdraft has created "excellent entry points for REIT investors." My opinion is that while valuations have become less "bubbly" today as compared to three months ago, this has not become a table-banging wholesale buy opportunity. Though stock prices have retraced gains over the past year, the catalysts for group outperformance have become rather lacking in my view. Indeed, until investor sentiment turns, relative underperformance will likely persist.
At the beginning of the year, the rate environment appeared rather benign and the sector's valuation and elevated payouts offered an attractive equity alternative for yield-inclined investors. The unabated move in REIT stocks between January and May though somewhat justified, clearly turned into a case of performance and yield chasing. And now that a tightening scenario has started to gain steam in financial markets, the relative attraction here has dissipated with investors jumping ship in search of better risk-adjusted total return and income opportunities.
Looking Further Out
Intermediate- to longer-term, prospective REIT investors should be focusing diligence efforts on various macroeconomic scenarios that could arise and plotting investment allocation accordingly. In his recent optimistic opine, Brad seems to think that a tightening scenario could bode positively for the macro economy and REIT space as a whole, with cap rate and property value advancement paving the way for dividend and stock appreciation. I, on the other hand, have to say that I've become somewhat skeptical of that notion. Given the continued uncharted waters that our financial system is drifting through, I don't think it's a wise bet to assume that "tapering and tightening" will act as a boon for real estate, be it residential, commercial, or industrial.
While I don't think that the economy or real estate is heading towards a bust as the Fed adjusts monetary policy, I'm not inclined to be wearing a pair of rose-colored glasses either. Given current circumstance and a hazy economic outlook, I feel income investors should play it extremely close to the vest with their allocation and specific REIT selection. The time to have doubled down on REITs was back in 2009, not now.
Current Investment Strategy
Though I don't think investors should be moving monies aggressively into REITs at the moment, from a diversified portfolio perspective I don't think everyone should necessarily pile out either. This would hold true especially for pure income investors seeking dependable, moderate dividend growth. As I have preached for some time however, from a total return perspective, I would underweight the space and attempt to focus on names with low FFOs and demonstrable growth prospects.
The following investment ideas should appeal to a broad range of REIT investors:
Conservative, Diversified Idea: Alpine Global Premier Properties Fund (NYSE:AWP) - A closed-end fund now selling at a 10% discount to NAV, AWP invests in a diversified portfolio of global real estate, including brick and mortar REITs, mortgage REITs, and other real estate related equities. Currently the fund maintains about 35% exposure to the U.S. market and utilizes mild leverage. The fund's most recent report can be found here.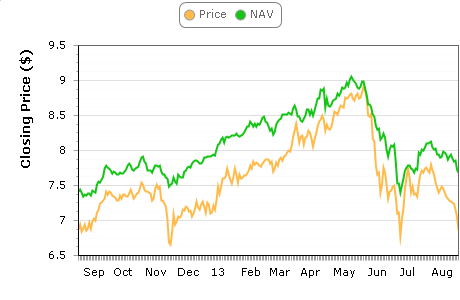 Dividend Growth Idea: American Capital Realty Properties (ARCP). Selling at a ridiculously cheap 11X AFFO multiple relative to next year's expectations, ARCP now yields around 7%. The company has stated it will raise its dividend upon completion of its merger with CapLease (NYSE:LSE) later this quarter. And with more cash flow coming on line from other property acquisitions, the dividend will likely grow by at least 10% next year as well. Given management's acquisitive nature, I wouldn't be surprised to see continued substantive M&A activity here.
Total Return Idea: Campus Crest Communities (NYSE:CCG). The company is now the second largest owner/operator of student housing in the nation, with property concentration in the Sun Belt and Midwest. Selling at less than 10X next year's FFO expectations, CCG appears cheap based on a strong pipeline of properties coming on line near-term and in development over the next five years. I see the potential for double digit AFFO growth and dividend growth over the next several years, as the company sees NOI upside from occupancy gains and rent raises.
The company differentiates its properties with three different concepts - its more traditional The Grove and Copper Beach platforms and now "evo", an urban high-rise concept with properties coming on line in both Montreal and Philadelphia next year.
Aggressive Growth Idea - NorthStar Realty Finance (NYSE:NRF). While generally classified as a commercial mortgage REIT, NorthStar's model is fairly unique in that it garners streams of revenue from four disparate businesses: CRE debt, a diversified portfolio of real estate assets, asset management fees, and a diversified portfolio of CRE securities. The chart below illustrates NorthStar's portfolio breakdown at the end of the second quarter.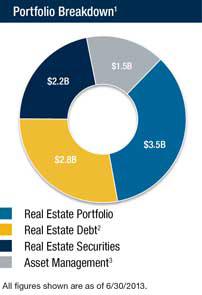 NorthStar has doubled its dividend payment to shareholders over the past two years, with sequential increases over each of the past six quarters. While I would expect NRF's DGR to moderate going forward, there appears continued room for expansion near-term. Despite rate worries, I believe CEO David Hamamoto to be a skilled real estate investor and someone that can successfully navigate this company going forward.
Other "Options"
If you own shares and feel the sector will tread water or move slightly lower over the near-term and want to bag some extra cash, consider writing call options against your positions. If you haven't entered a position but would like to at a lower price, consider selling a put option, which would also bag you some cash, while you wait for the stock to drift lower. If you are unfamiliar with option strategies, you should thoroughly familiarize yourself before writing calls or selling cash secured puts.
Conclusion
REIT sentiment has done a complete 180 over the past three months. While increasing near-term yields might be an enticing reason for income investors to buy shares, they might turn out to be a continuing trap for total return investors. Whatever your strategy, I would recommend hedging your bets. While Brad considers "double down" an appropriate blackjack analogy for REIT investors currently, I think the more appropriate analogy might be whether you are prepared to buy insurance against the dreaded dealer ace.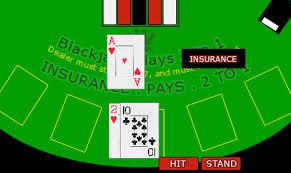 Disclosure: I am long AWP, CCG, NRF, ARCP. I wrote this article myself, and it expresses my own opinions. I am not receiving compensation for it (other than from Seeking Alpha). I have no business relationship with any company whose stock is mentioned in this article.
Disclaimer: The above should not be considered or construed as individualized or specific investment advice. Do your own research and consult a professional, if necessary, before making investment decisions.