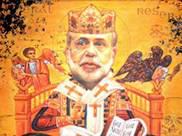 Ben Bernanke's indecision is getting to investors and rattling the market. Unfortunately, we are in the period I have dubbed the "Post-earnings Nap" that we have seen after most earnings seasons for the last few years. This has left people with nothing left to do but focus on the underlying economic issues, which today is whether or not the Fed will start to taper its stimulus program next month.
I began to notice new cycles emerging in the markets right after the crisis. Stocks used to go down in nervous anticipation of corporate earnings and then rise if they were better than expected. However, after the crisis, I began to notice a change. Stocks began to go up before earnings and down afterwards, regardless if they were good or not, and get sleepy and fall into nap mode, which is where we are now.
Of course, Ben Bernanke and the Federal Reserve will only pare back their bond buying program, known as quantitative easing, if the economic conditions are slow enough to warrant it. There is no doubt they want to. The Fed's balance sheet is almost up to $4 trillion (yes, that's trillion…with a T), and rising by $85 billion a month. As far as I was taught, debt has to be repaid, unless of course debt simply does matter. It's nice to make the rules.
The problem is that I just don't think they can end the stimulus. Not only is the economy addicted to it, but so is the market. The economy is certainly stronger than it was in the great recession, but not strong enough to stand on its own legs.
Another issue you hear little about is the "lack" of inflation. Data released this week showed core inflation up barely 1.2 percent in the 12 months through July, the lowest reading since November 2010. Analysts had expected that reading to fall to 1.4 percent from 1.7 percent in June, although, the consumer prices released today did show a slight increase of .2%, which does have investors running scared because it is closer to their 2% annual inflation target. In the end, this will not be enough, and inflation is still many months off.
Low or negative inflation, otherwise known as deflation, scares the bejesus out of the Fed because it can encourage businesses and consumers to delay spending, which directly undermines their efforts to boost consumption by lowering borrowing costs. As I discuss in Facing Goliath - How to Triumph in the Dangerous Market Ahead, consumer spending patterns decide the direction of the economy as well as specific industries and sectors. We can spot these trends by watching how people shift their buying habits as they age.
Regardless of their will, there doesn't seem to be a way for the stimulus to end. This consumer spending malaise also looks like it will further slow down the economy 6-12 months out. This illustrates well with my forecast that we will have a reasonably strong 4th quarter that will spill in to the 1st quarter, and a rocky 2nd half of 2014.
Although we look to have more gains ahead, this is no time to get complacent. After the 1929-1933 crash, we had 4 strong years where the market rose 134% peaking in 1937, followed by another disastrous decline where the market dropped by over 50%, which was caused by the Federal Reserve cutting back on its stimulus programs too soon.
Investor Strategy
With stronger market ahead, growth investors can use any weakness to buy stocks, particularly in high-tech areas where innovative business and personal solutions will lead to greater efficiencies for years to come. Investors who can withstand volatility with a big potential reward can buy Apple (NASDAQ:AAPL), which is coming out with new products this summer, and is sure to be revolutionary: Google (NASDAQ:GOOG), which has a new "Glass" product that will revolutionize the communications market, and the periphery companies that support these new innovative developments such as Intel Corporation (NASDAQ:INTC), Qualcomm (NASDAQ:QCOM), Microsoft (NASDAQ:MSFT), Cisco Systems (NASDAQ:CSCO) and VMware Inc. (NYSE:VMW). For a more diversified approach, buy the broad market ETFs like the SPDR S&P 500 (NYSEARCA:SPY), PowerShares QQQ Trust Series 1 (NASDAQ:QQQ) and iShares Russell 2000 (NYSEARCA:IWM).
Gold and silver have had a little resurgence, which looks like just a dead cat bounce. I would sell the metals, such as the SPDR Gold Shares (NYSEARCA:GLD), Power Shares or Market Vectors Gold Miners ETF (NYSEARCA:GDX), on any strength
Disclosure: I have no positions in any stocks mentioned, and no plans to initiate any positions within the next 72 hours. I wrote this article myself, and it expresses my own opinions. I am not receiving compensation for it. I have no business relationship with any company whose stock is mentioned in this article.