Apple (NASDAQ:AAPL) has had a remarkable run since hitting a low of under $400 a share in late June. The stock is up roughly 30% since those lows. The run has been triggered by some core catalysts. The company delivered a decent earnings report and bought a good amount of its own stock through its recently announced $60B stock repurchase program. In addition, it appears the new iPhone will be revealed on Sept. 10, which is generating the expected new product buzz. Finally, noted investor activist Carl Icahn has taken a ~$1.5B stake in the company, which he announced via Twitter. He has stated the stock is undervalued and worth at least $625 a share. He has already started to agitate for a larger buyback.
All of these factors are positives for the stock. Given that Apple is the largest position in my portfolio and I have been pounding the table on the stock's undervaluation for some time, I could not be more thrilled. Given the stock's explosive move over the last eight weeks, I would not be surprised if AAPL consolidates or even pulls back a bit from current levels as investors wait for more positive confirmation on the company's new product launches. I think some of its suppliers should be buoyed by the announcement of the new iPhone and other product launch announcements that should take place starting in September through the end of the year. Here are three suppliers I think are primed to ride Apple's surge and coattails.
1. Invensense (NYSE:INVN) delivers motion interface solutions based on its multi-axis gyroscope technology that target smartphones and tablets, console and portable video gaming devices, and smart televisions. The company has been on a roll recently. It posted earnings in late July that beat on both the top and bottom lines. It also raised its forward guidance along with its strong results.
Analysts have come and stated that the company had design wins and will be in the new iPhone. This has received confirmation by the company's recent large inventory surge. The median price target by the 11 analysts who cover the stock is $20 a share, approximately 20% above the current stock price. In addition, Topeka Capital, Evercore, Maxim Group, and Goldman Sachs have issued or reiterated "Buy" ratings on the stock over the past three months. Revenues are expected to grow at better than a 20% CAGR over the FY 2013 and FY 2014 fiscal years. The company also has net cash on the balance sheet of ~$2 a share.
2. Cirrus Logic (NASDAQ:CRUS) is a fabless semiconductor company that develops signal processing integrated circuits for audio solutions in mobile devices. The stock is cheap at less than 9x this fiscal year's expected earnings and less than 6x trailing annual operating cash flow. The company also has almost $4 a share in net cash on the balance sheet.
Revenues are expected to grow again next year after falling some 10% this fiscal year. The stock has a five-year project PEG of under 1 (.46). Consensus earnings estimates for both this year and next have ticked up over the last month after falling for several months. The company has beat analysts' consensus earnings estimates for six straight quarters. The stock is selling at the bottom of its five-year valuation range based on P/E, P/S, and P/CF.
3. Qualcomm (NASDAQ:QCOM) is a digital wireless telecommunications arms merchant to the majority of smartphone and tablet manufacturers including Apple and Samsung (OTC:SSNLF). The company has grown both revenues and earnings in the mid-teens annually over the past five years. Despite this, the stock is selling near the bottom of its five-year valuation range based on P/E, P/S, P/B, and P/CF.
However, sentiment is starting to improve on the equity. Barron's mentioned it as one of the few undervalued gems in an overvalued market in this week's magazine. The stock has Standard & Poor's highest rating of "Strong Buy" as well as an $85 price target. The stock yields over 2% and has ~$6.50 a share in net cash on the balance sheet. Finally, the stock has behaved much better over the last month and recently crossed over its 2000DMA for the first time since early May (see chart below).
Click to enlarge image.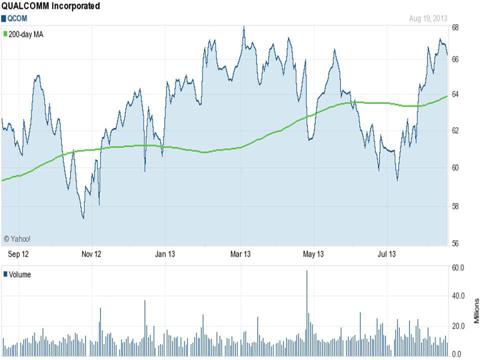 Disclosure: I am long AAPL, CRUS, INVN, QCOM. I wrote this article myself, and it expresses my own opinions. I am not receiving compensation for it (other than from Seeking Alpha). I have no business relationship with any company whose stock is mentioned in this article.