By Brendan Gilmartin, VP Research & Content
Hewlett Packard (NYSE:HPQ) is slated to report 3Q 2013 earnings after the close of trading on Wednesday, August 21. The actual results are typically reported at 4:05 p.m. EST and will follow with a conference call at 5:00 p.m. With the shares recently hitting 18-month highs, expectations surrounding HP are somewhat elevated ahead of earnings.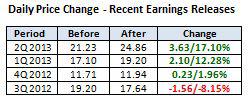 Outliers & Strategy
Key measures:
Non-GAAP Earnings Per Share: Back in May, HP indicated it expects 3Q 2013 Non-GAAP diluted EPS to be in the range of $0.84 to $0.87, compared with the consensus estimate of $0.87. (Source: Yahoo! Finance).
Revenues: Revenues for the 3Q period are seen dropping 8% y/y to $27.3 bln.
EPS Guidance (4Q 2014): Guidance is a critical measure for HP. Analysts are currently forecasting Non-GAAP EPS of $1.01 per share. Should the high end of the projected range fail to meet that level, HP faces considerable downside risk, in light of the recent run-up. Given that the guidance is for the fourth quarter, results for the full-year would be factored in making the quarterly outlook all the more important.
After rising nearly 84% YTD, HP shares are trading at a mere 7x forward earnings and 0.43x sales, with a hefty $6.84 per share in cash on its books. Coming into the 3Q earnings release, the options market is pricing in a 10.3% move off earnings.
Recent News
08/15: HP shares rose after-hours after rival Dell (NASDAQ:DELL) reported stronger than expected earnings for the recent quarter.
08/14: Citigroup reiterated a Buy on HP and indicated it expects 3Q results to top Street estimates, according to StreetInsider.com.
08/13: According to a post on Benzinga.com, Morgan Stanley issued a positive note on HP ahead of the 3Q earnings release, suggesting the shares would hit the firm's price target of $34. The firm's positive outlook was reportedly based on the restructuring efforts and resulting cost-savings, along with the improving U.S. IT spending environment.
08/06: Pacific Crest reiterated a Sector Perform rating on HP, according to a post on Barron's Online. The firm noted that channel checks point toward improving trends in the PC segment, implying a turnaround toward revenue growth in 2014.
07/10: Citigroup upgraded HP from Sell to a Buy rating with a price target of $32, according to a report on Barron's Online, due in part to an improvement in the services division. The firm now expects HP's earnings estimates to be revised upward in 2014.
Technical Review
HP shares are up a solid 84% YTD, en route to the highest level since early 2012. Over the past week, however, the shares have shown signs of vulnerability, and now hover precariously above the 50-Day SMA near $25.50. Note the momentum oscillators, including the Relative Strength Index RSI) and MACD are also pointing downward. Should earnings disappoint, there is downside risk to the $24.00 area. Conversely, the initial resistance area on an upside surprise would be the 52-week high near $27.77. (Chart courtesy of StockCharts.com)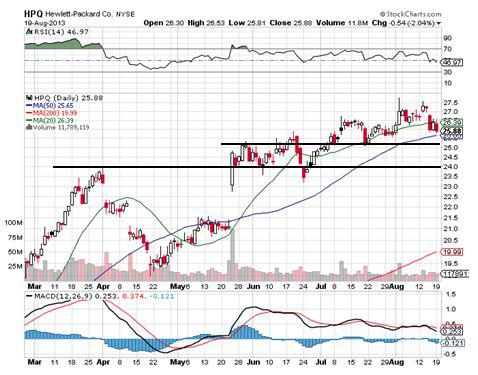 Summary
HP shares have been on a solid run, climbing more than 80% YTD, benefiting from an improving U.S. IT spending backdrop, internal restructuring efforts, and increased traction in both the services and PC divisions. A recently solid earnings report from rival Dell also helped lift HP share over the past several weeks. Against this positive backdrop, the bar is set unusually high for HP ahead of the 3Q earnings release following several years of flat to mediocre performance. Coming into Wednesday's report, much of the focus is centered on the outlook for fiscal 2014.
Disclosure: I have no positions in any stocks mentioned, and no plans to initiate any positions within the next 72 hours. I wrote this article myself, and it expresses my own opinions. I am not receiving compensation for it (other than from Seeking Alpha). I have no business relationship with any company whose stock is mentioned in this article.
DISCLAIMER: By using this report, you acknowledge that Selerity, Inc. is in no way liable for losses or gains arising out of commentary, analysis, and or data in this report. Your investment decisions and recommendations are made entirely at your discretion. Selerity does not own securities in companies that they write about, is not an investment adviser, and the content contained herein is not an endorsement to buy or sell any securities. No content published as part of this report constitutes a recommendation that any particular investment, security, portfolio of securities, transaction or investment strategy is suitable for any specific person.