Those who have followed my work over the past couple of years know that I'm very bullish on solar energy long-term and First Solar (NASDAQ:FSLR) in particular. However, over the past few months, it may appear at first glance like the bad times may be back for the company, with shares down by more than 37% since their intraday high of $59 in June. Now, the rally in solar may have gotten a little ahead of itself, and a correction was inevitable, but I think we're near the bottom now. The opportunity to buy First Solar in the teens is gone for good, much to my dismay. I'd like to take a look at why this dip is worth buying, and also to propose a way to buy even cheaper.
Why solar power?
If you ask me, solar power is certain to become a primary way of meeting out future energy needs due to both its cost-effectiveness and its scalability. I know that solar is not the most cost-efficient power choice right now, but it is just a matter of time until solar becomes just as affordable (or more) than coal, natural gas, and most other mainstream forms of power.
The cost to produce solar PV (photovoltaic) modules has fallen drastically over the past two decades as the technology has evolved, and in fact the average selling price of PV modules has dropped by about 89% since 1992. The chart below highlights the relatively steady drop in price over time, with the increase in the mid 2000's attributable to high demand, mainly from the housing and construction markets.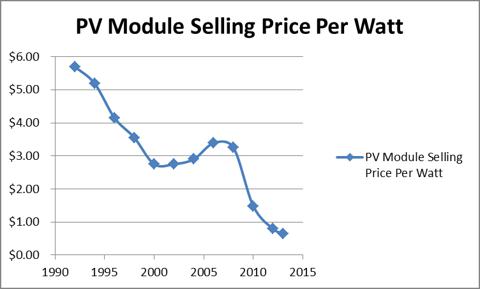 Energy experts project that the cost to produce panels will fall by another 50% by the year 2020, and I think that once solar becomes truly price-competitive with other forms of energy production (without subsidies or tax credits), that demand will rise significantly. This should produce a combination of low manufacturing cost and increased profit margin which will certainly bode well for solar companies.
One irrefutable fact is that the world's energy needs are growing and will continue to do so for the foreseeable future. In fact, the world's total energy consumption is expected to quadruple by the year 2050. While fossil fuels will always have their place in the energy market, there simply is not enough oil and natural gas being extracted to keep up with energy usage five times as high as today's. Nuclear power, while clean and sustainable, is prohibitively expensive for most developing nations, which are expected to be the primary source for the increased energy needs. Other sources of energy like wind, geothermal and clean coal are also not practical on a large scale. Solar will be the best way.
Why First Solar?
To put it quite simply, I like First Solar because it is the best-in-breed. The company is constantly breaking its own records for efficiency, and I believe is the clear leader in PV panel technology. Also, First Solar has more than enough long-term contracts to keep it going for years as the technology evolves further. The company is projected to report earnings of $3.80 per share for 2013, so after the recent price dip, shares trade for just 9.8 times the current year's earnings. Even though there is tremendous volatility expected in the years ahead, I think a P/E like this more than compensates investors for the risk, especially considering the potential long-term upside which is substantial.
How to get in even cheaper
For those who may want to venture in, I feel confident in telling you that the current share price is an excellent entry point. Just for a thought, there is one trade that I like right now that will allow you to get in even cheaper to allow for a little breathing room just in case the correction still has a little ways to go. I want to buy the shares (currently at $37.09) and sell the March $50 calls against the purchase for $2.45. This will produce a net cost of $34.64 per share, 6.6% less than the current price to allow for some volatility. A potential downside is that if the shares go above $50 before March, you're upside is capped, but a 44% gain in 7 months wouldn't be too bad either.
Disclosure: I am long FSLR. I wrote this article myself, and it expresses my own opinions. I am not receiving compensation for it (other than from Seeking Alpha). I have no business relationship with any company whose stock is mentioned in this article.