Vodafone Group PLC (NASDAQ:VOD) is one of the largest international telephone companies. The company offers investors exposure in voice and data communication services in Europe, the Middle East, Asia Pacific and the US. The firm has significant presence in each of the regions. Vodafone is based in England, and its shares trade on both the London Exchange and as an ADR on the NASDAQ with a ratio of 10:1 (10 Ordinary Shares equals 1 ADR). BNY Mellon is the depository bank that manages the ADR program. VOD is the world's second largest wireless provider behind China Mobile LTD (NYSE:CHL).
Generally, the wireless phone business is based on economies of scale, and Vodafone takes advantage of its size. VOD has about 453 million customers (prorated for its partial interests), with 141 million customers in Europe. This expansive customer base allows VOD to service the majority of its customers on its own network, reducing the fees it must pay to competitors for access to non-VOD networks. This reduction in operating costs is passed on to customers and increases profits for the company. In addition, its size allows the firm to negotiate better hardware prices, allowing the firm to further reduce costs to consumers. Also due to its size, VOD is able to develop a new service in one region and to cost effectively roll the new product out in its other regions. As added wireless spectrums become available, VOD can afford to out-bid its competitors, increasing the quality of its network and can attract higher volume data users. In geographic areas where the company does not have its own network, VOD has formed strategic local partnerships.
Below is a map of the countries VOD offers services either as a primary carrier or as a strategic partner (from the company's website found here pdf):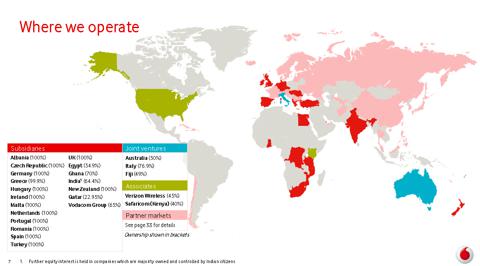 As an example of their reach, below is a partial list of countries served, the percent of the local carrier owned by VOD, and the market share in their respective markets:
| | | |
| --- | --- | --- |
| Country | % Owned | Market Share |
| Spain | 100% | 29% |
| UK | 100% | 26% |
| Germany | 100% | 34% |
| Italy | 77% | 36% |
| India | 64% | 21% |
| South/Central Africa | 64% | 58% |
| US | 45% | 38% |
It seems VOD's strategy is shifting from focusing on a small number of countries where it can own a sizable stake in a local carrier of merit. VOD may be looking for acquisitions in markets not currently served and where it may begin with a minority interest. In addition, as the convergence of fixed-line, wireless, broadband internet, and television grow in both developed and emerging markets, VOD is looking to expand its presence beyond the historic focus on wireless. For example, Vodafone recently outbid Liberty Global (NASDAQ:LBTYA) for Germany's largest cable TV operator, Kabel Deutschland. This type of expansion maybe the new footprint VOD is deploying.
As with many utilities, VOD has a hefty capital expenditure budget. In FY 2012/2013 (year ending March 2013), VOD spent $9.9 billion for cap ex (6.3 billion GBP, exchange rate of $1 = GBP 0.64). With 2012/2013 revenues of $69.6 billion, EBITDA of $20.8 billion, and free cash flow of $8.7 billion, VOD can afford to continue its expansion. In March, Vodafone and France Telecom's Orange announced an investment of $1.29 billion to build a fiber-optic cable broadband network in Spain. Despite Spain's economic problems, broadband remains a growth market and one of the few areas of positive industry opportunities.
However, not all is rosy with VOD. For example, 2012/2013 operating results were hampered by organic growth of negative 1.9%, and revenues were down 4.2% year-over-year due to shedding of some assets. Overall, adjusted operating earnings were up 5.0%. However, net profit fell 94% to $671 million for the year ended March 31 from $10.8 billion a year earlier, hit by a $12 billion impairment charge related to Vodafone's ailing Italian and Spanish businesses. The charge is the latest in a string of write-downs due to the bleak economic backdrop across Europe over the past five years. Write-down of assets has cost the company $28 billion since March 2010.
Below is a table of impairment charges and Goodwill assets per the financial statement dated March 31, 2013: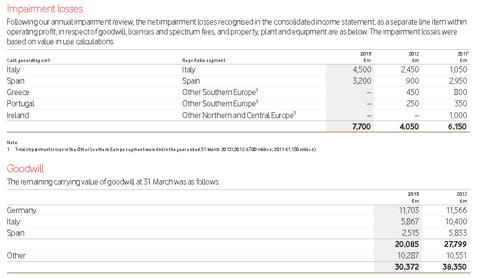 Note currency conversion is currently $1=GBP0.64 or $1.56=GBP1.00
As shown above there is still substantial goodwill on the books and totals about $46 billion. It would seem on face value that the write-downs have not yet been exhausted.
As with many large companies, and especially those in Europe, there are substantial shares outstanding. VOD currently has 49.4 billion ordinary shares outstanding and carries long-term debt of $64 billion. Market capitalization is about $150 billion.
VOD pays a semi-annual dividend based on its profitability. The most recent dividend was increased by 7.2% in local currency. Below is a table of the past few years' dividend per ADR:
So far 2013: $1.05
2012: $1.62
2011: $2.10
2010: $1.27
2009: $1.25
2008: $1.37
With the fluctuation in the US Dollar vs. the British Pound, the dividend per ADR will fluctuate as well. As the dollar strengthens, the value of the dividend paid in Pounds will decrease, and vice versa. In addition, the semi-annual dividend is not equally divided. For example, in 2012 the dividends paid per ADR was $0.52 and $1.10, in 2011 was $1.12 and $0.98, in 2010 was $0.46 and $0.81, in 2009 was $0.45 and $0.80, and in 2008 was $0.39 and $0.99.
The crown jewel of the company is a 45% stake in Verizon Wireless. As an associate on VOD's financial statement, Verizon Wireless's financial performance IS NOT included in reported revenue or EBITDA calculations. This is worth repeating - according to the financial footnote A2 on page 137 of the most recent annual report, Verizon Wireless's performance is not included in revenue or EBITDA. VOD's portion of Verizon Wireless EBITDA would have been $11.4 billion in FY2011, $12.0 billion in FY2012, and $13.7 billion in FY2013. This is in addition to reported EBITDA of $22.8 billion, $22.5 billion, and $20.6 billion, respectively
Verizon Communications (NYSE:VZ) has been circling around VOD looking to potentially make an offer for the 45% interest owned by VOD. While nothing has been formally discussed, the best guess on Wall Street is a price tag in the $100 billion to $130 billion range. This would equate to between $70 billion and $100 billion after tax to VOD. Verizon Wireless recently paid out a combined special dividend of $7.5 billion to VZ and VOD. Since Dec 2012, VOD has reaped $5.1 billion in total dividends from its interest in Verizon Wireless.
It is intriguing that VZ may be willing to offer upwards of $130 billion for VOD's interest. This would approximately equate to the entire current market cap of VOD.
If VOD were to sell its interest in Verizon Wireless, the proceeds would substantially alter the company's future and those of its shareholders. VOD could pay a special dividend to all shareholders that could amount to as much as $20 per ADR. The company could pay down all its debt, having about $35 billion left over for expansion and saving about $1.7 billion a year in interest expense.
The bottom line is VOD's interest in Verizon Wireless could be worth between $14 and $20 per ADR. Consensus earnings per ADR are $2.78 this year and $2.88 next year. Over the past 12 months, VOD has received almost $1.00 per ADR in dividends from Verizon Wireless. At a current selling price of $30 and backing out a value for Verizon Wireless of $14 to $20 and earnings of $1.00 representing extra dividends received per ADR, the market is currently valuing VOD's ongoing business ex-Verizon Wireless at between 8.5 and 5.3 times earnings. Compare this with the average telecom stock with P/Es ranging from 11.5 to 24. Even without a sale of Verizon Wireless, VOD's current P/E is about 10.4 - on the very low end of its competitor's valuation.
Most analysts have a target price of about $33 to $35 per ADR - but will reconsider if a bid comes from VZ. VOD is in no real hurry to unload its crown jewel, and new investors to its ADR may need to wait a bit for the market to value VOD based on a monetization of its Verizon Wireless interest.
With a current yield of about 5.0% and a low valuation for VOD's ongoing business less its interest in Verizon Wireless, VOD should be seriously reviewed by both income and value oriented investors.
Author's Note: Please review important disclaimer in author's profile.
Disclosure: I have no positions in any stocks mentioned, and no plans to initiate any positions within the next 72 hours. I wrote this article myself, and it expresses my own opinions. I am not receiving compensation for it (other than from Seeking Alpha). I have no business relationship with any company whose stock is mentioned in this article.